Welcome to 12 Minute Affiliate System Review 2022.
Would you be interested in making money online while sleeping with 12 Minute Affiliate System? I'm certainly curious to find out more.
That could probably be the reason you landed on this review page.
In this review on Devon Brown's 12 Minute Affiliate System (12MA), I will go thru with you in detail about 12MA, how it works, and what you should know before committing to this program.
I will also give my opinion on 12MA, whether it's legit or a scam. The last thing I want to hear is you spend your time and money on an unreliable product that does not deliver what it promises.
Let's get started.

12 Minute Affiliate System Review Summary
Product Name: 12 Minute Affiliate System (12MA)
Product Type: Done-For-You (DFY) Affiliate Marketing System
Founder: Devon Brown
Pricing:
$9.95 for 14 days trial
$47/ month for a single niche
$97/month for 3 niches
Recommended: No

Summary
12MA is a Done-For-You (DFY) affiliate marketing program that has simplified the process of earning commissions with affiliate marketing. It provides you with everything you need to set up your system to generate income.
What's 12MA?
12MA is a DFY affiliate marketing program created by Devon Brown.
The 12MA makes it easy for beginners to get started with making money. With this system, you can complete simple tasks that help you generate income and once completed, they update your earnings. The best part is you don't have to start a website, YouTube channel or other marketing platform with this method!
The program provides you with everything you need from training channels, supports and products. The 12MA works by purchasing website traffic. You will receive your affiliate commissions through three simple steps when the system runs.
The M12A simplifies the process of making commissions with affiliate marketing. The system helps you create an opt-in page where you can add your affiliate links, then sends out emails with different offers. You get a commission when people click on the link in your email and make a purchase.
The 12MA was launched in 2018 but it already has a strong following. ClickBank manages it, so members must have a ClickBank account. You can sign up with ClickBank free and start promoting items from multiple niches.
Making money in 12 minutes – is it true?
According to the sales pages, the 12MA is a revolutionary DFY system that greatly simplifies the process of making money with affiliate marketing.
With the 12MA, you do not need product creation, website, copywriting or any technical and marketing skills. You are saved from all the hard work yet able to make money within a short period of time.
All you need to do is to set up your funnels, insert your ClickBank affiliate links, and pay to drive traffic to your offer to make money.
Making money fast with 12MA or this is a scam?
The honest answer is no. You can't make money in a matter of minutes, especially for newbies.
From my experience, this is a popular trick made by Making Money Online gurus sell their products, especially to those new to online business. You will discover many other ClickBank products using similar schemes. One example is Perpetual Income 365.
In reality, it takes time for trial and error to be successful in promoting ClickBank products. You should take the claims from those MMO gurus with a pinch of salt. You also should be aware of those who make claims of making money using a ''fast' system''.
Who's 12MA created for?
According to Devon, the 12MA is suitable for newbies as it does not require skills or previous experience. All it takes is to set up the system and start making commissions.
You should consider joining 12MA if you:
Don't want to create a sales funnel or develop content for traffic.

Wish to make money online without having to deal with problematic customers.

Want to earn commissions while promoting products

Want to make money online but don't have any services or products of your own.
Who's the person behind 12MA?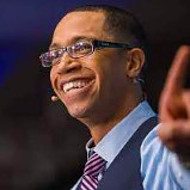 The person behind 12MA is Devon Brown. He's an author, entertainer, internet entrepreneur and motivational speaker specialising in personal growth and dating.
Devon is a successful online entrepreneur who sells millions of products/services. He's energetic and passionate about making money online.
As of this writing, he has 41k followers on Instagram and more than 12k followers on Facebook. He's a real person and legit.
What's inside 12MA?
Here's what you get inside 12MA.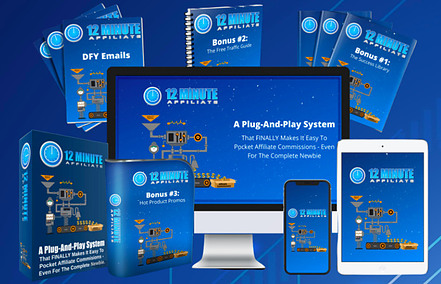 DFY Funnels
These are the ready-to-go affiliate funnels Devon has prepared for you.
The 12MA team has created landing pages that lead directly to some of the top converting affiliate promotions from ClickBank or JVZoo.
DFY Emails
You can send these professionally written DFY follow-up messages to your subscribers.
12 Minute Setup
This is the simple step-by-step instructions for setting up of your 12MA system.
E-Z Funnel Wizard
With Funnel Wizard, you can create your custom affiliate funnels in minutes. No coding or copy-writing is needed.
Private Community
All members of 12MA have access to the Private Facebook Community. According to Devon, this is where active members gather to share their experiences and success stories.
Done-For-You Traffic
Devon has made ordering traffic easier than ordering pizza!
This process allows you to access targeted niche traffic in minutes, buying from Solo Ads. The amount of traffic depends on the budget you have.
Bonus #1 – The Success Library
A collection of personal development training.
Bonus #2 – The Free Traffic Guide
Discover the 16 ways to get free traffic to your website
Bonus #3 – Hot Products Promo
12MA runs the promotions of the hottest selling products on the internet.
How does 12MA works?
The 12MA teaches you how to start affiliate marketing using websites and sales funnels (1 or 2 pages website).
The 12MA system shows you how to get instant access to a bunch of products from Clickbank, Warrior+ and JVZoo. Devon and his team have prepared for you the DFY sales funnels.
You may select your products from one of the three categories:
Making money online

Weight loss

Personal development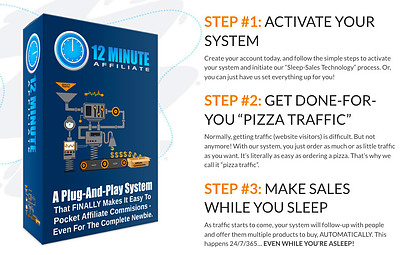 According to Devon, it takes only 3 simple steps to make money with 12MA:
1. Activate your 12MA system (the sales funnels)
2. Activate the traffic
3. Making sales and earn affiliate commissions
Is that really that simple?
You will get a few DFY sales funnels from 12MA. Devon will show you how to buy traffic from Solo Ad vendors. These are people with huge email lists, and they sell the list to marketers like you.
Please be warned that Solo Ads are expensive and risky.
The next step in the 12MA process is to capture your visitors' email addresses with your landing pages and follow up with them with your affiliate offers. Once they make a purchase, you earn a commission.
Devon also provides you with DFY email swipes for you to promote your affiliate offers via email marketing.
Setting up the 12MA system
Setting up the 12MA system is quite straight-forward by following the 5 steps below.
1.Create your account – Sign up for 12MA and access the dashboard where you can find the DFY sales funnels, DFY traffic and email swipes.
2. Purchase an email auto-responder – You need an email auto-responder for building your email list. All these are additional costs not disclosed earlier.
3. Connect your auto-responder with the DFY landing pages – Activate your landing pages by connecting them to your auto-responder to start building your email list.
4. Set up 12MA funnels – Start using the DFY landing pages or create your own using the ''drag & drop'' landing page builder to capture email addresses.
5. Buy traffic and start making money -You have to purchase traffic inside the dashboard and drive them to your landing pages. Once you have the email addresses, follow up with them by sending them your affiliate offers with your affiliate links, and once they make a purchase, you earn your commission.
Can you make money with 12MA?
Yes, you could. Positive testimonials and results are circulating on the internet.
However, I will not recommend this program, especially to newbies who have just started with affiliate marketing. To understand the whole process will take some experience.
DFY systems like 12MA sound like a perfect solution for newbies where you make money yet can skip the learning part of the business. In reality, you need experience, which 12MA could not provide.
For those who have a few years of experience and understand what you are doing, the 12MA system works.
Is 12MA legit?
12 MA is a legit system, and it has the potential to make money if done correctly
Once enrolled, you will receive access to products, landing pages, email swipes and traffic sources.
12MA has simplified the affiliate system where you only need to purchase the auto-responder, insert your affiliate links to the landing pages, send traffic to capture the email addresses and follow up with your affiliate offers to earn commissions once they make a purchase.
What are the main selling points of 12MA?
Here are some reasons why 12MA is considered a viable way to earn an income online:
1. Created by a reputable person
Devon Brown is an internet entrepreneur with a proven track record. He has been doing very well online and is also a successful in-person coach and all-around performer.
2. Simplicity
The 12MA system is easy to use because you don't need to be a marketing expert to earn. The experts in this program will handle your sales pages and traffic, so you can focus on other aspects of your business.
3. Live webinars training
Through the Facebook group, you can participate in free live webinars on topics like how to make more money, covering everything from creative courses, general marketing tactics and much more.
ClickBank updates

Current marketing strategies

Alternative methods of generating paid traffic.

Maintaining the right business mindset

High-conversion sales offers

Latest hot products
4. Active community
When you join the 12MA program, you can quietly take advantage of Facebook Groups restricted to members only. The Group has over 3,000 members who will be able to answer any questions you have and support you on your journey.
5. Money back guarantee
If you're unsatisfied with your purchase or the services, feel free to return it within 60 days of when you bought it, and 12MA will refund your money.
What are the problem areas of 12MA?
Here are some problem areas you should be aware of before signing up for 12MA.
Competition among 12MA users – since all the 12MA users are likely to be using the same landing pages and traffic sources, this creates competition and turns away the potential customers as they see the same promotions over and over again.

Buy Traffic – 12MA uses paid Traffic, and buying Traffic from Solo Ads is expensive, yet there is no guarantee of results.

No basic skills training for newbies – 12MA is a DFY system. As a newbie, you will not be able to learn the basic skills to start your own affiliate marketing business.

Dependency – Your online business with 12MA is solely dependent on 12MA. You will be significantly affected if something unexpected happens to 12MA.

Low customisation – since 12MA is DFY, there is a limited number of templates available, limiting your opportunity to customise your pages to stand out from your competition.

Pre-selected products – 12MA has pre-selected the products for your promotion, and you have no other alternative but to compete with all other 12MA users.
How much does 12MA cost?
There are two price packages, one for single niche and the other 3 niches.
Single Niche:
A 14-day trial – $9.95

$47 per month or $397 one time for a lifetime access

Done-For-You Setup – $67 one time payment (upsell)

3x Your Results Blueprint – $39 one time payment (upsell)
3 Niches:
A 14-day trial – $9.95

$97 per month or $797 one time for a lifetime access

Done-For-You Setup – $97 one time payment (upsell)

3x Your Results Blueprint – $39 one time payment (upsell)
Additional costs
Auto-responder system

Buying traffic (cost varies)
12MA refund policy
12MA has a money-back guarantee. You can test the program. If you don't like it, you have 10 days to ask for a refund, no question asked.
What I like about 12MA
#1 – based on affiliate marketing model
12 MA is based on an affiliate marketing model that works. In fact, in my opinion, it's the best method for making money online.
#2 – DFY sales funnels and email swipes
12MA provides you with sales funnels and email swipes that save you time and effort. However, all 12MA users will be using the same or similar sales funnels and email swipes, causing content duplication
#3 – Devon Brown is a successful online entrepreneur
Devon Brown is a real person and a successful online marketer with a proven track record giving his product a lot of credibility.
What I don't like about 12MA
#1 – 12MA using paid traffic
PPC advertisement is expensive, especially for beginners.
On average, a one-month campaign could cost around $300, on top of the cost for 12MA. The total adds up to $500 or more. The worst thing is that there is no guarantee of results.
#2 – Hidden costs
Upsells and monthly membership fees are not the only extra costs.
You have to include Solo Ads and investment in other software such as link tracking tools, keyword tools etc.,
#3 – System dependent
It's usually the case with DFY programs where you do not get any training to learn and set up your marketing systems.
I prefer to learn to set up and own my system and not depend on a system for my business.
My Final Verdict of 12MA
12MA is a DFY system using an affiliate marketing model.
A reputable online entrepreneur created the system. It's legit and could be a possible means of earning some fast cash. How much can you depend on the system to make a consistent income in the long term?
The two main reasons why I do not recommend 12MA are:
The system is not a sure way to succeed in online business.

You are not given the basic training in affiliate marketing to enable you to set up your system.
If you invest your money in a good program that teaches you the skills in WordPress, copywriting, search engine optimisation and building an email list, and how to monetise your website through affiliate promotions, you could gain a skill set for life. Your opportunities to earn money online will far exceed that of using 12MA.
Final recommendation: No
Alternatives to 12MA
If you have been in the affiliate marketing business for a while, you realise that there are far too many low-quality and inferior products to make you pay for their junk.
However, you will also discover some legitimate courses that teach you how to make money online with affiliate marketing, but there are not many.
Here is the list of my top-rated courses which are much better than 12MA.
A few years ago, I discovered the best way to make money online using the 4-step formula with my #1 recommended program. The program allowed me to start free with the Starter Member without risk to learn the basics of affiliate marketing and explore the offered features – all for free.
Within a week after signing up with the Starter Member, I decided to join the Premium (paid) program because I saw the value offered far exceeding the fees I paid. I foresee I will be with this program for many years because it has formed the building blocks of my online business.
How this program works is very simple:
You select a niche based on your interest and business potential and then create a website. The next step is to look for affiliate products related to your chosen niche, drive traffic to your site and recommend them to your audience on your website.
You will receive a small commission (affiliate commission) every time someone makes a purchase.
Discover how the 4-step formula works below.
4-STEP FORMULA FOR STARTING AN ONLINE BUSINESS

Start building my online business
This #1 recommended program is an all-in-one platform where you get everything you need to start building your online business in affiliate marketing, and it works for all niches!
This program's best features are detailed (step-by-step) and up-to-date training, advanced keyword research tool, websites and web hosting, live and technical assistance, community support, and so much more!
One of its best features is that the program allows you to start for free to explore all the features and benefits before you decide if it's suitable.
START BUILDING MY ONLINE BUSINESS TODAY!

If you have a question or need any help, please contact me.