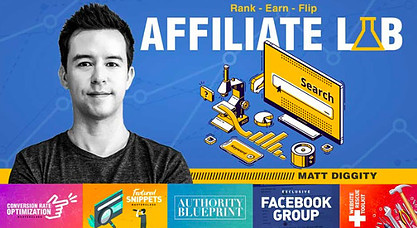 Welcome to my Affiliate Lab review of this all-in-one SEO and affiliate marketing training course.
Matt Diggity, a well-known SEO expert and online entrepreneur launched this program in 2017. Matt has put together his extensive knowledge about ranking, earning and flipping websites gained over the years to come up with this comprehensive course, in line with the latest trends in the industry.
At a glance, this is what you will get – the only course you will ever need to rank, earn and flip websites.
24+ hours of training.

Templates and tools.

Checklists and Standard Operation Procedures (SOPs).

Exclusive Facebook support group.
Affiliate Lab Review Summary
Product Name: Affiliate Lab
Product Type: Search Engine Optimisation (SEO) training and affiliate marketing course
Founder: Matt Diggity
Pricing Option: $997 (single payment) or $597 (in two installments)
Best for: Anyone who want to take their SEO knowledge to the next level, to rank and flip affiliate websites.
Summary:
Affiliate Lab is an all-in-one SEO, affiliate marketing and niche marketing course created by Matt Diggity, one of the well-known marketers in the industry today. Not only the course caters for both the novice and expert marketers, but it also packed with highly actionable affiliate strategies and tactics. If you are interested in scaling your existing business and potentially flipping of your website, this could be the course for you.
Recommendation: Yes, for beginners as well as expert affiliate marketers.

What's Affiliate Lab all about?
Affiliate Lab is a training program covering various topics ranging from creating, ranking, optimisation for search engines and reselling websites for additional income.
The training course contains many hours of training videos on affiliate marketing, search engine optimisation and other related topics. Included in this package are six ready-to-use templates and checklists for onsite and offsite SEO. In addition, you will be invited to join the exclusive Facebook support group once you purchase the program.
Other topics include niche selection, keyword research, writing compelling content that converts and advanced strategies that give you an advantage over your competitors.
Who's Affiliate Lab created For?
It's a training program created for online entrepreneurs interested in learning everything about website creation, ranking, optimisation for search engines and flipping websites for a profit.
Regardless of whether you are a novice or an expert, you learn how to create a website, optimise its pages and make money off them.
Who's Matt Diggity?
Prior to the creation of Affiliate Lab, Matt worked as an electrical engineer, often working 60 hours weeks, and eventually had a nervous breakdown. A friend introduced him to the concept of ranking websites and making affiliate commissions. He learned how to make passive income through affiliate SEO.
He tried various SEO techniques that simply did not work and wasted thousands of dollars. At one point, he was devastated because his websites were penalised and his five-figure per month income that he had worked so hard vanished overnight. Therefore, he took matters into his own hands and try again, like an engineer, to test every ranking tactic before applying them to the websites. He created hundreds of test sites and applied various SEO strategies. After many years of trying, Matt finally had a breakthrough and discovered something incredible.
He wanted to create a course to teach people how to rank and flip websites based on his test-backed strategies. Hence the Affiliate Lab was born.
Today, Matt offers his services on a few websites. One of his sites is called Authority Builders where he and his team sell backlinks and help others to build authority websites.
Matt Diggity is a legitimate online entrepreneur and SEO expert. He generously shares his SEO knowledge by producing hundreds of videos on YouTube. As a result, his YouTube channel has attracted over 32,000 subscribers as of this review. You can check out his YouTube sharing here.
What's inside Affiliate Lab?
Although this course was created a few years ago, Matt had, over the years, constantly updated the content. Therefore, the content remains relevant to the current industry.
The Course Modules
The course is organised into independent modules rather than exactly step-by-step training in a sequence. Hence, you can go through the modules in any order.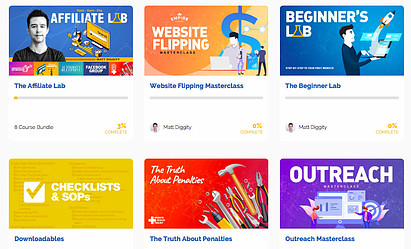 Here are the highlights of the modules, and they are not arranged in order.
Niche Selection Module
Niche selection is one of the most important steps in building a successful and passive income-generating website. There are 6 video lessons teaching you how to go about selecting the right niche based on competitors.
Onsite SEO Modules
This module covers the following topics:
Introduction

Domains and Hosting

Keyword Research

Site Architecture

Content Building

Site Building (Single Page)

Site Building (Site-Wide)

Onsite Optimisation

Featured Snippets

Monetisation

Conversion Rate Optimisation (CRO)

Website Maintenance
Matt and his team cover the fundamentals of on-page SEO with these video training lessons. The lessons covering various aspects of on-page optimisation and CRO.
Offsite SEO Modules
This module covers the following topics:
Introduction

Creating a Google Persona

Social Fortress Creation

Anchor Text Analysis

Local Citations

Social Signals

The Bulletproof Backlink Strategy

Optional: PBN Linking

Tier 2 Link Building
Due to his extensive knowledge of SEO, the Affiliate Lab provides a much better coverage of the off-page SEO than other training programs.
Technical Audits

The Kitchen Sink

The Medic Buster
The above are the tactics you can use when your site gets stuck in ranking. Even though there are steps for you to follow, you still need to figure out how to solve the problems yourself. Matt prepared these lessons based on his tested strategies.
The Authority Site Module
Authority Module Introduction

Building Authority Sites

Backlinks for Authority Sites

What to do When You Hit Authority Mode

Auhority Site Pitfalls

The Influencer Pitch: Building Real E-A-T

What's Next?
These lessons cover everything you need to know about how to build a profitable authority site. These specific lessons will show you how to take advantage of other sites in ranking.
Bonus



These are the bonus courses included in this Affiliate Lab Membership covering the topics briefly described.

The Beginner's Lab – building your first website

Website Flipping Master Class – flipping of a website and pitfalls to avoid

The Truth About Penalties – recover from Google penalty and avoiding penalties

Outreach Masterclass – master the outreach technique for getting high quality, relevant backlinks

Affiliate Email Marketing Masterclass – collect emails and keep your subscribers engaged

The Affiliate Portfolio Playbook – scale your business and hire the help that you need
How much does Affiliate Lab cost?
The Affiliate Lab cost $997 with a single payment or $597 in two installments.
The cost covers all the modules mentioned above, the bonuses and access to the private Facebook Group.
What I like about Affiliate Lab?
#1 – Matt Diggity is an expert in SEO He's legitimate and popular in the SEO and affiliate marketing industry and is recognised for his abilities to impart knowledge to new marketers.
#2 – High quality and comprehensive content The video lessons are well-done with comprehensive coverage of everything you need to know to create, rank, monetise and flip websites.
#3 – Lifetime free update on the course content. Once you enroll in this course, you will receive the newer modules every time he releases in the future at no extra cost. Matt constantly updates his course content and does not shy away from removing strategies that are outdated.
#4 – Good coverage of On-page and Off-page SEO He covers the on-page and off-page SEO better than anyone in the industry.
#5 – Active Facebook Group The Exclusive Facebook Group is active and you will get your questions answered.
What I don't like about Affiliate Lab?
#1 – Expensive
At first, the course looks expensive compare to similar courses available. However, considering the value you can derive from the course, it may not be that expensive, after all.
#2 – No refund policy
There is no free-trial option for you to explore the program before you buy.
Affiliate Lab Support
Affiliate Lab has an active private Facebook Group community to answer questions from its members. Once you become a member, you can join the group.
Recap of Affiliate Lab
Affiliate Lab is a well-designed and comprehensive training program which covers all you need to know to about website creation, ranking, optimisation for search engines and flipping websites for a profit.
Matt had adopted an engineer's approach to create and rank the websites for both niche and authority sites. Unlike other courses, all lessons are tested before they are being added to ensure they work when implemented. Therefore, it's considered as one of the few courses that really gets into the details of On-page and Off-page SEO. 
My Final Verdict
Matt practices what he preaches, and he has created this excellent training course on creating profitable affiliate websites. It's relatively an expensive investment. However, once you become a member, you will receive lifetime support, new additions and all future updates to the course content.
Final recommendation: Yes, it's one of the well-designed and comprehensive course. The in-depth coverage of various SEO fundamentals and advanced strategies will give you an edge over your competitors. It's the only course you need to create, rank, monetise and flip websites.