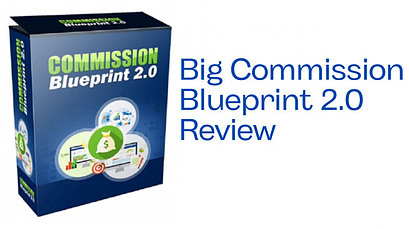 Welcome to Big Commission Blueprint 2.0 Review 2023.
Big Commissions Blueprint is a high-ticket affiliate program.
Following this program will involve purchasing expensive upgrades before you can expect to receive the big commissions.
This review aims to answer some frequently asked questions, such as: how much it costs, if it's a legitimate program and whether you can genuinely make money with it. The ultimate objective is to assist you in realising if the program is a good fit for you and if there are any better alternatives.
Big Commission Blueprint Review Summary
Product Name: Big Commission Blueprint (BCB) 2.0
Product Type: Affiliate Marketing Training
Founder: Dean Holland
Pricing: $10 to $4,997
Recommendation: Recommended only if you are willing to learn and has the budget to upgrades.
Summary
BCB is a legitimate high-ticket affiliate marketing training program created by a well-known super affiliate and online entrepreneur.
The approach of this program is you can start at a very low price. To fully benefit from the training and earn a higher commission, you need to upgrade to the next level. It offers a lot of training that teaches you how to set up a marketing business online and earn commissions promoting the same offer. The BCB program itself demonstrates the marketing system introduced in this program.
What is Big Commission Blueprint?
Dean Holland's BCB is a high-ticket affiliate marketing program.
BCB was created to teach you how to generate passive income by promoting the same high-ticket package to others. It all comes down to creating sales funnels and generating as much web traffic as feasible. Traffic generation is the essential key to success with this program.
With this program, Dean assures you this approach will enable you to experience four-figure paydays even if you are new to affiliate marketing. Does it seem too good to be true? Is it a scam or a legit program?
One of the things I appreciate about BCB is that you get a lot of instruction on how to start an internet marketing business and earn money promoting the same offer.
I tracked Dean online and can confirm that he's not a scammer.
The first problem with this offer is that Dean publicly says that you'll make thousands of dollars with the BCB technique, which may be accurate, but it will take years to get there.
The other issue is that he needs to inform you that you must pay costly upgrades to unlock the complete training and earn high-ticket commissions. I dislike false advertising and this lack of transparency linking to Dean's BCB program.
The basic training is good, but making money with this program may take a long time.
I'll show you what to expect from Dean and his training program in the rest of this BCB review.
Who's the person behind Big Commission Blueprint?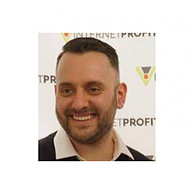 The person behind BCB is Dean Holland. He's a household name in the affiliate marketing industry. In 2014, he released the first version of BCB. The most recent version has several updates.
Dean is originally from the United Kingdom. He's also the owner of a company called Internet Profits LTD.
Dean, like many others, has tried to wrap his head around affiliate marketing to earn a living. In his own words, he failed many times and continued to fall terribly until he eventually got it right.
Because of his previous experience, he freely confesses that affiliate marketing is challenging to understand and implement. Therefore, he will not offer you a shortcut to riches.
It'll be easier to understand how this high-ticket program works if we first look at the price structure.
Big Commission Blueprint pricing and upgrades
The upfront cost of BCB is only $19.95, and you'll join a sales funnel after paying for this initial low cost. You'll have to accept those updates at some point, just like many other programs of this type, because they include the key components of the entire system.
I do not like this model, but this is the way the program is structured.
$197 for pre-recorded training videos one-time purchase – This upgrade consists of eight pre-recorded videos. If you refuse, you will be directed to a down-sell at $99.
Social Media Training (Price Unknown) – You won't see the price of this upgrade until you click on the button. To understand these upgrades, you must go through a lengthy sales pitch. Be careful, though. Once you click on the "buy" button, you will probably be automatically billed.
Affiliate Club at $47/month – This upgrade gives you more training, tools and resources, such as weekly webinars. Also, you need this upgrade to qualify for the big commissions.
The catch is that you must take the upgrades to earn the complete affiliate commission. The upgrades also allow you to promote BCB as an affiliate.
Once you join the Affiliate Club, there will be two more pricy upsells.
iPro Plantinum Membership at $1,997 – This upgrade provides you even more training and tools such as weekly trainign with Dean and his team, in-depth traffic and marketing as well access to success groups.
iPro Masters Membership at $4,997 – This upgrades provides more of the same as iPro Platimum.
With those two upgrades, you are now eligible to earn affiliate income on them. These upgrades are included in the funnel, so you won't have to do anything more.
In the next section, we'll look at the whole process of earning those high commissions.
Can you make money with Big Commission Blueprint?
First and foremost, BCB is a legitimate affiliate marketing training course. Dean understands what he's talking about, and the program has the potential to earn money.
Secondly, if you invest your time and money in this program, you may be able to earn money in the future.
Your success with this program is also dependent on your ability to follow the training instructions as well as your willingness to the upgrades and possibly invest in paid traffic.
Affiliate marketing is a lucrative business. But you won't get there until you've invested in learning the necessary skill set.
If you are a beginner affiliate, I recommend you check out my 4-step formula for building an online business here to learn the fundamentals of affiliate marketing.
4-STEP FORMULA FOR BUILDING AN ONLINE BUSINESS

What's inside Big Commission Blueprint?
When you first enrol in the program, Dean Holland will give you a quick tour and introduce you to him. BCB's workings are explained in the 11 video training modules.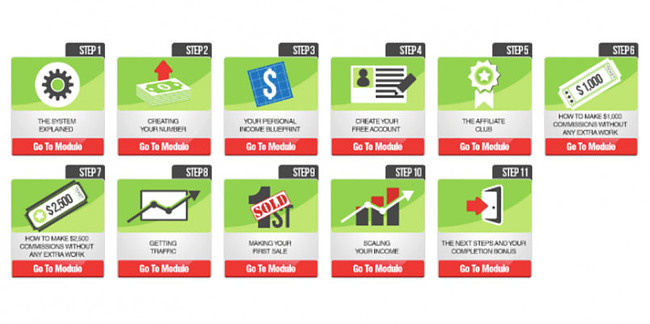 The System Explained

Creating Your Number

Your Personal Income Blueprint

Create Your Free Account

The Affiliate Club (Upsell)

How To Make $1000 Commissions Without Any Extra Work (Upsell)

How To Make $2500 Commissions Without Any Extra Work (Upsell)

Getting Traffic

Making Your First Sale

Scaling Your Income

The Next Steps and Bonus
I appreciate the content's thoroughness and Dean's attention to detail in his explanations. But keep in mind that if you don't purchase the Affiliate Club upgrade, you won't be able to see the entire session.
Let's go into the details of each module.
1. The System Explained
Dean breaks out every aspect of his approach in the first BCB module. It all comes down to building sales funnels and pushing this pricey program to earn significant commissions.
You must first construct a landing page where you provide your visitors with a present (an ethical incentive). You can accomplish this by offering a free webinar or ebook. Obtaining their email address is the key objective to creating a subscriber list.
They will be directed to a second stage of the sales funnel, where you offer a low-ticket product as soon as they sign up.
When a customer pays the amount, you send them to the second page, where you begin promoting pricey upsells. And that's how you begin to receive the big commissions.
The BCB itself is an excellent demonstration of the system Dean is teaching.
2. Creating Your Number
The correct mindset and setting goals are the main topics of this second lesson.
Dean makes you consider the future and all the advantages of starting your own online business as he discusses choosing the lifestyle you want.
3. Your Personal Income Blueprint
Knowing how high you want to aim is crucial to developing a strong business mindset. For example, how much do you want to make in the future?
Dean provides you with a picture to play with in this session and demonstrates how much money you may make using BCB.
4. Create Your Free Account
The first three modules served more as an introduction to the following modules.
Dean will now allow you to sign up as an affiliate and start earning $10 in commission for each successful sale you make during the fourth step of the Big Commission Blueprint method.
For instance, if you are successful in referring someone to the system and they decide to use it, you will receive $10. However, you wouldn't receive any commission if the fictitious customer chose to buy any of the upsells.
What, then, is the key? How can I be compensated for these upsells and receive the big commissions?
5. The Affiliate Club (Upsell)
You must accept the Affiliate Club offer to be eligible for full commissions. As mentioned earlier, this gives you access to thorough training and all the tools and resources you need to advertise BCB successfully.
Your potential earnings increase from $10 per sale to much more in this scenario. The commission structure will look like this if you are a full member.
Earn 90% commission on BCB.

Earn up to $98 per sale on each upsell.

Earn a $23 recurring monthly commission from Affiliate Club sales.
I would accept this upgrade if I were to join the BCB because this is the system's foundation. The preparation for this part has been ongoing all along. This is where the real money is made.
6. How To Make $1000 Commissions Without Any Extra Work (Upsell)
The Affiliate Club is a component of the training where you can truly learn how to promote BCB to others. You must, however, accept this upgrade if you want to make even more commissions.
The cost is $1,997.
With this upgrade, you can get up to 50% of the proceeds from each iPro Platinum sale.
According to Dean, this is a DFY system where you do not have to do anything. All the training, tools and resources, including the weekly coaching by Dean himself, are provided.
This upgrade sounds good but come at a steep price.
7. How To Make $2500 Commissions Without Any Extra Work (Upsell)
This improvement is similar to the previous upgrade. When you unlock the previous membership with iPro Masters, you gain access to additional training and materials.
Additionally, by upgrading, you become automatically eligible to get commissions on each iPro Masters membership sold.
There is a $4,997 cost.
8. Getting Traffic
The capacity to attract traffic to your offerings is essential to a successful, revenue-generating sales funnel. Of course, the more traffic you receive, the higher the income you generate.
In this module, Dean will explain the difference between paid and free traffic and how to reach out to them.
It's also important to differentiate between targeted and untargeted traffic. You only want to work with the targeted traffic to gain the maximum ROI, whether paid or free traffic.
Dean recommends you get free traffic from posting content and answering questions in the Warrior Forum. Free traffic is an excellent source of traffic because it's free. However, it will take a lot of time and a massive amount of work to generate significant traffic to earn an income.
If you want to achieve faster results, Dean recommends you use paid traffic such as Solo Ads. The Solo Ads is a form of Pay-Per-Click advertisement where you rent other people's email lists and send your offer to the subscribers of this list. You need a budget for this paid traffic.
9. Making Your First Sale
Dean discusses traffic from Warrior Forum in this module. In addition to giving you some advice based on his personal experience, he explains how to register an account.
10. Scaling Your Income
In this module, Dean shows you how to scale your income by outsourcing your work. By leveraging the time and effort of others, you get more done in much less time.
Dean explains how outsourcing works once you have reached this stage of your business.
11. The Next Steps and Bonus
This module is a recap of the whole training program and some promotion of iPro Membership.
Big Commission Blueprint refund
BCB offers a 30-day money-back-guarantee. If you are not satisfied in any way after your purchase, you can ask for a refund.
What I like about Big Commission Blueprint
#1 -The training is legitimate
The training is comprehensive and gives you a good grasp of what affiliate marketing is.
The program is beginner-friendly.
#2 – Dean Holland is genuine
You'll recognise Dean's sincerity after you follow through and get to know him. Dean has a lot of knowledge and understands how his program can help you.
#3 – There is a refund
The standard bundle includes a 30-day money-back guarantee. So you can get your money back if you don't like it.
What I don't like about Big Commission Blueprint
#1 – Expensive upgrades
To earn big commissions, you'll have to upgrade to qualify. Furthermore, basic training is unlikely to be sufficient for success, so you'll be forced to acquire upgrades at some point.
#2 – Misleading claims and lack of transparency
Dean was boasting about generating thousands of dollars in commissions as a total newbie using mysterious and controversial methods of making money.
BCB's lack of transparency on its promotional material is another issue. He never indicated that you would need to invest additional money to upgrade.
#3 – Promotes paid traffic
Learning how to attract free traffic to your offer is the best approach to starting with affiliate marketing. However, Dean promotes paid traffic as the main technique since it produces results faster.
My Final Verdict of Big Commission Blueprint
When you meet the requirements, Dean Holland's high-ticket affiliate marketing method enables you to earn substantial commissions. You will learn fundamental concepts and how to set up a successful online business.
To fully benefit from the training and earn the big commissions, you need to upgrade (purchase the upsells).
Because I'd been scammed a lot when I initially started out online, I was understandably quite wary of this "upselling" approach.
Nowadays, I will adopt a more balanced and unbiased view on upselling.
In my opinion, upselling is not unethical if:
The upsell product represents good value for money

You don't need the upsell to perform what the original product was supposed to do

The marketing for the upsells is transparent and ethical.
The program will work if you are ready to invest your money and time. The concepts taught in this program can be adopted for the promotion of other similar products.
Final recommendation: Recommended only if you are willing to learn and has the budget to upgrades.
Alternative to Big Commission Blueprint
If you find Big Commission Blueprint 2.0 too costly an investment, I recommend you check out my Top Recommended program.
This program includes detailed (step-by-step) and up-to-date training, an advanced keyword research tool, websites and web hosting, live and technical assistance, community support, and much more!
One of its best features is that the program allows you to start for free (Starter Member) to explore all the features and benefits before you decide if it's suitable.
Create my free Starter Membership
Once you own the Premium Membership, you will enjoy the following benefits.
Detailed, step-by-step training video.

Weekly live, interactive training classes.

Thousands of video and text-based tutorials and training.

Web hosting for up to 10 websites on free and registered domains.

A website builder to simplify the creation of your affiliate website.

A keyword research tool, Jaaxy.

SiteContent platform for you to create, edit, manage, organise and publish your content.

A great support community with 24/7 live chat, direct messages and expert mentoring.

No Upsells.
The Premium Membership comes with all the above benefits; you only need a monthly investment of $49/month or $495 (paid annually).
You can endorse me to assist you in exploring the features and benefits of my Top Recommended program by clicking on the link below.
START BUILDING MY ONLINE BUSINESS TODAY!

We hope this Big Commission Blueprint review is helpful to you. Please share it with your friends if you like it. If you have any questions, please leave your comments below.