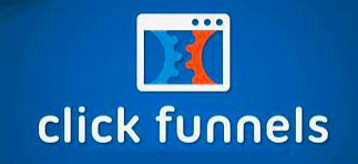 Welcome to ClickFunnels Review 2022.
You probably have heard of ClickFunnels if you are in touch with digital marketing.
ClickFunnels is an easy-to-use, intuitive, effective and powerful tool for creation of online marketing sales funnels.
A sales funnel is a marketing campaign consisting of multiple steps to guide your visitors through the entire sales process by breaking down the journey into smaller and easily digestible steps.
The sales funnels ultimately lead the buyer to making the final purchase decision for the product or service.
This pioneer in sales funnels and has now become one of the largest marketing software-as-a-service companies in the marketplace. It offers an efficient, easy and quick marketing tool for business owners, startups and entrepreneurs to build their online presence and boost their conversion rates for their products and services.

ClickFunnels Review Summary
Product Name: ClickFunnels
Product Type: Software-as-a-service provider for creaion of sales funnels for online marketing of products or services
Founder: Russell Brunson
Pricing: There are 3 pricing plans:
Standard (Basic): $97/month

Platinum: $297/month

Two Comma Club:$2,497/month (exclusively for existing clients who have successfully made sales of more than $1m)
Summary
Clickfunnels offers a software-as-a-service to simplify the creation of sales funnels.
It consists of a suite of tools such as templates for building landing page, A/B testing, software integration, capture emails and payment for building sales funnels.
The sales funnels facilitate the process of attracting visitors, turn them into leads, convert them into customers, and follow up.
ClickFunnels is an all-in-one platform for business owners and entrepreneurs to grow and scale their business 24/7 automatically once the sales funnels are properly set up.
Recommendation: Yes, for those who want to promote their new products/services as well as to scale the sales of their existing products/services.
What's ClickFunnels all about?
Clickfunnels offers entrepreneurs and business owners a quick, easy and efficient way to build an online presence and boost the conversion rates of their products or services. This can be achieved through building of sales funnels.
Founded in 2014 by Russell Brunson, Clickfunnels has revolutionised the online marketing industry with the creation of sales funnels to market products/services online.
Clickfunnels started as a way to shorten the time taken to create funnels for various business ventures but eventually develop into a product and offer it as software-as-a service.
What are marketing funnels and how do they work?
A marketing funnel is a step-by-step process that converts your visitors into lead, and to buyers.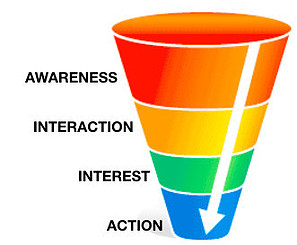 The steps in the marketing funnels are:
Awareness

Interaction

Interest

Action
The marketing funnel is the entire process to convert your visitors to buyers of your products/services.
In e-commerce, a sales funnel is a series of steps designed to guide the visitors on your website through the entire purchasing process: first by creating awareness, then interaction and interests, and finally to take action to purchase.
A sales funnel has the shape of an 'inverted pyramid' that draws your visitors in each of the steps (awareness – interaction -interest – action) closer and closer, and finally closes the sales.
Unlike advertisements, a sales funnel guides the visitors and avoided the confusion during the entire sales process by guiding the visitors at each of the step, leading to the closure of the sales.
By creating a sales funnel for your products/services, you streamline, automate and minimise the effort of the entire marketing process and facilitate the introduction of new and scale the sales of existing products/services.
What's the difference between a website and a sales funnel?
Web pages are static display or presentation of a company's information, products, or services which contain information such as the company's logo, products information, pricing table, contact, store location, etc.,
On the other hand, a sales funnel acts as a competent sales professional that identifies its potential customers, interacts with them, creates interests, and finally leads the visitors to take action to buy.
A sales funnel, if set up correctly, will function as a professional salesperson, promoting your products/services to your potential customers 24/7.
Who's ClickFunnels created for?
In general, startups and small businesses will benefit the most from using sales funnels either to promote their new products/services or to scale the sales of their existing products or services.
Sales funnels are suitable for those offering creative products/services and independent ventures.
However, e-commerce, network marketing, consultancy, coaching and professional services providers will also find the sales funnels to be a great marketing tool for their products/services.
Is ClickFunnels legitimate?
Clickfunnels is 100% legitimate, and it's one of the largest marketing software-as-a-service companies in the marketplace.
It fulfills the requirements of almost every business to attract, interact, educate, engage and sell their products/services to their visitors, including follow up after the sales.
As of this writing, Clickfunnels has a customer base of 90,000+ entrepreneurs and more than 100,000 users, making it the largest marketing software-as-a-service companies in the marketplace.
Who's the person behind ClickFunnels?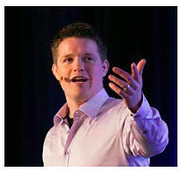 Russell Brunson, a well-respected figure in the online business industry, is the founder of ClickFunnels. He's the bestselling author of DotCom Secrets and Expert Secrets. In these two books, he guides people through his marketing methodologies.
What are the ClickFunnels features and benefits?
Clickfunnels has all the essential features you need for lead generation and increasing the sales of your products/services.
Overall, the features are flexible, straightforward, easy-to-use, intuitive and give you a good amount of control, making it the ideal marketing solution for entrepreneurs and business owners.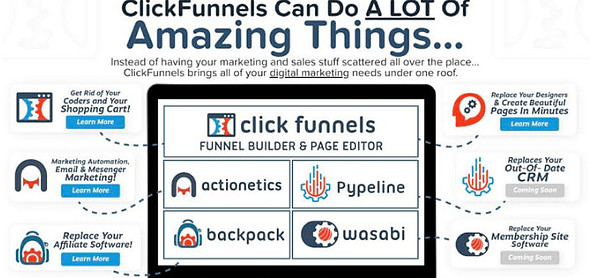 Some of the top features are described below.
Drag-and-drop Page Builder
This is the main feature of ClickFunnels. It has a really solid landing page builder with an array of templates of good design. The templates are organised by funnel type makes it easy to locate.
Once you open your pages in the editor, you are basically working with a drag-and-drop builder using the templates provided. You may save some of the templates and make them personal page templates. Similarly, the template editor allows for plenty of customisation with good control. In addition to using the templates, you are free to do many things such as mobile preview, text and colour editing or setting.
With the funnel builder working like a picture editing software, you can quickly create the pages you need without relying on a team of programmers.
Ease of building sales funnels
The core features of ClickFunnels, the actual funnels, are easy to manage. A cohesive menu enables you to navigate all parts of your funnel, from the selection of the template to the drag-and-drop editor. The learning curve will be, at most, a few hours for most people.
Integration
Integration is the addition of other softwares into ClickFunnels.
There are a few different types of integrations to your ClickFunnels account, namely email, webinar, SMS text and action.
ClickFunnels has a list of notable partners that you can add to your integrations easily. Some examples are:
GetResponse

Active Campaign

Aweber

Constant Contact

Convertkit

Drip

MailChimp

HibSpot

InfusionSoft

and others
The integration process of adding is self-explanatory and managing the integrations is also straighforward.
The Payment Integration Gateways is an important integration that allows your customers to pay for their purchase. You no longer have to worry about getting third-party payment gateways as ClickFunnels takes care of this important task.
ClickFunnels has included a long list of integrations, which include some of the major payment processors such as Stripe, PayPal, Keap (Infusionsoft), etc.,
One-click Upsell and downsell
This feature simplifies, helps to increase sales and provide a better shopping experience for your customers.
This feature collects the customers' data, such as personal details and payment preferences. On their next visit, there is no need for them to re-enter the information. With One-Time-Offer (OTO) templates, you can add additional items to the upsell or downsell pages.
Share funnels with others
You can share your funnels with all the settings like custom CSS, HTML codes, etc., with your business partners and stakeholders.
How would that benefit you?
For example, if your friend uses your funnel and ended up with creating a ClickFunnels account, then you are entitled to affiliate commissions – both you and your acquaintances can enjoy some additional income with minimum effort.
A/B Testing
The A/B Testing feature evaluates multiple pages of your sales funnels and helps to identify the poor performing elements. You can then take steps to improve and optimise your landing pages. The comparison is shown in a visual format so you can easily determine what works best for your online business.
Integrated analytics for tracking sales data
This feature allows you to track the performance of your sales funnels. Armed with statistics such as EPC (Earning Per Click) and gross income tabulated across different stages/pages of your sales funnels, you can easily identify what works best for you.
Backpack (only for Platinum Plan)
Backpack is ClickFunnels affiliate program tool.
It allows you to add an affiliate program to your site. It's a great way to scale your business without increasing your workload or incurring additional spending. Your affiliates will do the promotion and sales for you in exchange for a commission.
Follow-Up Funnels (only for Platinum Plan)
This is the ClickFunnels email auto-responder tool.
You can choose from the existing list or create a new mailing list for follow-ups with your customers.
How much does ClickFunnels cost?
ClickFunnels comes with 2 pricing plans: The Standard or Basic and Platinum.
The Standard Plan starts at $97/month and the Platinum starts at $297/month ($2,997 pay annually). There is a 14-day free trial so you don't have to commit to the expensive plan right away.
The main differences between the Standard and Platinum Plan are the Standard Plan has some limitations such as funnels (20), Sub-pages (100), Sub-users (1), Payment Gateways (3), Domains (3) and without Follow-up funnels.
However, both The Standard and Platinum have unlimited contacts, members, all advanced funnels, A/B split tests, and a few other commonalities.
In summary: The Standard and Platinum Plan essentially carries the same core features of ClickFunnels with Platinum Plan comes with two other services – Follow-up Funnels and Backpack, and the full set of ClickFunnels features.
View the full features and the pricing plan for Standard and Platinum Plan here.
ClickFunnels contract
There are no long-term contracts or commitments. You can use ClickFunnels from month to month and cancel at any time.
ClickFunnels offers a free 14-day trial. This trial period allows you to explore and decide if ClickFunnels is the right program for your business.
What I like about ClickFunnels
#1 – Focus on making money
The focus of its design and features is aimed at helping you to make money. The setting up of your content, account and taking payment are all made easy yet effective in achieving its purpose – promotion and scaling of your products/services to make money.
One of the best things about ClickFunnels is its focus on making money for the user. They make it very easy to make your account, put up your content, and start taking payments. Plus, it's pretty easy to pick everything up—it'll probably take you a couple hours to figure out most of what you need, max.
#2 – Ease of use
It's easy-to-use, intuitive and effective with the learning curve not exceeding a few hours. There are also a lot of reference materials available to get you started and be proficient in using within a short period.
Most of its features are simple, with no-nonsense dashboard enhancing the seamless user experience.
#3 – Multipurpose marketing software
ClickFunnels is an all-in-one marketing tool that allows you to take full control of your business.
From building landing pages to emailing list, scheduling of SMS notification, payment and follow-up – the entire sales process can be completed within a short period without input from teams of programmers.
This multipurpose all-in-one marketing software saves you time and cost, yet presents professional-looking sales funnels.
#4 – Great selection and integration
ClickFunnels handles the API integrations well with a great selection of programs. The email auto-responder and payment processor are reliable and easy to manage.
What I don't like about ClickFunnels
#1 – Too templated
Due to the popularity of ClickFunnels and the ability to customise extensively, it ended up with many users are using a similar design, making many similar designs floating around for different products.
You need to be more creative to come out with a unique design.
#2 – software outrages and errors
You will encounter the platform going down or experience some errors now and then and there is nothing you can do about it but to wait. It's also difficult to know if your pages are working well unless you constantly check on them.
#3 – Average customer service
The customer service is only average and they are not very helpful when it comes to solving problems related to more advanced features.
My Final Verdict of ClickFunnels
ClickFunnels is an effective marketing tool that can automate your entire sales funnel.
This all-in-one software-as-a-service provider has all the tools you need to simplify the customisation of your sales funnel without compromising the efficiency and quality of your web pages to achieve high conversion rates for your products or services.
For entrepreneurs and business owners, there is no easier way to promote and scale your products and services than using ClickFunnels.
Final recommendation: Yes, for those who want to promote their new products/services as well as to scale the sales of their existing products/services.