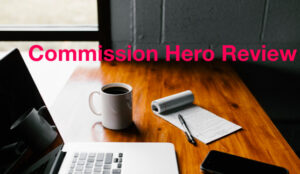 Welcome to Commission Hero Review 2022.
If you want to make a consistent salary online, developing your sales funnel is one way. Sales funnels help you appeal to a broader audience and make more money from it.
Commission Hero promises that it can teach you how to build sales funnels.
Let's explore this further.
Commission Hero Review Summary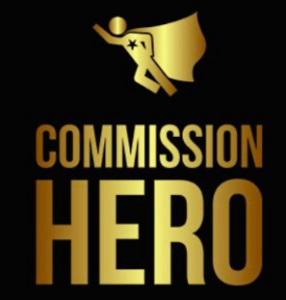 Product Name: Commission Hero
Product Type: Sales Funnel Training Course
Founder: Robby Blanchard
Pricing: $997 one-time payment or $597 in two instalments
Recommended: Not for beginners affiliate marketers
Summary
Commission Hero is a training program that teaches you how to create Sales Funnels and make money from them. Its primary focus is on Clickbank affiliate marketing using Facebook Ads.
You can learn how to find profitable products on ClickBank and create sales funnels, then use Facebook Ads to target the people who've signed up for your emails.
The method used is legit, and a thriving online affiliate marketer created the training. However, it's an expensive program with recurring costs that amount to hundreds of dollars a month.
What is Commission Hero?
Commission Hero is a step-by-step training course that teaches you how to create sales funnels to make money through these funnels. Its primary focus is ClickBank affiliate marketing and Facebook Ads.
This course will teach you how to find profitable ClickBank affiliate products to promote and create sales funnels for these products. You then by drive targeted Facebook traffic to your funnels.
In summary, it's a legit method. However, the problem many affiliate face is with Facebook Ads.
We found the program unsuitable for beginners as they will not be able to appreciate and receive the full benefit from the training. Another thing to note is that using Facebook Ads, the recurring cost is high.
If you are a beginner affiliate marketer, check out my top recommended program, which covers the basics of affiliate marketing. More importantly, it equips you with all the essential tools for building a successful affiliate marketing business online, with no recurring cost and much more affordable.
You may want to check out my Top Recommended Affiliate Marketing Training program below.
THE BEST WAY TO MAKE MONEY ONLINE 2022

Who's Commission Hero created for?
Commission Hero is created for those ready and serious about investing money into online business. As the program works on paid traffic, you need at least $500 to start, followed by similar or more investment for the subsequent months. It costs a lot of money.
It's a comprehensive course on creating sales funnels and building passive income streams using affiliate marketing. Besides the monetary investment, you are expected to put in a lot of hard work. If you are not ready to work hard and invest, this program is not right for you.
Who's the person behind Commission Hero?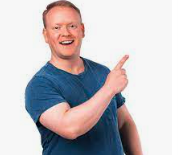 Robby Blanchard is the creator of Commission Hero. He claims to be the #1affiliate marketer on the ClickBank Leaderboard.
ClickBank is a marketplace for vendors and affiliate marketers coming together to form a business venture and let the affiliate marketers promote their products for a commission. It's a legitimate platform, and several affiliates earn a 6 to 7 figures income annually.
Robby is legit and a successful online marketer. He's also the owner of a brick-and-mortar CrossFit Reach gym in Massachusetts. He decided to try out online advertising for his gym business as it's difficult to get customers, and he successfully managed it.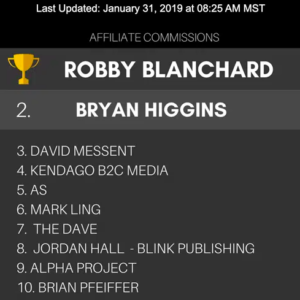 Today, he's teaching others interested in learning the same skills that have helped him make a lot of money.
What can you learn from Commission Hero?
In this training, Robby will teach you how to make money online by creating sales funnels to promote ClickBank products as an affiliate marketer. He will share with you the secrets that enable him to claim the #1affiliate marketer on the ClickBank Leaderboard, which include the followings.
Find the best and highest paying affiliate products to maximise your income.

Uses a Facebook account to run his ads to promote his products.

The 3-step system to psychologically persuade people to take up your offers.
You can find check out some of his teachings on YouTube before deciding to join his program. Below is a short video where he gives insights into this Commission Hero.
What's inside Commission Hero?
There is a total of 9 training modules inside Commission Hero.
1.Getting Started
2. Choosing the Right Offers
3. Finding Your Ad Image
4. Setting Up a Landing Page
5. Creating a Facebook Account
6. Installing Facebook Pixels
7. Tracking Your Campaign
8. Scaling
9. Ninja Tactics
Module #1 – Getting Started
Robby gives you an overview of the affiliate marketing business in this module.
He will review some key points, so you're primed for what lies ahead.
Module #2 – Choosing the Right Offers
The critical part of affiliate marketing is ensuring you have the right offer. You can't beat it if you don't find a proven product to convert.
Within the second module, Robby will teach you about the different marketplaces and how to get approval for the chosen products, focusing mainly on ClickBank.
Module #3 – Finding Your Ad Image
This module will show you how to find the right images for your campaign.
The key to creating ads that get clicks is finding the best images with which people will interact. Your potential to make money increases in proportion to the number of clicks you get.
Module #4 – Setting Up a Landing Page
Once you have selected the product and image, the next step is to create the landing page, and this module covers this item.
You will use the ClickFunnels platform to create your sales funnels. Do note that ClickFunnels will cost you an additional $97/month.
Module #5 – Creating a Facebook Account
The next step is to learn how to use Facebook Ads. You must take this module seriously, as any mistake during this stage will ruin your training.
As you are probably aware, Facebook is one of the best ways to drive traffic to your offer, but it's also one of the most dangerous ways to place your advertising.
Note that the Facebook Ads will cost you another additional $300 to 600/month. As Facebook changes its rules so often, please be careful.
Module #6 – Installing Facebook Pixels
This module is about setting up your Facebook Pixels. The tracking software allows you to monitor your performance, such as click-through rate, conversion rate, sign-up etc.,
Module #7 – Tracking Your Campaign 
In this module, Robby shows you how to set up the Pixel. He'll explain the interpretation of data once the system starts rolling so that you can get the most out of your campaigns.
Module #8 – Scaling
At this point, if you have done everything correctly, you should be able to see some results.
The purpose of using Facebook Ads is to scale your effort by keeping cycling your money until the pile gets bigger and bigger.
Module #9 – Ninja Tactics
This last module is about sharing some of his 'Ninja' techniques. Robby will share with you how to use these tactics to scale and optimise your campaigns. With that, you will have more and less money out of your pocket.
Bonuses
In addition to the above modules, Commission Hero also include the following.
Million Dollar Landing Pages Swipes (ClickFunnels)

Million Dollar Landing Pages Swipes (PHP)

Mindset

Images

CPA

Contacts
As you can see, the program is not meant for beginners affiliate marketers as it does not explain the setting up of various elements in detail.
How does Commission Hero work?
In this training, Robby shows you how to find the ClickBank products to promote, create the sales funnels, drive traffic to your offers using Facebook Ads, and earn a commission when someone makes a purchase.
Commission Hero is based on the legitimate method of using the affiliate marketing model to make money.
Essentially, the affiliate marketing model consists of the following steps.
1.Decide on your niche – select the right products for promotion
2. Build your website – create your sales funnels
3. Create content & attract visitors – drive traffic using Facebook Ads
4. Making sales and earning affiliate commissions – earn commissions
5. Rinse and repeat the above steps to earn affiliate commissions.
The affiliate marketing method in this training is using Facebook Ads to generate traffic (visitors) instead, rather than writing relevant content to generate organic (free) traffic, which, in my opinion, is the better method.
You are probably aware that running Facebook Ads is not as straightforward. It's also a time-consuming process that requires careful planning and precision execution.
Robby has made the affiliate marketing process easier than it is. In practice, using affiliate marketing to make money online requires much more effort and resources, including education, keyword research tool, community support, persistence and perseverance.
In our opinion, the main issue with Commission Hero is using Facebook Ads.
The other concern is that the course does not cover alternative traffic-generating methods. If you fail to use Facebook Ads properly or do not have the money to invest in Facebook Ads, your entire system created using Commission Hero will not bring you any income.
How much does Commission Hero cost?

Commission Hero costs $997 for a one-time payment or two instalments of $597 each, where you end up paying more if you go for the instalment option.
In our opinion, the Commission Hero falls into an 'expensive' course category.
There are other similar courses out there which cost a fraction of Commission Hero, such as Savage Affiliates ($197) and Wealthy Affiliate (monthly of $49), where you can start for free. These courses contain equally good, if not better, information.
Additional cost
I think you also need to be aware of the additional cost involved before starting with Commission Hero.
ClickFunnels (basic) – for building your sales funnels ($97/month)

Email Autoresponder (basic) – for email management ($15/month)

Tracking software – tracking your response ($50/month)

Facebook Ads – generating traffic (recommended $10-$20 per day, approx. $300 – $600/month)
All the above adds up to more than $700/month to get started with Commission Hero.
Commission Hero refund
From our research, the refund policy has been recently updated, and the refund has been removed for reasons unknown to us.
The old refund policy was based on action taken. If you have shown that you have taken action as outlined in training but cannot obtain satisfactory results, you can get a refund.
However, this refund policy is no longer available.
Is Commission Hero legit?
Based on our research, Commission Hero is a legitimate training program.
If you join Robby's program, you can be sure that you are learning from one of the best marketers in the industry. Robby is legitimate and he's an expert in the online marketing industry.
Although Commission Hero is a legitimate training program, we have identified some problems.
Firstly, paying $997 to join Commission Hero without a refund concerns many. 
It should go without saying that most legit online courses that teach affiliate marketing know that people change their minds and sometimes may have difficulties following the teaching materials. In our opinion, having a full or at least partial refund policy within 30 or 60 days indicates the creator's confidence in his program.
Secondly, we are concerned with using Facebook Ads to drive traffic. We saw there are complaints about Facebook Ads in delivering their promises.
One last thing to highlight is that Robby did not include any teaching on alternative traffic sources, such as using free traffic by building quality content relevant to your readers in your niche on your website. It's important, especially for beginners affiliate marketers, to over-relying on paid traffic (such as Facebook Ads) as it could be expensive yet may not achieve the desired results.
Alternative to Commission Hero
Is there a better alternative?
The best choice for beginners looking for a legitimate business model to make passive income online is not the most expensive in the market, such as my top recommended program, which uses a simple 4-step formula for building an online business.
4-STEP FORMULA FOR BUILDING AN ONLINE BUSINESS

What I like about Commission Hero
#1 – Commission Hero uses an affiliate marketing model that works
Commission Hero uses the affiliate marketing model, a legitimate way to make money online. Robby has shared with you the same method he used to succeed as one of the top affiliate marketers.
#2 – Step-by-step training
Robby has provided a step-by-step training program based on workable methods. You get comprehensive training where the materials are arranged in modules. Each module is designed to build on the knowledge and skills you gained from the previous module.
#3 – Bonuses and DFY funnels included
In addition, to get you started on the right path, Robby also included a few valuable bonuses, such as the DFY sales funnels to help you to achieve your goals faster.
He has helped to simplify the affiliate marketing process for making money online.
What I don't like about Commission Hero
#1 – Commission Hero is expensive
In our opinion, at $997, the program is overpriced, especially for beginners affiliate marketers. As there is no refund, you have to think carefully before joining. It would be more beneficial if Robby could lower the price so more people could benefit from his teaching.
#2 – Only focuses on Clickbank products
One of the main drawbacks is that the program only focuses on the ClickBank marketplace, and you can't use Commission Hero to promote products from another marketplace, such as Amazon.
#3 – The system involves additional costs
You need additional cost to benefit from using the Commission Hero system.
These additional cost are ClickFunnels ($97/month), Email Autoresponder ($15/month), Tracking software ($50/month) and Facebook Ads (range from $300 to $600/month).
All these additional costs were not disclosed on the program's main page, and they could add up to $700/month!
#4 – Facebook Advertising is risky
There are reported cases from users of Commission Hero where they faced problems getting approval from Facebook. Some reported they were denied access to their account, whereas others reported some disruptive.
My Final Verdict of Commission Hero
Commission Hero is a legitimate training for marketers to make money online with Clickbank affiliate marketing.
In general, products from Clickbank are overhyped, and the training courses are overrated and designed to make money for the creators but not the users. The other point to note is using Facebook Ads for traffic, which is expensive and ineffective.
It's also worth mentioning that your need an additional cost of a few hundred dollars per month to keep the Commission Hero system running and benefit from it. This was not disclosed on the sales page.
This program is unsuitable for beginners because beginners should learn the basics of affiliate marketing and create quality content to bring in organic (free) traffic and not rely on paid traffic.
Final recommendation: No
How to Start a Legit Online Affiliate Marketing Business?
If you're looking for ways to start an online business in affiliate marketing to make money online, I recommend you to check out my Top Recommended program.
This program includes detailed (step-by-step) and up-to-date training, advanced keyword research tool, websites and web hosting, live and technical assistance, community support, and much more!
One of its best features is that the program allows you to start for free (Starter Member) to explore all the features and benefits before you decide if it's suitable.
Once you own the Premium Membership, you will enjoy the following benefits.
Detailed, step-by-step training video.

Weekly live, interactive training classes.

Thousands of video and text-based tutorials and training.

Web hosting for up to 10 websites on free and registered domains.

A website builder to simplify the creation of your affiliate website.

A keyword research tool, Jaaxy.

SiteContent platform for you to create, edit, manage, organise and publish your content.

A great support community with 24/7 live chat, direct messages and expert mentoring.

No Upsells.
With all the above benefits with the Premium Membership, you only need a monthly investment of $49/month or $495 (paid annually).
You can approve me to assist you in exploring the features and benefits of my Top Recommended Affiliate Marketing program by clicking on the link below.
START BUILDING MY ONLINE BUSINESS TODAY!

We hope this Commission Hero review is helpful to you. Please share it with your friends if you like it. If you have any questions, please leave your comments below.