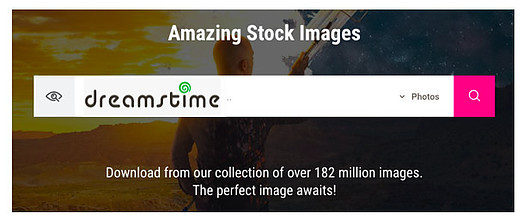 Welcome to Dreamstime Review 2022.
This review is especially relevant if you are a photographer, designer or illustrator.
Dreamstime is a great business opportunity for you to build your portfolio on the world's largest and trusted leader in professional stock photography and get paid for your work.
Dreamstime Review Summary
Product Name: Dreamstime
Product Type: Photo, video and content contributor and reselling platform
Founder: Serban Enache
Pricing: Free to join
Summary:
Dreamstime is a trusted world leader in professional stock photos, video, audio and illustrations.
The platform allows you to contribute your design (photo/video/audio/illustrations) and make money from them.
Unlike other stock photos site, Dreamstiime is open to anyone around the world to join for free! Aspiring photographers and content creators will find this an excellent platform to build their portfolios.
Dreamstime offers a vast variety of high-quality images of different categories at the lowest prices.
Recommendation: Yes, to all aspiring photographers and content creators to showcase their work and make money.

What's Dreamstime all about?
Dreamstime is the world's largest community for royalty-free and stock photography.
Talented contributors from all over the world enrich the Dreamstime's vast collection of professional stock photographs every single day with their unique, high-quality creations.
Dreamstime has over 180 million photographs, illustrations and vectors, spanning a wide array of categories for you to choose from, and at very affordable prices.
In addition to photo images, Dreamstime also offers thousands of high-quality, professionally produced audio, video and music clips.
Dreamstime offers an opportunity for anyone to upload royalty-free images, videos, audio and illustrations and sell them to Dreamstime's customers on the internet.

Who's Dreamstime created for?
Dreamstime is created for two different groups: the contributor and the customer.
This review will focus on the contributor with Dreamstime, offering you a business opportunity to make money.
Dreamstime is a great business opportunity to make money.
If you are an aspiring photographer or content creator looking to build a portfolio for your creation.

You enjoy photography as a hobby and want to earn money from it.

You have the skills and creativity to capture great images and to profit from it.Dreamstime is the world's largest community for royalty-free and stock photography.
How does Dreamstime works?
I'm assuming you will sign up with Dreamstime as a contributor in photography, video or design through their free contributor account and start to build your portfolio.
The teams at Dreamstime will manually review every contribution you upload for quality control purpose. Once accepted, you will earn credits every time someone downloads your photo images or design.
Is Dreamstime legitimate?
Dreamstime is a legitimate company founded in 2000 by Serban Enache. It is one of the early players in stock photography business and has established itself as one of the top companies in this area.
Currently, Dreamstime serves more than 41 million clients all over the world. It has more than 800,000 contributors with monthly photo images contribution of close to 3 million.
It has a reputation for supplying high-quality digital images at affordable prices with its database of photographs covers a wide range of subjects.
There is also a huge database of Dreamstime free images where you can license free of charge (require attribution). It also has license images under Royalty-Free and Extended License for which you need to pay a onetime fee.
Is it safe to download from Dreamstime?
Downloading from Dreamstime is safe.
The team at Dreamstime manually reviews each of the contributions (photo images, video and audio files) submitted to meet the legal, quality and aesthetic standards. All the pages, including the credit buying pages on the website, are secured. Therefore, you can safely pay and download your chosen items from Dreamstime.
How much can Dreamstime contributors make?
The 5 different levels of earning on Dreamstime:
L1: Accounts with zero download and less than 6 months.

L2: For non-exclusive images or no ownership rights

L3 to 5: Feature exclusive images only
Dreamstime pays between 25% and 60% commissions. You can earn between $0.35 to $12.24 for a royalty-free download. For Extended Licenses, you can earn up to $40.80 per image. In addition, exclusive users will receive $0.20 per accepted uploaded image.

How does Dreamstime pays it contributors?
Dreamstime pays out at $100 minimum threshold for withdrawal.
The mode of payment includes PayPal, mailed check, Skrill and Payoneer.
What I like about Dreamstime
#1 – High earning potential
Dreamstime offers one of the best earning potential in the market.
Depending on your skills and creativity, there is potential to earn at least a dollar at the lowest level to $10 or more for every download. If you have 10 images paying you at the rate of $10 per download, the monthly earning can be more than $3,000.
#2 – Worldwide and free to join
There is no joining fee and anyone from any country around the world can become a contributor and earn money.
#3 – BBB Rating
Dreamstime is a reputable company with BBB (Better Business Bureau) Rating.
What I don't like about Dreamstime
#1 – Competitive
With talented contributors from all over the world competing at the same platform, your creation has to stand out from the rest to earn a good income.
#2 – High payout threshold
For those who just starting, the $100 payout threshold for withdrawal is high. Most contributors may have to wait for a few months to get the payout.
My Final Verdict of Dreamstime
Among the many stock photography sites, Dreamstime pictures sell at the lowest prices.
The company makes special effort to review each of the contribution to ensure these contributions meet the legal, quality and aesthetic standards, therefore maintaining high standards and trust with its customers and contributors.
A variety of subscription plan is available to guarantee the users can find one that suit them.
Whether you are a contributor to make money from your creation or as a customer,Dreamstime is a great option.
Final recommendation: Yes, as a contributor to earn money or a customer looking to purchase high-quality stock photographs at the most affordable prices.
Other alternative of making money online
If you are not sure photography or creating content is right for you, I would like to recommend you to consider other alternative of making money online.
I personally prefer affiliate marketing for the following reasons.
1. You can start building your affiliate marketing without an upfront huge investment (for example, camera equipment).
2. Affiliate marketing has great potential to generate passive income.
The program I recommend is an all-inclusive business platform where you can get everything you need to make money online.
This program consists of step-by-step training, advanced tools for keyword research, web hosting, live assistance, technical and community support, and much more – all at a very affordable cost.
If you have interests or special knowledge in some areas, you may want to explore how to turn your passions into a business.