Looking for best note-taking apps that provides everything you need to keep your life organised?
Read on to discover how Evernote can help to organise your life by transforming all your ideas and creation into one platform to enable you to access and retrieve all your information across all devices, at anytime and everywhere.
Summary
Nowadays, having an app that can sync across all your devices with a browser version is indispensable for your business or work – Evernote is here to fulfill your requirements.
Since its launch in 2008, Evernote has become the leader among the note-taking apps. In term of features and functionality, it's not easy to find another service that does everything Evernote provide. Looking at the list of features, it's not difficult to understand why Evernote has attracted 200 million users as of today. Besides the basic function of note-taking, Evernote has the advanced options such as Optical Character Recognition (OCR), document scanning and team management that tracks every note, every file uploaded and all the deadlines share across all team members.

What's new in Evernote?
Since September 2020, Evernote has released a thoroughly updated version of its apps for iPhone and iPad. Similar new version for Windows, MacOS and Android are on its way.
Many of the problems have been fixed, and the apps now are more stable with a faster search tool. The new editor has make it easy to clear the formatting, adjustments to font size and colour.
The Evernote Way
Evernote is a place for you to record, save and organise all your thoughts, ideas, notes, memos, images and files and whatever you uploaded. All the items are stored in cloud so you can easily access from your smartphone, tablet or laptop.
It has an excellent search function that allows you to find everything that you have uploaded in your account easily. There are also tools that help you to sort your notes using tags, geolocation tag, notebook and stacks of notebooks. Evernote functions as a digital filing cabinet where the ability to search and store making it indispensable.
Features in Evernote

There is a long list of features available in Evernote, some more important/useful features are highlighted here.
Web Clipper – Save the website screenshots, articles and files directly to your account.
Schedule – Create to-dos in your notes and manage them your way so you can get an overview of everything and focus on the information you need to tackle the task at hand.
Go paperless – Scan and keep all important documents handy on all your devices.
Search – Help to find your notes, keep you organised and boost productivity.
Templates – Easy-to install note templates for work, school or life.
Spaces – Evernote Teams brings people, projects and ideas together in a centralised space and maintain information continuity across team and time. You can easily collect, organise and share information with your entire team or a specific person.
Integration – Integrates with your favourite apps such as Google Drive, Slack, Microsoft Teams so you can be more productive from brainstorm to execution.
Notes Sync – Sync across your devices seamlessly and save all notes online and making them available on all your devices.
Calendar – Connect with your Google Calendar and bring your schedule and notes together to make the most of every moment.
Other features include Doc search, scanning, notebook and tags and task.
App Design
Evernote has apps for every major platform: Windows, MacOS, Android, iPhone and iPad and the apps work in every browser so you can access your notes wherever you are with any devices on hand.
Evernote account has a unique look based on your note viewing preferences. You may adjust the layout and view based on the types of notes you have and your personal preference for viewing and working.
Compatibility with other Apps
Evernote is compatible well with other apps which makes it easy for integration into your personal or business life.
For example, every paying account has a unique Evernote email address where you can use to forward messages to this account, turning emails into notes.
Evernote Pricing Plan
Evernote has a Free Plan and 3 other paid plans.
Free Plan
This comes with monthly upload of 60Mb should be sufficient to be used as note organiser but you will quickly run out of space if you record audio or share photos via the app. On the free plan, only two devices can be synced in real-time.
The Free Plan is quite bare-bones and will not meet the demands of even a small teams. It's more suitable for personal use, writing short notes and to-do lists with its maximum note size of 25Mb.
I recommend you start with the Free Plan to explore its features and benefits before deciding to sign up for any paid plans.
Create my Free Evernote account

Paid Plans
1. Personal: SGD 5.98/month or SGD 57.98/year
2. Professional: SGD 7.48/month or SGD 74.98/year
3. Evernote Teams: SGD 17/month (min 2 users)

A summary of the features available for the Free, Personal and Professional Plan as follows.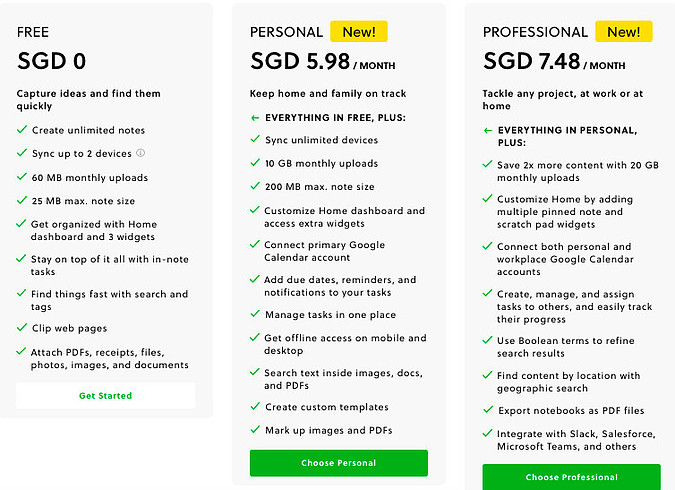 User Experience
On the surface, Evernote appeared daunting and may even overwhelm to a new user, especially someone who has no experience in using note-taking apps. However, as soon as you get started, it becomes clear and easy-to-use with many options to suit your needs.
Evernote provides excellent tutorials come in the form of animated lessons that clearly explain its various features and this is something that you will find very useful.
Evernote may lack in pure aesthetics but it compensates with its functionality. For example, it features dozens of expertly crafted templates that cater for work, school and personal use. The program allows you to access and duplicate these customised notes with just a few clicks which save time and greatly enhance your productivity.
Evernote covers all major computing platforms and the mobile apps are available for Windows, MacOS and Android devices. Its customer support consists of email and live chat which are only available to paid plans.
Security & Privacy
To improve the security, Evernote has migrated its data infrastructure to Google Cloud. The Two Factor Authentication (2FA) provides another layer of protection that has since become commonplace across many apps. You are encouraged to turn on this option for every software that has it available.
Evernote guarantees the privacy of its user data through three self-imposed law of data protection – your data is yours, they are protected and is portable. This means Evernote does not claim legal copyright to your content and does not profit from selling it or use it for advertising. It also means you can take your data and leave the platform at anytime.
Evernote and OneNote comparison
OneNote is the closest competitor to Evernote in note-taking but they have different styles, functionality and appeals.
Here are the major differences:
Free Plan – OneNote has a more generous free version whereas the Free Plan from Evernote only gives you a taste of the apps.
Storage – Evernote provides a fixed allotment of storage every month with no roll-over for unused storage. OneNote uses OneDrive for storage with 5GB of storage for free and can pay to increase the storage and the amount of storage is to share with files from other apps.
Organisation – Evernote is more business-oriented in its organisation while OneNote has the potential to be more artistic and casual, depending on its user.
Web clipper tool – Evernote does a better job in removing advertisements when asked whereas OneNote can easily trip by ads.
Ever-changing Value Proposition
In my opinion, Evernote remains one of the best note-taking and syncing services available in the market today in terms of features and functionality.
If you are not yet an Evernote user, it may be worth your while to give it a try.
If you are already into Evernote like me, you probably find it hard to quit with its available great features, convenience, security and improvement to your productivity.
I have been using Evernote (Free Plan) before I even started in my online business and Evernote has impressed me with its functionality, features and convenience, not to mention the savings in time, improvement in personal organisation and productivity.
I decided to sign up for its Personal Plan shortly as I find it indispensable for my online business and organisation of personal and family matters and I have never regretted my decision.
Final Verdict
Evernote offers the best collaboration features among all the note-taking apps available. Its Free Plan allows you to use effectively. However, your usage will be limited to the storage space allocated every month and likewise has to decide on choosing the two platforms that you can install and use Evernote on.
In my opinion, if you are willing to pay a little extra for all the features and in the process transform all your ideas, creation, business, work or personal notes into an indispensable piece of software that you can access anytime and everywhere, I recommend you give Evernote a try, starting with its Free Plan.
Final recommendation: Go for Evernote.
Go for the Evernote Free Plan