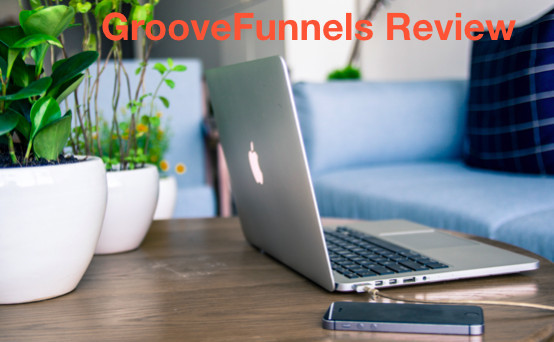 Welcome to GrooveFunnels Review 2022.
Are you looking for a complete digital marketing solution to your online business? Read on to find out if GrooveFunnels can help you to achieve your goals.
GrooveFunnels is a comprehensive suite of digital 'next generation' of software that can be used easily to build sales funnels, landing pages, website, email campaign etc., – all in one platform with seamless integration with other tools to present you a complete marketing solution to promote your products/services and scale your business.
GrooveFunnels Review Summary
Product Name: GrooveFunnels
Product Type: All-in-one digital marketing platform with comprehensive suite of digital tools
Founder: Mike Filsaime, John Cornetta, Matt Naus, and Matt Serralta
Pricing (as of this writing):
Free Plan (up to 500 contacts)

Starter Plan: $79/month, paid yearly (up to 5,000 contacts)

Pro Plan: $239/month, paid yearly (up to 30,000 contacts)
Summary
GrooveFunnels is an innovative all-in-one digital marketing platform that streamlines all your marketing and sales tools to enable you to build and maintain an effective online presence without the need for complicated integrations.
With the suite of software on a single platform, you can manage your entire online sales system efficiently to promote your products/services and to scale your business.

Recommendation: Yes, for those who want to promote their new products/services as well as to scale the sales of their existing products/services.
What's GrooveFunnels all about?
GrooveFunnels is an all-in-one digital platform that enables you to create your website, e-commerce, sales funnels, landing pages, etc., providing a one-stop solution to all your marketing needs.
Some of the amazing tools found in GrooveFunnels are GroovePages, GrooveCheckout, GrooveAffiliate, GrooveKart, GrooveMember, and many more.
These tools work together to create an entire sales systemto save you time and cost of assembling the various functions and in integration/interfacing of various tools.
Who's GrooveFunnels created for?
Having GrooveFunnels is like possession of an entire sales system where you have access to 19+ amazing tools.
GrooveFunnels is created for:
Online course creators: Allows you to build, market and grow your course on one platform.

Marketing agencies: Equips you with all the tools and templates for web design, sales funnels, etc.,

eCommerce store owners: Allows you to build a store, display infinite products, design landing pages and accept payments.

Coaches and consultants: For creation of membership, funnels, landing pages and accept payment.

Affiliate marketers: To manage affiliates and affiliate programs.
GrooveFunnels Free Plan
There is a Free Plan in GrooveFunnels. However, the Free Plan is like a metal ceiling to the growth of your business – it can only help you to get off the ground but does not offer you enough room for growth.
Here are the reasons why the free plan will limit the growth of your business:
Sales funnels: Limited to 5.

Contact: Limited to 500 contacts.

Email: Limited to 500 email. A small or medium business with a few automated campaigns will exceed this limit.

Members: Limited to 100 members. The courses or services you build are limited to 100 members.

Transaction fees: The Free Plan will take 2% extra off from every sale you make.
If you are serious about building your business, you will eventually need to subscribe to the Starter or Pro Plan.
How good is GrooveFunnels?
GrooveFunnels is an all-in-one digital marketing platform providing complete solutions to all your marketing needs at a reasonable price.
The integration function allows you to integrate the functions of the site, ecommerce and blog pages to form a son-stop solution that eliminates the needs for multiple and costly interfacing/integration of various different tools.
GrooveFunnels vs ClickFunnels, which is better?
Both the GrooveFunnels and ClickFunnels have excellent and intuitive ready-made templates for you to get started easily. However, GrooveFunnels has a slight edge over ClickFunnels because customisation is easier.
Moreover, there is also feedback from users that some of the templates in ClickFunnels have responsiveness issue.
Who's the person behind GrooveFunnels?
Mike Filsaime ( CEO) is the main person behind the success of GrooveFunnels. He's a recognised leader in internet marketing world, an author, speaker, consultant, software developer and a digital marketer. He runs one of the largest dealerships in the country.
His vision is to create software that makes it easier for others to run their business online. 

Other leaders in the GrooveFunnels team include John Cornetta (President), Matt Serralta (COO) and Mat Naus (CTO).
What are the GrooveFunnels features and benefits?
If you take a close look at the suite of tools in GrooveFunnels, they can replace about 97% of all your business softwares in the coming years after you have set up the apps – all on one platform. This will greatly streamline your operation and business process.
An overview of the tools avalable on the dashboard as follow.


Here the features and benefits of the main tools in GrooveFunnels.
GroovePages/GrooveFunnels

This is the landing page and sales funnels builder of GrooveFunnels. Here is where you leverage on the powerful drag-and-drop functions to build your website and landing pages quickly and easily without coding skills.
The website editor is intuitive and user-friendly, equipped with tons of professionally designed templates.
It takes only a few clicks to customise the elements in your chosen template to match your brand and colour. Equally important, making changes such as resizing of images and colour of button are incredibly easy.
Page holding includes unlimited broadband so you won't be hit by surprise bills for overages. Also included in each site is a free SSL certificate so your visitors can be rest assured of secure browsing on your web pages.
GrooveSell
This is the platform for sales for those who wish to sell their products/services online.It's where you create your upsells, downsales, checkout pages, affiliate programs etc., In addition, this is also where affiliates can look for your products for promotion.
GrooveMail
This is the perfect email marketing solution for digital, e-commerce and affiliate marketers.

This tool creates insightful customer experience using the latest email automation tools such as behaviour-based automation, text messages and voice broadcasting integrations, broadcasting, email sequencing etc.,
There is a wide range of templates for you to choose from for any business or product/services to create simple text messages or newsletter that are enticing to users.
Your conversation with your subscribers can be tailored to match their experience and interaction with your content.
GrooveMember
Deliver your content with secure password protection. Its membership site builder allows you to create a learning experience for your members, with automations and content drip features.
GrooveVideo
This is the video-making platform for you to add a video to your site and reach out to your potential audience with visually appealing video related to your products/services.

You may choose from your existing video and customise to meet the customers' needs.
The advanced analytics features provide an in-depth insight into the expectations and bahaviour of your audiences.
GrooveBlog
This function simplified your publication of great content and armed with powerful SEO tools to increase the traffic to your site.
GrooveKart
This is an e-commerce platfor for you to sel your products.
It comes with powerful features – true plug and play solutions. the features include categorisation, aalytics, reporting, selling variant, built-in support desk, one-page checkout etc.,
GrooveWebinar
This tool allows you to automate your webinar. You have the option to look live with powerful engagement enhancers or live webinar moderation with pre-recorded presentation.
GrooveCheckout
The forms and flexible payment structures in GrooveCheckout increase your conversion and dollar per sales.
You can set up the single-step simple checkout form that contains all necessary fields for buyer's information. To track your visitors' journey, you can use the multi-step design to customise your sales process and tracking of your visitors' journey.
It is equipped with secure checkout features. Therefore, buyers have the option to choose a username and password when they purchase, cutting down the time it takes to join your membership or subscription.
GrooveAffiliate
This powerful function enable you to attract new affiliates and simplify the recruitment and management of new affiliates where you have complete control over their commissions and payment terms.
The analytics is exhaustive where you can track the number of visitors, signups, sales and commissions earned. In addition, the results can also be filtered by dates and amounts to get a customised summary of your performance.
How much does GrooveFunnels cost?
Currently, GrooveFunnels offers 3 plans:
Free Plan: 1 custom domain. Includes GrooveSell, GroovePage and GrooveAffiliate.

Starter Plan: 5 custom domains and all tools.

Pro Plan: Unlimited custom domains and all tools.
A summary of the pricing plans is as follow.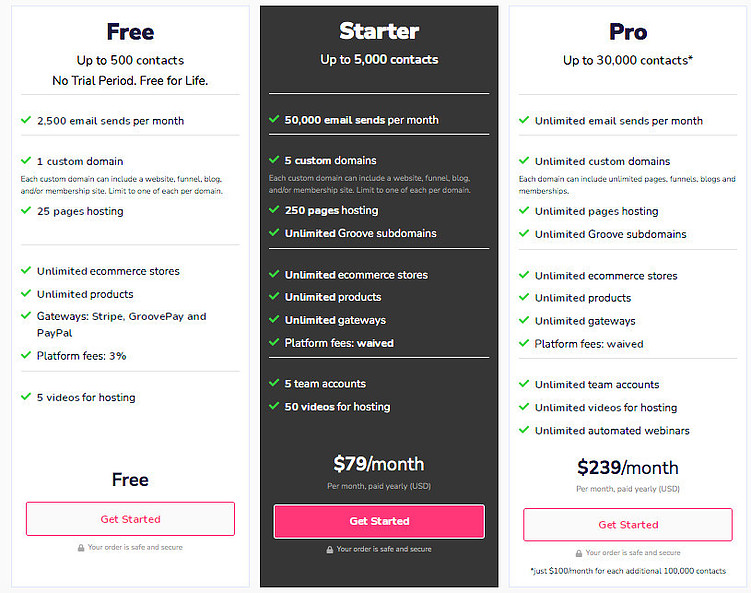 GrooveFunnels refund policy
GrooveFunnels offers a 30-day full unconditional refund for software services and digital products from the date of original purchase.
For a full refund within 30 days, all you need to do is to send an email to support@groovedigital.com with the purchase information.
I recommend you get start with the Free Plan to explore the functions before committing to a paid plan.
What I like about GrooveFunnels
#1 – Free Plan
The Free Plan allows you to explore and try out the program before you commit to the paid plans. Although there are limitations, you still be able to use their affiliate program to start earning.
#2 – One of the best sales systems for SEO
Many of the on-page SEO elements have been built into the software such as page title, meta keywords, meta description and page URL. It makes domain name and page structure easy even if you are inexperienced.
With the on-page SEO built into the software, the load times are a lot faster and easier to rank on Google.
#3 – Highly custimisable and plug-and-place
You can use the hundreds of templates available to customise your landing pages even if you do not have design or coding experience. Choosing the text, colour or add a logo is simplified and can be completed easily.
#4 – Active community
GrooveFunnels has a large and active community that can help you with your online business – from seeking advice, trouble shoot problems encountered to sharing of ideas. Its Facebook private group has more than 140k members as of this writing.
What I don't like about GrooveFunnels
#1 – The drag-and-drop editor
Sometimes, you may encounter the drop-and-drag function does not work properly which slows down building of landing pages to a certain degree but usually not much.
#2 – There are too many Apps
The number of apps can be overwhelming if you are new to GrooveFunnels. However, you don't need to know and use all of them to be successful.
You just need to concentrate on those relevant to your needs. You can always refer to Groove Digital Academy for step-by-step walk thru on how to do anything on any of the app.
#3 – Clunky platform
Some of the feedback and complaints include clunky interface, inconsistencies in the design and unclickable objects.
My Final Verdict of GrooveFunnels
GrooveFunnels is an ideal platform for entrepreneurs who want to sell their products/services online and affiliate marketers to promote other people's products.
GrooveFunnels may be the only platform you need to run a successful online business – it has everything you need for building and enhancing your online business.
This platform consists of various tools working together for building website, landing pages, sales funnels, email marketing, affiliate management and integrations.
GrooveFunnels has an affiliate program that pays good commissions and training resources to help you grow your business.
Final recommendation: Yes, for those who want to promote their new products/services as well as to scale the sales of their existing products/services.