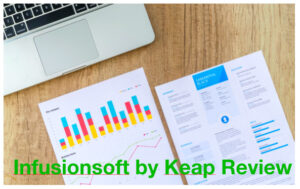 Welcome to Infusionsoft review.
Are you looking for a sales and marketing tool that can assist you to launch an awesome marketing campaign or to automate part of your business? Read on to find out if Infusionsoft is the right tool for you.
Infusionsoft is one of the most popular marketing automation tools for small businesses with more than 300 apps and integrations in the marketplace that can connect to it. It is one of the most elegant marketing tool available that can yield massive returns on your investment if implemented correctly.
Infusionsoft Review Summary

Product Name: Infusionsoft
Product Type: All-in-one marketing automation solution
Founder: Scott and Eric Martinueau and Clate Mask
Pricing (as of this writing): 3 pricing plans:
Lite: $59 per month (500 contacts and 1 user) – without sales pipeline and e-commerce support

Pro: $129 per month (1,500 contacts and 2 users) – all functions except marketing analysis

Max: $199 per month (2,500 contacts and 3 users) – all functions
Summary
A cloud-based Customer Relationships Management (CRM) platform that equipped you with all the tools for launching marketing campaign, and to automate your sales and marketing effort.
Infusionsoft's visual marketing campaign builder is intuitive and easy-to-use.
It's best suited to small businesses that have a strong customer base to manage all its sales and marketing activities with ease at an affordable cost.
Recommendation: Yes, for businesses with a strong customer base for launching marketing campaign and automate their sales and marketing functions.
What's Infusionsoft all about?
Infusionsoft has positioned itself as an all-in-one sales and marketing tool for small businesses to help them to succeed.
It's an all-in-one platform gives small businesses the ability to do email marketing, marketing automation, e-commerce and Customer Relationship Management (CRM) – all on a single platform.
This provide huge advantage for small businesses who need all these features without the problems of multiple software integrations that save time and cost.
A prospect who stays in the system can be ''converted'' to a customer by its awesome marketing campaign. Also, the information collected from prospects can be very useful for future marketing campaign.
The difference between Infusionsoft and Keap
In January 2019, Infusionsoft re-branded itself to Keap.
Keap (the organisation) has two major products: Keap and Infusionsoft by Keap.
Infusionsoft is (and will always be) directed at businesses that need robust automation and Customer Relationships Management (CRM) function.
The newer product, Keap, is directed at businesses that require client management and basic automation.
What's Infusionsoft best for?
Infusionsoft is an all-in-one sales, marketing and Customer Relationship Management (CRM) software designed for small business across various industries to streamline their operations and manage customers' experience.
It provides a single database for managing both the prospect (for a future marketing campaign) and existing customers' information seamlessly with its various software tools without worrying about the duplication of entry and complicated integrations. The software tools enable the users to run their marketing campaigns with personalised communication triggers based on clicks and email openings, sending emails, track customers interactions etc.,
This all-in-one platform allows you to consolidate all the tools in one place to improve the efficiency in capturing and converting leads into customers, and to follow up and get paid.
Is Infusionsoft easy to use?
From our research on various CRM platforms, Infusionsoft is the one of the easiest software to use that comes with outstanding 24/7 support.
What are the Infusionsoft features and benefits?
We now take a close look at the main features and benefits of using Infusionsoft:
Sales and marketing automation
Marketing automation is critical to your success in this current hyper-competitive environment.
In this aspect, Infusionsoft has equipped you with drag-and-drop intuitive icons to enable you to set up and launch sophisticated marketing campaigns within a short time.
You only need to 'connect' the two action items by drawing a line between them. This line connection instructs the system that the completion of the previous action will trigger the next further down the line – it's that simple.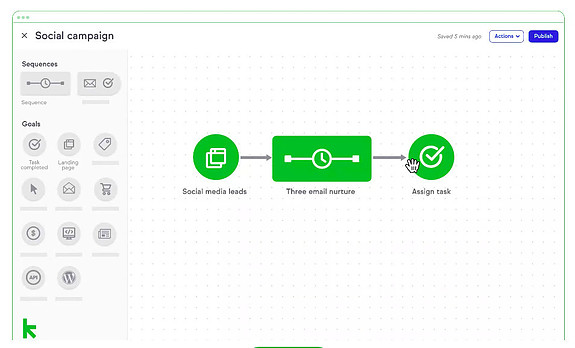 Infusionsoft saves you time with ready-made templates so you don't have to start from scratch.
The marketing automation components enable you to do the following:
Personalise your marketing messages

Create landing pages to suit your campaign

Send targeted emails to your prospects

Modify your campaigns based on performance.
Infusionsoft provides industry-specific drag-and-drop landing pages templates for building responsive and professional-looking landing pages, and they look great whether it's on smartphone, tablet or laptop.
On top of that, you also have access to thousands of royalty-free images that you can include in your web pages – it's almost like having a subscription to a stock photo service.
There is also a wealth of automated campaign statistics such as opening rates, click-throughs, and conversions. At the same time, you are able to monitor the performance of your campaign in real time.
These analytic features provide you with the necessary information for you to adjust your marketing efforts to maximise your return.
This automation can be synchronised with CRM/personalisation and your contact list to reach out to thousands of people every single day.
CRM/Personalisation
Infusionsoft has one of the best CRMs in the market. Its platform is cleaner than most other CRMs, and it allows you to import contacts, tagging and segmentation.
It has an app that helps you to collect data from your prospects, such as:
Name and email address

Phone number

Type of customer

Website

Purchase history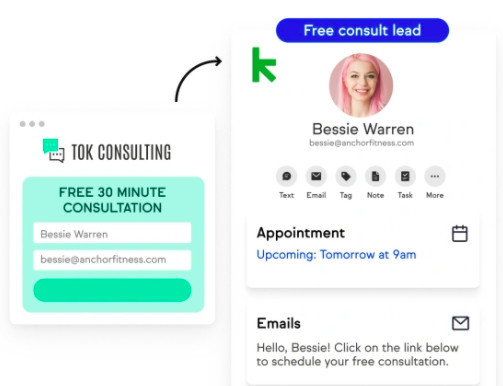 You are not limited to the above data points. The CRM tool allows you to create up to 100 customised fields so you can classify the leads and move them thru the sales funnels. You may organise your contacts as you see fit and prioritise the contacts to target at those that are most likely to become your customers.
In addition, you can search for prospects based on the data collected. If you are moving to Infusionsoft from another program, just copy all your contacts to a CSV file from another program and upload all the contacts to Infusionsoft.
Infusionsoft also allows you to set up your own scoring system based on the criteria you set (such as availability of budget and interest level) and assign points to the criteria set. You can automate your tasks based on the lead score.
One other thing you can do is to automate your email follow up with people you have recently contacted with by launching upsell campaigns to nurture your prospects as well as to your existing customers.
Sales Pipeline
Take advantage of the drag-and-drop features to help you move leads faster, close more sales and monitor the status of every deal – all on a single platform.
E-commerce and payments
Set up and run an online store to include the most popular payment processing solutions is made easy.
There are other forms available for you to customise the fulfilment, inventory management and recurring payments – all packaged into the platform.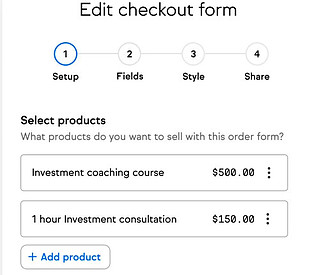 Your online store may include the followings.
Billing and payment options

Product subscription plans

Order forms and invoices

Shopping cart

Connection to a merchant account

Upsell/downsell chains
Your product fulfillment, which is the schedule of delivery of your products via the fulfillment report, is an important consideration. Do ensure all the necessary information is included in this report.
This report is either handled by your team or another party responsible for the shipment of the product.
You can organise the layout of your storefront to fulfill your requirement from product display to ordering, delivery and follow up with customers.
What are the key tools and features?
These are the key tools and features of Infusionsoft:
1. Campaign Builder
Its powerful drag-and-drop features allow you to set up professional-looking and effective campaigns based on the goals you want to achieve.
The entire process is simple and the icons are incredibly flexible
2. Drop-and-drag email builder
You can compose good-looking and easy-to-read emails easily within minutes with the ready-made templates.
3. Landing Page Builder
The user-friendly tool allows you to make high-converting landing pages with minimum effort.
4. Contact organisation
This is a must for newcomers to Infusionsoft, where you can copy all the contacts from your existing platform to a CSV file and import the list into Infusionsoft.
5. The Market Place
There is an entire set of apps, plug-ins, courses and pre-made campaigns that you can add to your account to enhance your existing function.
How much does Infusionsoft cost?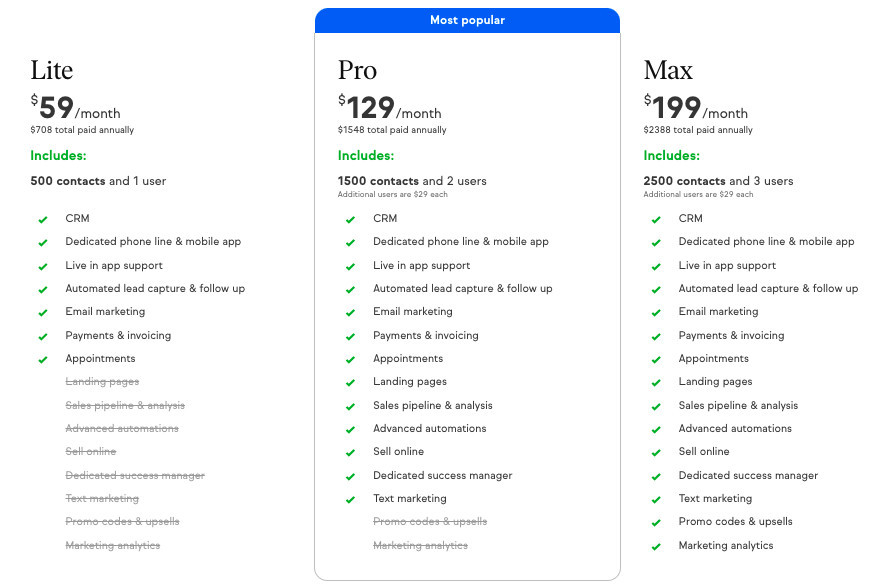 Infusionsoft has 3 pricing plans:
Lite: $59 per month (500 contacts and 1 user) – without sales pipeline and e-commerce support

Pro: $129 per month (1,500 contacts and 2 users) – all functions except marketing analysis

Max: $199 per month (2,500 contacts and 3 users) – all functions
Pricing for the lowest plan, Lite, starts at $59 per month. That's assuming you only want one user account and do not need a sales pipeline and e-commerce support. If the number of your contacts exceeds the limit in the plan, prices will go up accordingly.
You may want to take advantage of the 14-day free trial to explore further before committing to a paid plan.
Infusionsoft support
Infusionsoft offer extensive online and call-in support with easy access to 24/7 phone, email support and chat box.
It's also active on on social media sites like Facebook and Twitter, and the blog is impressive, covering topics that are relevant in the digital age. I highly recommend you to sign up for the email newsletter.
What I like about Infusionsoft
#1 – Amazing Campaign Builder
Infusion soft has an amazing campaign builder that allows you to design your marketing campaign by setting your flow in a logical manner tailor to the type of your business.
The campaign builder is 'goal-oriented' that encourages you to set up the flow the way you wanted your prospects to take to reach your goals.
The visual campaign builder simplified the creation of your campaign and makes the crafting fun and intuitive even for the most complex sequences.
#2 – Scalability
The platform uses universal tracking that makes it easy to track your prospects' behaviour across multiple marketing channels.
#3 – Great intergation and API
Infusionsoft has combined more than 300 apps in its Marketplace, their API and their Zapier integration that allows you to connect with hundreds of thrid-party tools.
#4 – Built-in shopping cart
The platform offers order forms, payment processing and inventory tracking, which complete your sales processes.
#5 – Helpful comminity
Infusionsoft has a very tight-knit community of users with both an official and unofficial user group. Both of these groups are facilitated through Facebook with excellent resources for help, tips and ideas for using the software.
What I don't like about Infusionsoft
#1 – Deliverability rates
We have received some feedback from users that Infusionsoft's deliverability is not as good as other similar tools.
#2 – No A/B or split testing
Infusionsoft does not offer any kind of A/B testing. This means you cannot test a control against a variant to determine which one is better. Although the analytics offer you information on the campaigns that are under-perform, it will be much better to formally test the different options.
#3 – Expensive
Although Infusionsoft is designed for small businesses, its price seems out of reach for many of those businesses.
My Final Verdict of Infusionsoft
Infusionsoft is a powerful tool for companies, especially the Customer Relationship Management (CRM) aspect.
However, the complexity of this tool may turn off many. If you are willing to spend time to learn and utilise this tool, it's going to be a great help in overall sales and marketing.
If you are a small business owner, internet marketer or blogger, it may not be worth your time to invest in Infusionsoft.