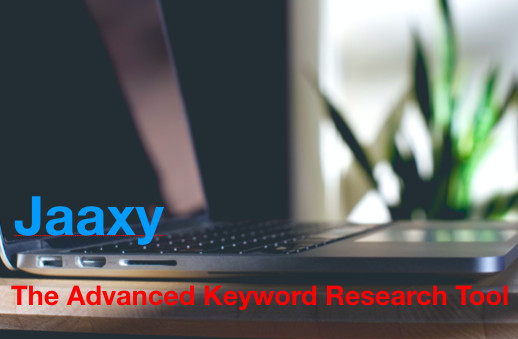 Welcome to Jaaxy advanced keyword research tool review.
Whether you looking for a keyword research tool that can help you to rank your articles/ posts on top of Google ranking or starting a new niche website, Jaaxy is the indispensable keyword research tool you need as long as it's related to keyword research and Search Engine Optimisation (SEO).
In this review, I want to share with you how this awesome tool that has helped me to achieve the results I needed, and I have been using it since day one when I started with affiliate marketing.
By the end of this review, you'll understand why I call Jaaxy the keyword research tool that can give you ''unfair advantage in the game of SEO''.
Don't take my words for it, read on to find out its features and benefits…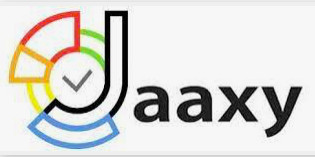 Jaaxy Review Summary
Product Name: Jaaxy Keyword Research Tool
Product Type: Web-based keyword research tool
Website: www.jaaxy.com
Owner/ Founder: Kyle Loudon & Carson Lim
Price: Free-trial (30 searches/day), Pro ($49/ month) and Enterprise ($99/ month)
Best for: Affiliate marketer, article marketer, blogger, website owner, domain flipper, freelance writer, PPC advertiser, youtube marketer etc.,
Jaaxy Overview
In this digital era, adopting the right keywords on your website works in your favour by attracting the traffic to your site. Regardless of your niche, keyword research is an essential process in finding and deploying the right keywords for your contents.
Jaaxy is considered as one of the best keyword research tools in the market. It's very user-friendly, providing you with the necessary data presented in an easy-to-use format giving your content a competitive edge and drive traffic to your site.
My Recommendation: Yes.
What is Jaaxy all about?
Jaaxy is a web-based keyword research tool which means it's an online platform where you do not need to download or install any software to start using it, and it's suitable for both Windows and Mac.
This keyword research tool was created by Kyle & Carlson, the founders of my favourite online education platform called Wealthy Affiliate.
Jaaxy is the industry's only keyword research tool that was developed by affiliate marketers for affiliate marketers.
Jaaxy Description and Features
For complete beginners, a keyword research tool can help you in your online business, briefly explain below.
As we all know, Google is the largest search engine in the world.
If you are able to rank your blogs, articles, videos and other promotion/ landing pages on the first page of Google for a particular keyword(s), you can get tons of FREE traffic (visitors) from Google to your website for the products/ services that you are promoting.
For this to happen, your contents need to target the right keywords such that Google will rank your contents under its algorithm.
This is where the Jaaxy keyword research tool comes in…It's is one of the most user-friendly keyword research tools that can deliver to you the right keywords by providing you with the necessary (important) data and not other data that may confuse you especially if you are a beginner.
On top of that, Jaaxy also helps in your research for your niche, domain name and even other affiliate programs.
Who is Jaaxy created for?
This is the only keyword research tool in the industry that is created by affiliate marketers for affiliate marketers.
If you are a content marketer, blogger, website owner, domain flipper, freelance writer, PPC advertiser, youtube marketer etc., you will also find Jaaxy an indispensable tool for your business.
Who is Jaaxy really for?
The main benefits that you can derive from using Jaaxy are as follows.
Explore high traffic niches

Find low-competition keywords to rank your articles/ posts

Brainstorm new niches and keywords ideas

Learn the competitiveness of your chosen keywords

Determine the expected traffic for your chosen keywords

Analyse, organise and save the list of relevant keywords

Analyse the search engine results of your chosen keywords

Discover the affiliate programs/products for promotion relevant to your niche and keywords

Track the performance/ ranking of your post on major search engines

Search and buy domain names for flipping

Know the current and most popular trending in the market

Unveil keyword metrics that will help to boost your SEO

And many more…
Let's now get inside Jaaxy to discover this awesome tool.
What's inside Jaaxy?
Jaaxy has 6 main features and the details of each of the features as follow.
Feature #1
The core function of Jaaxy is its keyword research tool. Here is where you analyse which are the better keywords to target at for your blog post/ product review/ niche website.
Let me use an example here to illustrate the use of this function.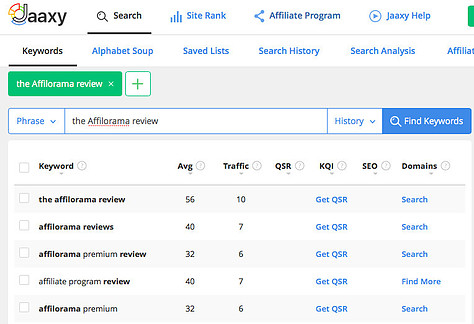 You only need to enter your 'target keywords'' and Jaaxy will present to you all the necessary data, and also the keywords that are related to your target keywords (see results under 'Related' column.
It seems complicated at first, especially for beginners..but it's one of the simplest keyword research tools that you can find in the market.
A brief explanation of the data:
1.Avg – This is the average number of searches this keyword has per month on the combined results from Google, Bing and Yahoo. A minimum of 100 is recommended.
2. Traffic – This is the actual number of visitors to your website if you are ranked on the first page of the search engine for a particular keyword.
3. QSR – Denotes 'Quoted Search Results' which is the number of competing pages rank for exactly this keyword.
4. KQI – Denotes ''Key Quality Indicator'' which is an indication of whether the keyword in your search is a good target keyword.
5. SEO – This is the score based on the Traffic and QSR (competition) which indicate how easy it is to rank for a particular keyword. The higher the score, the better it is the keyword to target. Over 80 is really good.
6. Domains – This check tells you whether there is a domain name (.com, .net or .org) available for your target keyword.
Feature #2
What if you are not able to come out with keywords?
With Jaaxy, the Alphabet Soup feature can help..This is similar to the use of Google search which has been added here for your convenience.
I will use an example of keyword ''Jaaxy keyword research'' to explain this.
All you need to do is to insert your keyword and drag on the horizontal (slide) bar from the alphabet from A to Z to give you the keyword ideas on your chosen alphabet.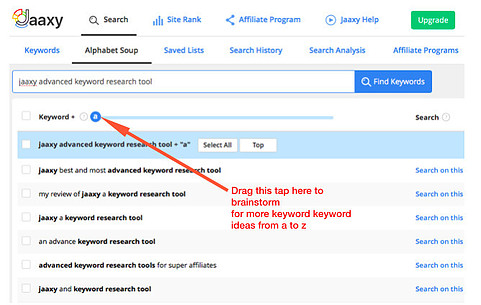 For example, when your cursor is on the alphabet 'G', it will give you keyword ideas such as ''is jaaxy a good keyword research tool''.
Can you see how useful this feature is and why I like it?
Feature #3
The Keyword List Manager comes in useful when you have found some good keywords or when you want to do some comparison.


Use this feature to add all the relevant keywords under the same category and analyse them altogether. After the analysis, you can save this list for future reference.
Feature #4
The Search Analysis feature allows you to view real-time Google first page the search results for your chosen keyword:
For example, when you key in ''jaaxy advanced keyword research tool review'',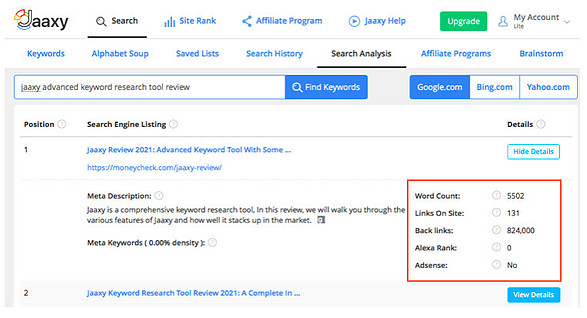 You will be able to get information on:
Word Count

Links on Site

Backlinks

Alexa Rank

Adsense
As you know, competition research is as important as keyword research.
Feature #5
This is a great feature for affiliate marketers. You insert your target keywords and the program will return to you the relevant affiliate marketing programs, books etc., that you can promote related to your target keywords.
The affiliate networks included in Jaaxy's search are:
Commission Junction

Link Share

Digital River

ClickBank
Instead of searching each individual website for the products to promote, this feature allows you to combine all the searches under one combined search.. Try it for yourself.
Feature #6
The Site Rank feature allows you to track the performance of your post (how well it rank) on the search engines Google, Bing and Yahoo:
Insert the keyword your post is targeting and Jaaxy will tell you the position of your post for the particular keyword.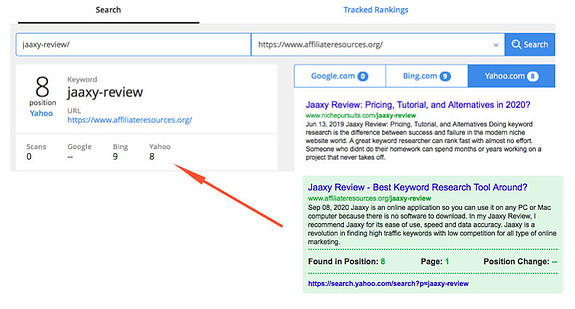 How to use Jaaxy?
These are the 3 general rules to follow when looking for target keyword:
1.Avg (average monthly search) > 100
2. QSR (competition) < 100
3. The target keywords are grammatically correct and make sense.
For example, if you are passionate about personal improvement, you can select an example of the target keyword "habits for success" to create the relevant contents to reach out to your target audience.
With the help of Jaaxy, you can quickly identify the potential keywords that can be used.
What I like about Jaaxy
#1 – Beginner-friendly & easy-to-use
Jaaxy is most suitable especially for beginner affiliate marketers, bloggers and freelancers. 
When it comes to keyword research, you don't need tons of different data but only the relevant ones and Jaaxy does that in an excellent manner.
Jaaxy is easy to use yet provides you with all the data you need and presented in an easy to understand format and the whole keyword research process can be accomplished easily.
#2 – Fast and accurate results
From the above, you can see doing keyword research using Jaaxy is fast and easy, and the results are accurately presented.
#3 – Useful keyword matrix and relevant features
A recap of the features mentioned above:
Alphabet Soup – brainstorming keywords ideas.

Keyword List – save all the relevant and good keywords for future reference.

Search Analysis – analyse your competition.

Affiliate Programs – present relevant programs for your promotion.

Site Rank – tracking of your performance in search engines.
These are the useful and indispensable features for affiliate marketers and bloggers.
#4 – Access to multiple search engines
It combined the results of Yahoo and Bing which gives you the advantage of knowing how your site works well in other popular search engines.
#5 – Free Starter Plan
You can try for free (with limit of 30 searches/day) and explore this tool after you join as a Starter Member (free) of Wealthy Affiliate.
This allows you to explore the useful functions without having to commit to subscribing to the program and incur additional costs before you can determine whether the program is suitable for your business.
Join as a Starter Member of Wealthy Affiliate to explore the Free Starter Plan.
What I don't like about Jaaxy
#1 – Only available in English
Jaaxy can only be used for research in English. However, I also could not find another tool that can perform the keyword research in other languages.
#2 – Local SEO is not available
All the results from Jaaxy are for searches from the entire world and there is no function for you to target at a certain location.
#3 – No indication of database
It's unclear which database Jaaxy uses for analysing keywords and we can only assume that it is from the US database of the three top search engines. As such, it may not be so useful for non-US site owners.
How much does Jaaxy cost?
Jaaxy comes with 3 Membership Options.
A summary of the pricing plan for these 3 options as follows.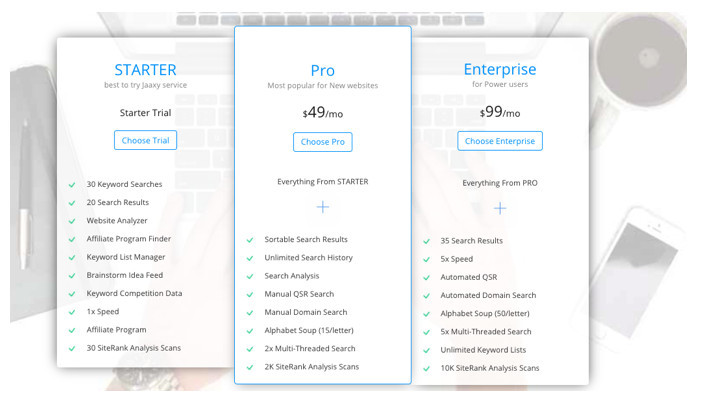 Starter (Trial) – free
This is the free trial option where you'll be given 30 keyword searches/day to try out this tool. In addition to this, you can also test on the following features.
Saved Lists

Search Analysis

Affiliate Programs

Site Rank
Pro – $49/month
I subscribed to this Pro plan. In this option, you have unlimited searches and all of the other features.
The only limitation with this Pro plan is probably that the search results sometimes are not automatically loaded, and you need to click on the search button to manually load them but this can be done in split seconds.
Enterprise – $99/ month
The difference between the Enterprise and the Pro plan is that the Enterprise pan will get the search results at a faster rate and all results will be automatically loaded.
If you are just starting out, I would recommend you to try out the Pro plan first, and upgrade to the Enterprise plan only if it's necessary. In my opinion, the Pro plan is more than sufficient to cater for your needs.
The Enterprise plan is more suited for those who are looking for higher efficiency, and in order to do that, you also need more bandwidth.
Tools, Training and Support
Jaaxy has included a lot of quality and detailed training materials to get you started and becoming proficient in the use of its various functions. This includes PDFs, videos and walkthroughs under ''Jaaxy Help" – see a snapshot of the training page as follows.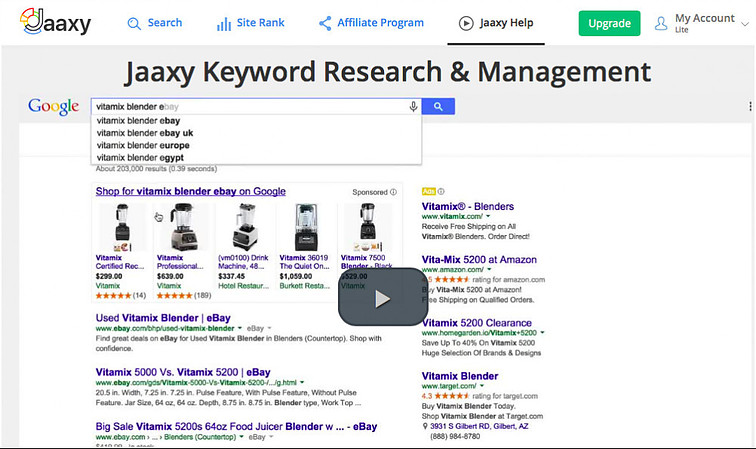 Jaaxy has a reliable and fast support team who will respond to you in a timely manner with useful information whenever you need help in using the tool.
Rest assured you can expect good and polite answers to your queries by the support team.
Alternative to Jaaxy
There are many keyword research tools in the market, the more popular ones as follow.
1.Google Keyword Planner (free) – one of the most popular and well-known keyword research tools as it was created by Google and it's free with limitations.
2. KeywordTool.io – alternative to Google Keyword Planner.
3. KWFinder – for small to medium business.
4. SEMRush – for freelancers, startups, medium to large business.
5. Ahrefs – for small to large business.
Recap of the Features and Benefits of Jaaxy
Here is the recap of the main benefits and features of Jaaxy:
Beginner-friendly.

Fast and accurate results presented in an easy-to-use format.

One program with multiple functions and features (brainstorm ideas, keyword list, competition analysis, affiliate programs, performance etc., tracking on search engines.

Combined results from multiple main search engines.

Search and buy domain names for flipping.

Provides information on the current and most popular trend.
I hope the above review has provided you with informaton on this awesome keyword research tool – Jaaxy that I use everyday for my online business.
Try Jaaxy for free here.
My Final Verdict of Jaaxy
Jaaxy is an easy-to-use, providing you with fast and accurate results for your keyword research.
If you are a content marketer, affiliate marketer, blogger, website owner, domain flipper, freelance writer, PPC advertiser, youtube marketer etc., I strongly recommend you try Jaaxy on the Starter Member of Wealthy Affiliate for free (with limitations) to explore its benefits and features.
Final Recommendation: YES to all levels of affiliate marketer, blogger, freelancer and any form of content creators who can benefits from SEO.
TRY JAAXY FOR FREE!

This review was first published on 12 Jan 2021, updated on 22 Feb 2022.