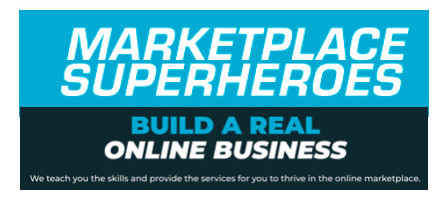 Welcome to Marketplace Superheroes Review 2022.
Are you looking for a training program to build an eCommerce store with Amazon Fulfillment by Amazon (FBA) business? Read on to find out if this Marketplace Superheroes (MPSH) is the right program for you.
Marketplace Superheroes Review Summary
Product Name: Marketplace Superheroes (MPSH)
Product Type: Online training course for Amazon Fulfillment by Amazon (FBA) business.
Founder: Robert Rickey and Stephen Somers
Pricing: $997 onetime payment or or 12-monthly installments of $97 per month (total $1,164).
Summary:
MPSH is an online course to teach you how to build and scale your Amazon FBA business. The program is an integrated system of teaching and tools. The focus of the program is to find low-competition, simple products and make high profits from these products.
Recommendation: Yes, for those who want to start building an Amazon FBA business.

What's Marketplace Superheroes all about?
MPSH is an Amazon Amazon Fulfillment by Amazon (FBA) training program created by Stephen Somers and Robert Rickey.
Both founders are experienced and successful online entrepreneurs who used their own expertise and experience to create this program.
The content of the program is comprehensive and of high quality.
Stephen and Robert have established an easy-to-follow training program. Unlike other programs, MPSH focuses first on intelligent product sourcing and then on global marketplace expansion.
The program has of two phases with 6 modules in each phase. The training modules consist of videos, PDF files and audio transcripts.
MPSH has an active community in their private Facebook group, where the founders interact with the members.
Who's Marketplace Superheroes created for?
MPSH is well-suited for beginners because of the detailed content. Therefore, any seller from any countries can join the MPSH program. In addition, the program is also more suitable for European sellers compared to other Amazon FBA programs where the focus is on the US market.
Amazon FBA business remains one of the best opportunities for selling online in 2022.
One positive is that it is better suited to European sellers than most other Amazon courses which are purely focused on the US market.
Is Marketplace Superheroes a scam?
MPSH is definitely not a scam. In fact, it is an affordable and respected training course packed with all the content you need to start and scale an Amazon FBA business.
Despite having only a few, the online reviews are positive feedback and praises about the program.
Who's behind Marketplace Superheroes?
The founders of MPSH are Stephen Somers and Robert Rickey.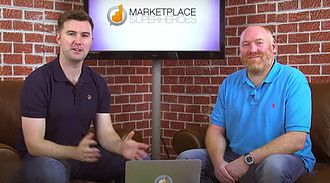 Stephen handles all the promotions, marketing materials and sales of the program. He brings to the program his experience as a successful online entrepreneur.
Robert had over 20 years of experience in different online marketplaces and has generated over 10 million in sales.
The combined experience of Stephen and Robert sets the MPSH aprart from other Amazon FBA programs.
What's inside Marketplace Superheroes?
MPSH consists of 2 phases, namely Phase 1 and 2. There are 6 modules in each of the phases plus some bonus resources. The modules contain videos, PDF files and audio transcripts.
The program covers two core strategies: product selection and international expansion.
The program is easy-to-follow and designed to cater to the needs of beginners as well as experienced marketers from all backgrounds and experiences.
Below is the list of all the modules and their contents.
MPSH Core System 2.0 Phase 1
In this phase, the focus is on product selection and how to pick the right opportunities for your business (total 6 modules)
1: The Marketplace Mindset – Cover topics that you can expect from the course and how to maximise your overall experience (7 videos).
2: The Search Phase – Product research and the use of product analysis tools (9 videos).
3: The Shortlist Phase – Filter through the best product opportunities from Search Phase (6 videos).
4: The Select Phase (Part 1) – Selection of best product opportunities (5 videos).
5: The Select Phase (Part 2) – Choose the best product and how to start sourcing for suppliers (7 videos).
6: The Source Phase – Finding suppliers, negotiation, place sample order, packaging and create your own brand (11 videos).
MPSH Core System 2.0 Phase 2
This phase is about importing, analytics and logistics, and how to expand your business internationally (total 6 modules)
7: Business Structure & Seller Central – How to structure your FBA business and setting up of your Amazon Seller Account (8 videos).
8: Purchasing & Importing – The purchasing and importing process (7 videos).
9: Amazon FBA Road Map – The entire FBA process that includes navigation on Amazon Seller Central and labelling requirements (9 videos).
10: Listing Optimisation – How to create world-class product listing with amazing conversion (9 videos).
11: Account Management – How to operate your Amazon FBA business on a day-to-day basis (13 videos).
12: International Expansion – How to expand your business internationally (7 videos).
Additional Training and Resources
There are also some additional training and resources for more specific topics.
Fuel Your Empire Series – How you can find profitable products over and over again.
Invincible Importing – Importing products on Amazon.
30 Minute Legendary Listings – Optimisation of product listing.
MPSH Euro Expansion System – Road map on how to expand your business internationally.
MPSH Partnership – How to recoup your course fee within 30 days by partnering with MPSH.
How much does Marketplace Superheroes cost?
The cost is $997 onetime payment or 12-monthly installments of $97 per month.
MPSH offers 7-days free-trial and i recommend you to take the trial to explore the program.
Marketplace Superheroes Refund Policy
MPSH offers a 30-day guarantee refund with no questions asked. If you are not satisfied with the program for whatever reason within 30 days after your purchase, MPSH will refund you 100% of what you paid.
MPSH also has a 7-day free trial. I recommend you to take advantage of this to explore what the program has to offer.
What I like about Marketplace Superheroes
#1 – Created by FBA experts
The program was created by the combined experience of two FBA experts and also successful entrepreneurs. The course content is constantly updated and you will have lifetime access to any new materials.
#2 – High-quality content
The content is of high-quality covering selling on Amazon globally, not just the US market. The course is comprehensive, presentable and easy-to-follow.
#3 – Active community
Although it's small, the MPSH private Facebook group is an active community, with the founders interacting with their members offering help and support. You can join the group once you sign up for the program.
What I don't like about Marketplace Superheroes
#1 – High cost
The $997 can be overwhelming for many even though instalment is available (total cost 12 x $97 = $1.164). As a result, many just shy away from the program because of the high initial cost.
#2 – Content is large
The amount of training can be overwhelming, especially for beginners.
My Final Verdict of Marketplace Superheroes
MPSH is a comprehensive training program with high-quality content designed for both beginners and experience marketers.
This program was created by the combined experience of two successful entrepreneurs with proven track records making the lessons and sharing invaluable.
The opportunity to interact and learn from the members in the active community further enhances the program.
Although the initial investment is high, the 7-day free trial offer backed by the 30-day refund offers you the opportunity to explore the program at no risk.
Final recommendation: Yes, for those who want to start building an Amazon FBA business.
My preference for making money online
I personally prefer affiliate marketing to Amazon FBA business for the following reasons.
1. You can start building your affiliate marketing without an upfront investment of thousands of dollars.
2. You do not need to be concerned about unsold inventory (stocks) which tied up your fund and space.
Affiliate marketing is similar to Amazon FBA, which leverages on Amazon to make money online.
The main difference is that in affiliate marketing, you are an affiliate, whereas in Amazon FBA, you are a seller.
You can make money with both of these business models if you do it correctly.
If you are interested in getting started with online affiliate marketing business, this can be a useful guide for you.