Welcome to One Funnel Away Challenge Review 2022.
If you are about to launch a new product/service online and plan to build an effective sales & marketing funnel, this One Funnel Away (OFA) Challenge could be the help you need.
One Funnel Away (OFA) Challenge is a coaching program to help you build an effective sales & marketing funnel. During the program, you will get ''the strategy, the tactics and implementation'' from the trainer and network with and ask questions to the coaches and other OFA-ers who are going through the same challenge as you.
The value you get from learning how to build effective sales funnels from someone who has made more than a million dollars building funnels is much more than the $100!
Let's find out more details below.
One Funnel Away Challenge Review Summary
Product Name: One Funnel Away Challenge
Product Type: Sales funnel training course
Founder: Russell Brunson
Pricing: $100 (one-time payment)
Summary
The OFA Challenge is a 30-day step-by-step coaching program that was created by Russell Brunson to help you launch your sales funnel for your product/services from scratch. The program encourages people to develop "one funnel away" marketing and sales strategies.
The goal is for participants to develop a marketing or sales strategy to generate leads, close deals, and increase revenue. The program is an excellent introduction to the concept of the sales funnel.
Recommendation: Yes, for beginners and experienced online entrepreneurs to learn building effective and profitable sales funnels for their products/services.
What's the OFA Challenge?
OFA Challenge is a virtual 30-day coaching program that guides you step-by-step to create an effective, profitable sales and marketing funnel.
Russell Brunson and his team of trainers will conduct the lessons via video. They will teach you everything they've learned in developing million-dollar sales funnels.
Russell has designed the course to be divided into manageable 'missions' (homework) that cover a specific topic, meaning you won't have to tackle everything at once. Russell has structured the program to break down complex topics into ''missions'' that you need to complete before moving onto the next step.
The daily "mission" will stretch your limits and encourage you to think "outside the box". Learning something new requires you to implement it immediately if you want to maintain your understanding. The daily "mission" will challenge you, and that's how we know when we're improving. The daily missions are there to help ensure that it remains fun & engaging, at the same time also ensuring that your skillset improves as quickly.
At the end of the 30 days, you are ready to release your first sales funnel to the world.
Who's OFA Challenge created for?
The OFA Challenge is a fast-paced challenge that demands your time, attention and effort for 30 days.
The program is designed for marketers and salespeople looking for a marketing message that resonates with their customers. This coaching program helps them figure out what marketing messages work best for their business by taking a step back and looking at the big picture.
The program is suitable for you if:
You have no experience but want to learn how to build a sales funnel.

Need to fix or improve an existing sales funnel.

You are an affiliate marketer who wants to increase sales.

You have an online business idea but do not quite know how to market your products/services.
Is OFA Challenge legit?
OFA Challenge is a legitimate program that teaches you the strategy, tactics, and setup of a sales funnel that drives traffic to your products/services. It's a marketing event that aims to help you grow your business.
Who's the person behind OFA Challenge?
The person behind OFA Challenge is Russell Brunson, the same person who created ClickFunnels.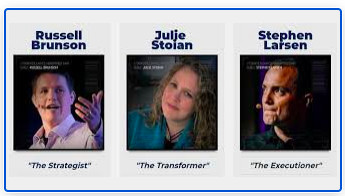 Brunson is a successful entrepreneur, best-selling author and speaker. He has been featured in major publications like Forbes, Inc, Entrepreneur, and Huffington Post. He's the founder of ClickFunnels and has written a book called "Expert Secrets".
The OFA Challenge is a marketing strategy developed by Russell based on the idea that any business, regardless of size, can succeed if they have one funnel. The challenge is for the participants to find and focus on one specific funnel and then use it to generate as many sales as possible.


What will you get when you sign up for OFA Challenge?
Once you sign up, you'll get to the ClickFunnels Challenge area. It has five sections:
Welcome to OFA

OFA Mission Control

One Funnel Away Mission Training

Bonus – Summit Interviews

OFA Alumni
1. Welcome to OFA
Russell thanks you for joining the contest and this welcome video.
2. OFA Mission Control
Here's the link for the exclusive private Facebook group where we'll discuss and work together on this challenge. If you sign up for it, you'll also be able to post comments, ask questions and interact with others that are doing it too.
3. OFA Mission Training
The training information is here, which will be broken down below so you know what to expect. You will get an email each day and an alert via Facebook Messenger to let you know that your daily mission is about to begin.
4. Bonus: 30day.com Summit Interviews
This section is an excellent bonus from the course. In these interviews, 30 ClickFunnels Two Comma Club members (who have made $1 million using ClickFunnels) shared their plans about what they would do every day for 30 days if they had to start building their business all over again.
These interviews are packed with actionable steps and lots of golden nuggets that might help you start your own business.
There is also the 30Days.com book which is a detailed account of all interviews from the Summit.
5. OFA Alumni
For completing this section, you can claim an OFA Challenge T-shirt. On top of that, you can also claim a certificate once you make $1000 from the funnel you built on the challenge.
What's inside OFA Challenge?
OFA Challenge Kit
You will get a physical box kit once you sign up for the OFA Challenge with ClickFunnels. It should arrive before the challenge starts.
The OFA Challenge Kit includes the following:
30 Days digital EBook book – see the OFA bonus section for more information.

20 One Pager Workbook – see the OFA bonus section for more information.

MP3 player. This MP3 player includes all the recordings of the live morning training sessions.
OFA Bonus
a) One '30 Days' 550 page digital EBook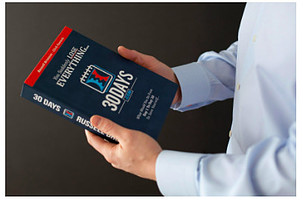 Russell asked 30 of the Two Comma Club members what they would do if they lost everything. This group has generated over $1 million by using ClickFunnels.
They always follow a 30-day action plan to help their clients get their business back.
They have No:
Product.

List.

Traffic.

Reputation.

and funnel.
It goes through 30 battle plans and explains what to do on any day – from Day 1 up to Day 30.
b) 20 'One Pager' digital Workbooks for the OFA Challenge

Each day of this challenge, OFA Challenge provides you with tasks designed to build and launch your funnel. The best strategy is to always brainstorm and save your thoughts in this notebook.
The "One Pager" digital workbook will come in handy to guide you while you complete each day's video training.
Each "One Pager" includes:
A checklist of things you should do every day.

Plenty of space to journal and brainstorm. 

The video training links to each day's missions.
c) Unlimited access to the '30 Day' Interview
In these interviews, each of the Two Comma Club members shares what they would do every day for 30 days if they lost their business and had to start over again.These interviews are worth thousands of dollars. You can get them for just $100 and all the other bonuses, making this deal an absolute steal.
d) Behind the scene of the Two Comma Club Funnels
This tool allows you to see the funnels that have been proven successful by other Two Comma Club members. They all make a million dollars or more a year while doing what they love.
OFA Challenge Breakdown
Describe below are all the steps people go through to complete the challenge. This is a brief overview for you to understand how the OFA Challenge develops and why you need to complete all the tasks every day.
The training comprises 5 weekly modules:
Week-0: Pre-Training
The first week starts with mindset. Our beliefs are crucial to the way we work our business. Many limiting beliefs hinder an individual's business growth and the ability to execute their full potential. The first week of the training is to tackle any mental blocks people may have about succeeding.
This week's training is geared towards convincing people that their beliefs hold them back from the life they wanted for themselves.
Week-1: Story telling
Marketing online is all about perception – understand that perception is everything.
The second week of the training is to test your product and determine if it will sell or needs to be reworked.
Consumer research is the focus. After you've researched and found that your product/service is the best fit for your customer, it's time to focus on how you can get them to make a purchase.
Having them perceive your product/service as valuable will be the driving force behind whether or not they decide to buy it. Your pricing is never going to be the deciding factor.
The online marketing strategy is to focus on converting leads into sales.
Week-2: Hooks and story
The third week is about creating emotion with your story.
You'll learn to create emotional hooks with your sales copy. These hooks will make people excited to buy your product or service.
One effective way for selling just about anything online is by telling a compelling story with the product/service. Story-telling can be an effective tool to create a lasting impact on the minds of potential customers. Research has shown that a compelling story can cause buyers to feel more connected to the company and its values.
Week-3: The Funnel
The fourth week is funnel building.
This week's training covers how to make squeeze pages and how to use ClickFunnels.
A sales funnel a process that converts prospects to customers because it eliminates distractions from a conventional website. It helps to convert your prospects into buyers in a more cost-effective manner.
Week-4: Make it rain
The fifth week is about traffic and promotion.
You will learn how to promote your products thru funnels. The training will show you the secrets of building a compelling sales funnel that brings in more traffic and converts your leads into customers.
Week-5: Post-Training (the next 90 days)
The last week is learning how to create a funnel using different techniques. You'll learn how to get more people to sign up for your newsletter or buy your product.
Throughout the training, OFA Challenge provides you with daily lessons and links in emails, and each new lesson builds on the knowledge gained in the last. We hope you understand the importance of following each lesson to derive the maximum benefits from the training.
How much does OFA Challenge cost?
The OFA Challenge costs $100 (one-time payment). If you have been in online marketing, this is a very low price for a training program that provides so much value.
With OFA Challenge, you have 30 days of coaching with three world-class marketers for the price of one.
Most people who buy Russell's products get a lot of value because they buy with a specific purpose in mind – whether to market their products or to set up the framework for an affiliate marketing business.
Russell does not make money for the OFA Challenge, but he builds trust with his followers and his brand, which provides a cost-effective way to create a successful online business.
OFA Challenge refund policy
OFA Challenge has a 30-day money-back guarantee refund policy. So, there is no risk in trying out the program.
Do I need a ClickFunnels membership to participate in the OFA Challenge?
You do not need a Click funnels membership to participate in the OFA Challenge.
You can build your sales funnel through your website, email marketing software, or other funnel-building software.
After completing the challenge, consider the ClickFunnels membership because this membership will make the funnel-building process much more manageable. Having the ClickFunnels membership during the 30-day OFA Challenge will help you better understand how to build funnels.
What I like about OFA Challenge
#1 – Learn from the experts
Brunson and his team of instructors conduct the OFA Challenge and they are the well-known experts in the online marketing world.
Brunson has ensured that all the materials covered in the program have been tried and tested by himself and his team.
#2 – Learn to build funnels
OFA's challenge teaches you the basics of online sales funnels from scratch and includes templates that can be customised to your needs.
You won't need any experience and will know how to create a professional funnel in the end.
#3 – Affordable
The OFA Challenge program is a comprehensive coaching program that you're getting at a fraction of the cost you would pay for courses like this.
If you're not investing $100 in this program, then you're probably not serious about your online business.
#4 – Money-back guarantee
If you are not satisfied with the OFA Challenge program, it has a 30-day money-back guarantee. So there's no risk at all.
What I don't like about OFA Challenge
#1 – Information overload
When designing a course for complete beginners in online marketing, we expect a lot of unfamiliar information. This intensive training course goes all the way through, so make sure you don't miss a day if you want to achieve the best results.
But don't worry- here at the private Facebook group, we are always more than happy to answer any questions you may have. You can ask us anything! Brunson & his team, along with the other members, will be here to help.
#2 – Intensive training
You'll need to spend some time in classes for a short period, at least for the 30 days once you have started with the OFA Challenge.
You can't afford to go through the course at your own pace because the point is to take action right now.
My Final Verdict of OFA Challenge
The OFA Challenge provides you with a clear path to success. From creating an emotionally driven hook to targeting the right audience, it walks you through all the steps that will attract more customers and generate more revenue.
And it's a personalized program that will help you succeed in your online business and become an expert in building sales funnels.
Building a funnel might seem intimidating, but it doesn't need to be. I recommend signing up for the OFA Challenge with Russell Brunson, and you will see how simple it is. It's a successful coaching program that will get you started generating sales in no time at all.
However, this OFA Challenge isn't for everyone. This course shows you exactly how to take your business to the next level and excel in new ways. If that's what you want, this challenge is definitely for you.
Recommendation: Yes, for beginners and experienced online entrepreneurs to learn building effective and profitable sales funnels for their products/services.