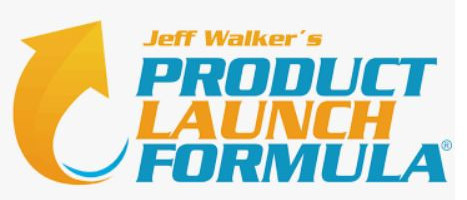 Welcome to Product Launch Formula (PLF) Review 2022.
Do you have some good ideas on a business that you would like to launch but are unsure of what to do, and you need some guidance from someone who has successfully done this before?
Although there are millions of free resources available on blog posts, podcasts, YouTube etc., are these resources reliable and good enough to guide you through launching your products or services successfully?
Find out below if the Product Launch Formula (PLR) from Jeff Walker is right for you.
Product Launch Formula (PLF) Review Summary
Name: Product Launch Formula
Product Type: Entrepreneurship Training Program
Founder: Jeff Walker
Pricing: One-time payment of $1,997 or six-monthly $397.
Summary
PLF is a comprehensive training program giving you the strategies and running thru the whole process of launching your products/services.
PLF benefits anyone looking to learn to effectively and successfully launch his products/services.
The strategies covered work for almost any kind of niche.
What's Jeff Walker's PLF?
PLF is a training program that helps entrepreneurs to launch products/services in the internet marketplaces.
It's a proven system for successfully launching new and existing products/services. The step-by-step process tells you exactly what you need to do for success, including when to post and what to include.
PLF was created by Jeff Walkers, the pioneer innovator of online marketing launches and the industry's foremost teacher. Jeff has helped more than 1 million entrepreneurs worldwide to generate more than $10 billion in sales (and counting).
PLF strategies work for almost any kind of online business that you can imagine.
Who's PLF created for?
PLF is suitable for anyone who wants to properly launch a product/service.
You will benefit most from the program if you already have a product/service in mind or some existing products/services and wish to bring the sales to the next higher level.
Who's the person behind PLF?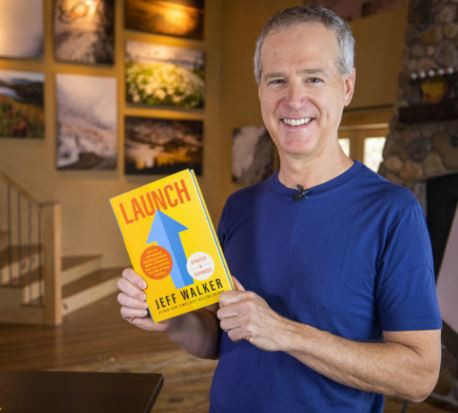 The person behind the Product Launch Formula is Jeff Walker. He is the founder of Product Launch Formula and author of the book "Launch: An Internet Millionaire's Secret Formula To Sell Almost Anything Online, Build A Business You Love, And Live The Life Of Your Dreams" published in 2014.
Jeff has been a serial entrepreneur since he was young. He has helped over 500 companies and entrepreneurs launch their products online, and with his help, they have all seen success. Jeff focuses on helping online business owners launch their products, services or whatever they offer.
How can PLF benefit you?
The program is about product/service launching. You will benefit most from this program if you have a digital product or service ready for launching. If you are struggling with the systems and procedures, this program will be a great help, too.
Many business owners encountered problems in organising the details of their product launch. Here is where Jeff comes in to show how to present the most organised launch possible.
With his help, you will make fewer mistakes during your product launching, resulting in more leads, more sales and better overall results.
However, PLF is not a get-rich-quick scheme. A successful launch requires a lot of work and commitment on your part. If you have a product or service to launch but do not know how or where to begin, PLF is a good starting place.
What's included in PLF?
The PLR was created by Jeff and his team, which includes over 80 video series and 40 hours of top quality content to help you understand the process. The program will walk you through the steps necessary to staging your first product.
Jeff Walker Product Launch Formula training includes a launch roadmap and nine modules that reveal Jeff's fundamental sales strategy.
The SideWays Sales Letter: You'll need to use this tool to prepare for your first launch, grow your email list, and create engaging pre-launch content. Videos are a great way to do all of this on social media.
This tool walks you through using social media to launch your product and market it to reach thousands of customers. It also includes email swipe copy and checklists, which can help keep your business goal aligned while working on each module.
Jeff Product Launch Swipe File: $7 million in launches that Jeff has done, plus more copy from some of the PLF Owners' launches. It will be a helpful reference in planning your first launch.
PLF Portal Community: We welcome questions and feedback from all students. Check out the community for answers to familiar topics. Jeff's team has a lot of experience in this area, which is always helpful!
Transcripts of all the training videos: We have an audio-only version if you prefer to read them instead of watching videos.
Twelve months of live Coaching Calls with Jeff and his in-house team of coaches. The PLF Facebook Owners Alumni group.
Bonus from PLF
Launching Your List: a video course showing you how to grow your email list.
The full-blown "Product Creation Code: With the help of this video training, you'll learn how to create an online training program that'll make money for you.
Get two tickets to Jeff's "PLF Live 2021" program –this is a 3-day workshop by Jeff. The date is likely to be in April.
Book Launch Campaigns: This bonus is all about how to launch your book.
The Secrets of Leverage And Scale mini-module: This is all about levelling up and building scalability to make more money without increasing your workload.
The Launch Partnership: This is a quick lesson on making money and helping people with their launches. You can become a consultant, launch manager, or even purchase the products for wholesale prices to resell.
What's inside PLF?
The PLF is a complete training program that teaches you how to launch your product/service from scratch without any prior experience. The goal is to build a life-changing business with the potential for scale to generate six-figure earnings.
Jeff reveals in PLF his three core strategies:
Initial Launch

Seed Launch

Joint Venture Launch
The PLF training consists of 9 modules, briefly described below.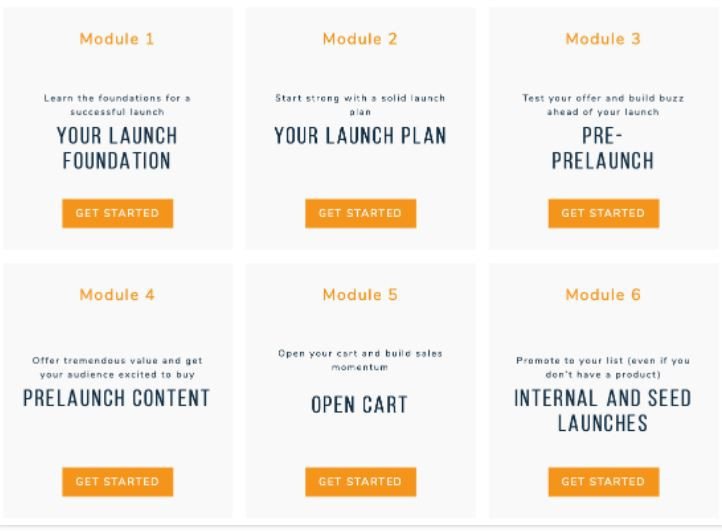 Module 1 – Your Launch Foundation
The first module will teach you the five different launches for your product/service. You will also learn about the four phases: Seed Launch, Joint Venture Launch, Evergreen Launch, and Quick Launch.
Module 2 – Your Launch Plan
This module will show you how to set clear goals and a path for your business. You'll learn about choosing a niche, the direction you want your business to go, finding your ideal customers, and goal setting.
Module 3 – The Pre Pre Launch
In this module, you'll learn about identifying your customer's needs and designing the right messages to help them feel more connected with your brand.
Module 4 – Prelaunch
This fourth module is all about how to prove to your audience that you have valuable content and not just promise more than you're able to deliver.
Module 5 – Open Cart
This module will show you how to make sales videos and open cart emails that convert. You'll be able to sell your product with ease and get people talking about you.
Module 6 – Internal and Seed Launches
This module is essential for anyone who isn't sure how to get started. Jeff's Launch Planner & Seed Launch Planner guides allow you to follow in his footsteps and implement them quickly, with the help of step-by-step instructions.
Module 7 – Joint Venture Launches
Before starting with any new module, it's important to determine which of your buyers like your product or service. Before starting this module, first, go through the sixth module and implement it. This way, if your launch is well-received, you'll know.
Module 8 – Evergreen Launches
In this module, Jeff shares his technique for launching evergreen products and services; this way, you'll be able to profit more without doing extra work.
Module 9 – Business Launch Formula
The last module helps you understand how to launch different products and services and develop a strategy for what types of customers you should target. The information in this last module is helpful for anyone with little experience running an online business.
Is PLF right for you?
To decide if the course is right for you, you'll need to consider whether creating a product or service or starting a new business is something that interests you. From my perspective, there's so much helpful content that can help you be successful in whichever direction you decide to go.
Even if you don't have any product ideas or an old product you want to re-launch, the PLF will provide a step-by-step guide and support to launch your product successfully.
How much does PLF cost?
You have two choices here. Get it as a one-time payment of $1,997 or a six-monthly $397.
PLF refund policy
PLF offers a 14-day satisfaction guarantee. If you don't like the product in 14 days, request a refund at any time. No questions asked whatsoever.
What I like about PLF
#1 – Learn from the expert
Jeff is an expert in product launching and has a lot to teach and share. He created this training based on his own experience and results. When you enrol in his program, you get the best mentorship on product launching.
#2 – The program is comprehensive and of high quality
The lessons are detailed and comprehensive. Jeff has left nothing out in his guide; it is the product of his expertise and commitment.
The step-by-step system supplemented with tons of information, including live calls, is helpful to maximise your chances of success.
#3 – Limited availability
The course is not available all the time. Slots are limited, so it's a great way to make sure he can help those who signed up.
Up to this point, the door for PLF for 2022 is yet to open.
You can register for reminders, and Jeff will make sure you get included on the list for his Free Launch Masterclasses to help you build a business you love.
What I don't like about PLF
#1 – The course is not beginner-friendly
Beginners may have a steep learning curve in following the PLF content. This training may not be suitable for you if you do not have any experience in online marketing.
#2 – You will not see immediate results
It's not an immediate process. You have to start by creating products, running campaigns, and launching your business before seeing results.
#3 – It's expensive
PLF is excellent training, but the price is also high.
But in all honesty, you get what you pay for, so if you're looking for high-quality content, that's what you should expect.
My Final Verdict of PLF
Jeff's PLF is legitimate and of high quality. I highly recommend it for those looking to learn and master the process of launching products and services.
You should have some experience in online marketing before joining this training to derive the maximum benefits.
PLF is a comprehensive course packed with useful information delivered by an expert and pioneer in product launching. If launching your products and services online is your goal, this is training worth considering.
As of this review, the door for PLR will open later in 2022 but you can register now for waitlist.