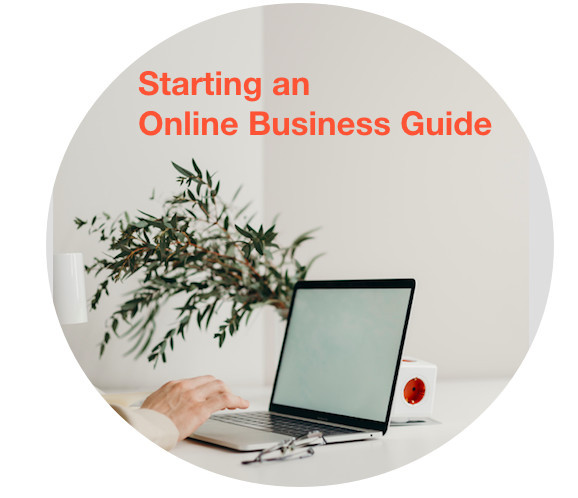 Thank you and welcome to Starting an Online Business Guide.
Quick Links:
To all future successful online business owners:
I created this guide to provide the basic information to prepare you for my 6 Days "Building a Successful Online Business in Affiliate Marketing'' Training.
Let's get started.
Background and the purpose of this guide
I started looking for opportunities to start an online business back in 2019 and invested my hard-earned money into a few online programs promoted by the so-called ''gurus''.
These ''gurus'' encouraged me to only concentrate on the conversion rates. The results were disappointing and I lost both my money and precious time.
I learned from this experience to be more cautious and conduct thorough research when I come across now programs.
Similarly, I avoided any program that requires initial monetary investment to protect myself against the many scammers posted as ''gurus'' on the internet.
I was looking for a program to start an affiliate marketing business that meets my requirements as follows.
An option to start for free or with very minimum monetary investment.

A business model that can create long-term, sustainable passive income.

The freedom to work on my business at my own schedule as I was having a full-time job and a family to take care of.

Has all necessary tools and support available under one platform at an affordable cost.
My encounter with Wealthy Affiliate
I went on for a long search on the internet before I came across the Wealthy Affiliate program that satisfied my important criteria listed above.
This program has the proven track records of success or what I called the ''blueprint for success''. One of the most important options is that you can start for free. You can start to explore all the features (with some limitations) available once you become a Starter Member. There is no expiry date for the membership.
To me, to be able to start with the risk-free option is an indication of the trust and confidence the owners have in what this program can deliver.
The purpose of this ''Starting an Online Business Guide" is to compliment the lessons given in the Wealthy Affiliate's structured training program known as the Online Entrepreneur Certification (OEC) Level 1.
In my 6 Days "Building a Successful Online Business with Affiliate Marketing" training program, I will walk you through the process of starting an online business with more in-depth coverage of some of the topics from the OEC Level 1 lessons.
The OEC Level 1 is the first part of the 5 levels of structured training (total 50 lessons). This Level 1 training equips you with the necessary knowledge and tools to start building your online business and this OEC Level 1 training is available to you at no cost after you join as a Starter Member of Wealthy Affiliate.
Important consideration before starting your online business
It's not surprising to find many products that try to convince you making money is easy with minimum effort.
Do not trust them or fall into the trap, these products are likely to be scams.
Anyone who wants to start an online business in affiliate marketing needs to know that it's not a get-rich-quick scheme.
Online business requires commitment of time and tons of effort, especially at the beginning of your journey.
However, if you persist and continue to invest your time to learn, practice and improve, you will reap the rewards for what you sow now in the years ahead.
I would like to share with you here a meaningful quote:
"I've learned that anything in life worth having comes from patience and hardwork'' – Greg Behrendt
Those that came before us who are successful have established the 'route to success' for us to follow. There is no need to reinvent the wheel, you only need to follow the "blueprint" given in this guide. What is more important is your commitment and willingness to learn, practice and improve.
Overview of the online business in affiliate marketing
There are many ways to earn money online. The affiliate marketing model is one of the simplest.
What is affiliate marketing?

Affiliate marketing is a process where ''someone gets paid for recommending a product or service to other people''.
An affiliate marketer is someone who introduces others to products and services by providing information needed to make an informed decision.
He earns a commission when a sale is made. He doesn't develop, handle the payment, nor deliver the product.
How affiliate marketing works?
Below is a simplified diagram showing you how affiliate marketing works.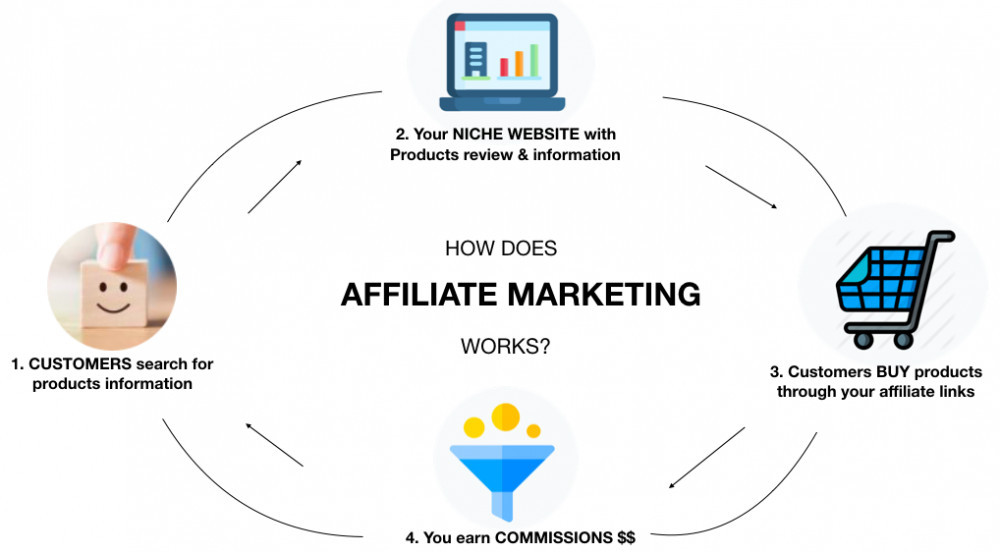 The Affiliate Marketing process can be described in the following 4 main stages:
1. Customers search for products information
2. Your niche website with products review & information
3. Customers buy products through your affiliate links
4. Your earn commissions
Why does the affiliate marketing model works so well?



Currently, there are more than 4.6 billion people (and the number is growing every day) using the internet every day. Many of them are searching for information or products to buy. That gives you an idea of how large the market is out there.
The affiliate marketing model is a performance-based marketing system: commissions are paid only when a sale is made. Therefore more and more companies jump on the affiliate marketing bandwagon – more opportunities for affiliate marketers in time to come.
By posting relevant and helpful articles on your website, you can attract hundreds or even thousands of readers.
The more relevant and helpful your articles are, the higher they will rank in Google search, which leads to more traffic (visitors) to your website.
Another advantage is that you only need to post once, thereafter, you can make sales over and over again – 24/7 for months and probably years to come.
Can you see the income potential with affiliate marketing?
Advantages of using the affiliate marketing model
You can start an affiliate marketing business with a mobile phone by joining an affiliate program and will be presented with millions of physical products and digital products for your promotion almost immediately.
Flexibility to choose your path and lifestyle – The affiliate marketing business allows you to choose how/when you work according to the lifestyle of your choice with no one to report to and work according to your schedule and hours

Offer a diverse range of products – You are free to choose from a wide variety of physical and digital products to promote through your affiliate links.

No product development and shipment to fulfil – You promote the products or services developed by others and earn your commissions when a sale is made. There is no product development or shipment issue to deal with after you close a sale.

No programming skills are needed – nowadays, knowledge of programming or coding is not required to set up and maintain your website. WordPress has greatly simplified the creation of a website with drag-and-drop blocks.

Automated accounting and payment – The set up for processing of payment has been greatly simplified.
Profit from inernet promotion

The internet offered plenty of opportunities for making money.
Vast and diverse opportunities – This performance-based model will attract more companies to set up affiliate programs and create vast and diversified opportunities for affiliate marketers.

Automate the money flow – An order can be completed almost immediately and products shipped within a few days. It also allows the affiliate marketer to track his sales and commissions easily.

Distinguish affiliate marketing differs from other internet business – Affiliate marketers do not need to develop, pack or ship the products. You simply act as a ''referral'' between the buyer and the seller and earn a commission when a sale is made.
The 4-steps in building your online business in affiliate marketing
1.Decide on your niche
2. Build your website
3. Create content & attract visitors
4. Making sales and earn affiliate commissions

1. Decide on your niche

Research to select the right niche is one of the most important tasks you need to ensure your success.
Niche marketing is going after a small, specific and defined area of the whole market.
Affiliate marketers are interested in serving a subset of customers who are in this niche. With niche marketing, you customise your approach to meet the needs and desires of this group of customers.
Niche marketing is important to beginners for 2 reasons:
Competition – Avoid competing with well-established corporations by building your credibility within your chosen niche and your chances of success improve dramatically.

Position – Find your own specialised niche and build your website to serve the needs and build your affiliate business around this specialised audience and position yourself as an 'expert'.
Tips on finding your niche market:
Follow your head and heart – Gather all the potential niches considering your interests and passions and use the analysis tools to assess the potential for affiliate profit.

Market size and competition – Avoid markets that attract lots of competition from corporate heavyweights. On the other hand, stay away from the markets that are so small where you are not going to make reasonable profits.
The Day 1 of the training program will cover this topic in greater detail.
2. Build your website
Some of us may have reservations about the building of a website as it seems to demand high technical know-how.
But nowadays, WordPress has made building a website so much easier and you do not need knowledge on coding or programming.
I will show you in my Day 3 training program the best way to create your own website and you can do it for free!
Having your own website allows you to post relevant articles to engage and build trust with your audience. You recommend to them suitable products/ services to solve their problems.
Having your website is definitely a right move for long-term success as affiliate marketer.
In building your website, you need to consider usability.
Website usability is the design and layout of a website for ease of use by a visitor. The goal of usability is to create an experience that makes it easier for visitors to find what they are looking for and complete their desired action. One of the most critical factors in visitors retention is website usability and it can help to improve your conversion rate.
3. Create content & attract visitors

A website's content helps to draw in potential customers and convert them into loyal customers. You can have the best-looking website in the world, but if it has no content, it won't do you any good.
A website needs well-written content to get visitors to stay on the site for extended periods, increase traffic and conversion rates, and ultimately drive revenue.
There are many factors to consider when creating high-quality content for your website. It is important first to understand the target audience and what type of content they are interested in. Next, create a topic that is interesting and timely for your audience. Finally, use SEO best practices to make your website rank higher on search engines such as Google and Bing.
Finally, conversion is the completion of a website goals.
The goal is to make your website more inviting, increase your brand awareness, and ultimately increase your sales or leads by making it easier for visitors to take desired actions on your website.
To understand the conversion rates of a website, it is important to understand the customer's experience and how they interact with your website.
You can use tools such as Google Analytics to obtain a wealth of information to help improve your website.
4. Making sales and earn affiliate commissions

The last step is to receive your affiliate commissions when you make a sale through your affiliate links on your website.
When you have posted relevant and useful articles, and you have established the trust with your audience, they are more likely to follow your recommendations and purchase the products through your affiliate links.
When they buy, you make money.
What do you need to get started?
Let's recap the steps to set up your online business:
1.Niche – Decide on your niche based on your interests, knowledge and research.
2. Build your niche website.
3. Create content & attract visitors
6. Making $$$
Before we get started, most beginners will need some form of education and training to get us started on the right path.
In fact, from my experience, continuous learning has become an important task as you progress on your online business journey because of the rapid changes in the online landscape.
Now, you need a platform to support your online business. This platform shall provide you with the essential features you need, preferably all on a single platform.
Education – step-by-step training programs for beginners and more advanced training for experienced affiliates

Expert support – ongoing expert coaching and technical support 24/7

Web hosting – fast, secure and reliable web hosting

Keyword research tool – for managing all aspects of keywords, competition and market research for contents marketing or other marketing strategies.

Community support & networking – getting help from members of the community and networking with other affiliate marketers.

I was so relieved when I found this platform known as Wealthy Affiliate when I just started which provided me with all the above-mentioned features, and most importantly, at an affordable cost!
The Wealthy Affiliate has given me the training to get me started, the ongoing technical support/ knowledge to set up and maintain my website, and continuous learning resources to bring my online business to the next level.
You can find out more about what the Wealthy Affiliate program is about when you join as a Starter Member (for free) when we go through the training program.
Me as your Personal Guide on your online business journey
I am here to help and will be more than happy to be your Personal Guide on your online business journey.
In my 6 Days "Building a Successful Online Business with Affiliate Marketing'' Training Program, I will walk you through step-by-step the process of starting an online business.
Thank you for reading this guide and I will catch up with you in my training program soon!
Join for FREE "Building a a Successful Online Business with Affiliate Marketing" 6 Days Training Program here.
This Guide was first published on 21 Jun 2021, updated on 13 Jan 2022.