Is it possible for affiliate marketers to make more than $1,000 per day?
Yes, it is possible! How?
By seeking out one affiliate program and leverage on the use of your websites, profiles on social media, video platform, etc. to promote this program. The process allows you to generate commissions from different traffic sources. If done correctly, it can bring you a steady source of income.
The Affiliate Bots 2.0 is such a program that can help you to achieve your goals.
This review is to present to you what the Affiliate Bots can do for you, and my recommendation. I want to congratulate you for making an effort to check out the program before committing to buying – this is one way to avoid scams.
Affiliate Bots 2.0 Review Summary
Product Name: Affiliate Bots 2.0
Product Type: Package of affiliate marketing software programs
Founder: Chris X
Website: https://affiliateautobot.com/
Price: $17 (one-time payment)
Best for: Experienced affiliate marketers who want to bring their business to the next level.
Affiliate Bots 2.0 Overview
Affiliate Bots 2.0 is a complete package of affiliate programs designed to help you to automate your business. It's very affordable and the value you get is much more than the price you pay for.
However, I will not recommend this program to beginners, as there is too much automation. It requires you to know what to do to utilise the program to automate your affiliate marketing business effectively.
My Overall Ranking: 75/100
My Recommendation: YES to experienced affiliate marketers and NO to beginners.
What is Affiliate Bots 2.0 all about?
The newly released (Feb 2019) Affiliate Bots 2.0 is built on the success of its previous version of Affiliate Bots which was released on Nov 2018 consisting of a collection of 17 automated software programs that revolve around the affiliate marketing business model.
The current version (Affiliate Bots 2.0) has added another 20 programs. Some of the 17 programs in Version 1.0 have been upgraded, and the rest will still be maintained. If you buy the Affiliate Bots 2.0, you will get the full access to all the 37 programs. Affiliate 2.0 also has added some new programs such as Banner Builder and Dropaveli.
The Banner Builder allows you to create banners online, and Dropaveli enables you to split test banners for 1000+ products on Clickbank instantly.
Chris X, a very competent Internet Marketer created the Affiliate Bots. He claimed to have made over $2 million last year from his affiliate marketing business alone from his various sites such as Google, Youtube and Facebook. According to him, the Affiliate Bots 2.0 programs were derived from the same blueprint he successfully used in his affiliate marketing business, except he now made it easier for other affiliate marketers to apply by creating the different software to cover the automation of the various aspects of the business.
In a nutshell, the Affiliate Bots 2.0 provides you with the automated ways of selecting the best affiliate programs, give tools to create the template for promotion of affiliate products, and drive traffic to the websites you created to maximise conversion and your affiliate commissions.
The software programs, either on its own or in combination with other programs, cover most aspects of affiliate marketing and help to automate your business.
Affiliate Bots 2.0 Description and Features
The Affiliate Bots 2.0 consists of a package of 20+ automated software programs that you can use in your affiliate marketing business.
The core programs described below allow you to pick products from the different marketplace.
Affiliate Ads 2.0 (upgraded from Version 1.0) – Help you to locate and create banners ads for thousands of affiliate programs on ClickBank.

CB 250 Database – Shows you the top Clickbank affiliate programs that make 7 figures income in a month.

HostingAffiliate BOT – Shows you the top affiliate programs that provide website hosting.

IM Affiliate Bot 2.0 – Shows you the highest converting affiliate products in the last 6 months.

Launch Pulse – Gives you the inside knowledge about product launches, ratings payout and popularity.

King of the Zoo 2.0 – Shows the top-grossing products on JVZoo.

Warrior50 – Pulls the top affiliate programs from Warrior+.
Other programs that supplement the core programs are as follows.
Rapid Video Ranker – auto-create profitable youtube videos for any buyer in 60 seconds.

1 Click Affiliate – auto-create profitable affiliate sites & landing pages for any niche, product or affiliate programs in 40 seconds.

Dropaveli – allows you to search for expired domains connected with various keywords. An excellent tool for those who are interested in earning thru domains.

Al Search Engine – will enable you to search over 100,000 websites for the best traffic opportunities.

Domainaveli – find out hidden premium domain names – with the ultimate site name software.

AutoMailer – an autoresponder which allows you to build an unlimited list and send unlimited emails.

ResellDB – pre-loaded with more than 1,000 extra software & other products that you can license in a few minutes.

Banner Bots – create instant banners for any affiliate products that you are promoting.

And others.
Bonus
When you purchase the Affiliate Bots 2.0, you will also receive the following bonus materials.
A 37-page complete quick start guide that shows you how to get started with the Affiliate Bot 2.0 system within a few minutes

Secret hidden videos from Chris where he explains all his secrets tips for getting free traffic

Complete bonus system on profiting with affiliate marketing with Google, youtube, JVZoo etc.,

Over 100 pages of PDF training on profiting in 2017 – a complete and beautifully formatted document

Training videos on using every software – the quick start training & advanced features.

And many more.
How to use Affiliate Bots 2.0?
The steps in using the Affiliate Bots 2.0 are not the traditional ways in which affiliate marketers used for making money online. It involves only the 3 simple steps described below.
STEP 1: Pick a profitable affiliate programs
A few tools are included for you to find the most profitable affiliate programs and products to promote and monetise your website.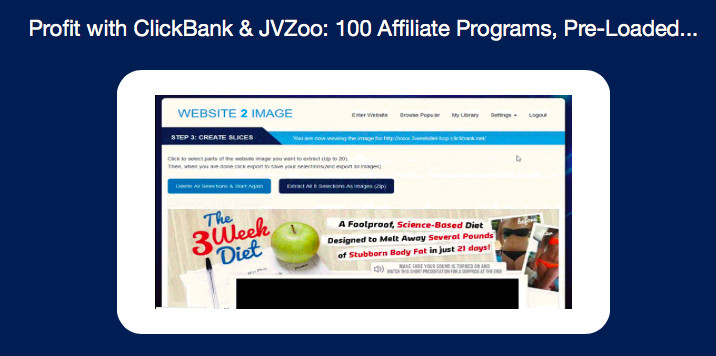 Using the tools such as First up, Amazon: Find 200 NEW and a few others to help you to target the top-paying and most profitable affiliate opportunities out there. At this stage, you may want to focus on the hottest new products that just came out on various affiliate programs.
STEP 2: Auto-boost your conversion of a website instantly
There is two software available to help you in creating your website in 60 seconds!
The website widget tools that help to create your promotion pages such as adding to your website the specific geo-tracking, targeted pop-ups, discount coupons and countdown timers.
Use 1 Click Affiliate – there are 100 'done-for-you' templates for you to choose from which include web pages and affiliate promotions. Use 1 Click Video Pages – to create videos, squeeze pages and VSL landing pages almost instantly.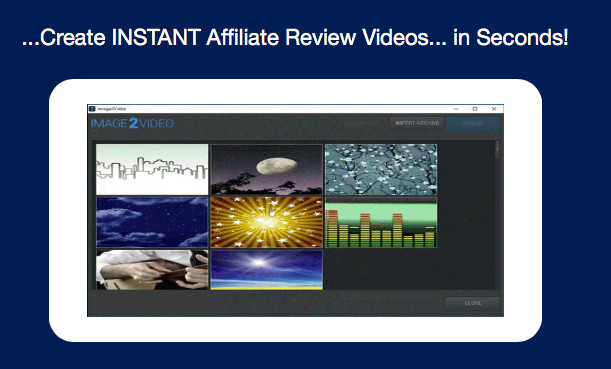 The site you built using this software will have all kind of added functionality:
getting information on targeting returning visitors;

those most likely to buy, and

those who spend extended time browsing your site etc.,
The widget tools also allow you to focus on the most compatible operating systems, sending out pop-ups and target customers based on their geographic locations.
STEP 3: Getting free buyer traffic
Driving traffic to your website is one of the feature of Affiliate Bots 2.0 and Chris understands the importance of this factor to affiliate marketing success.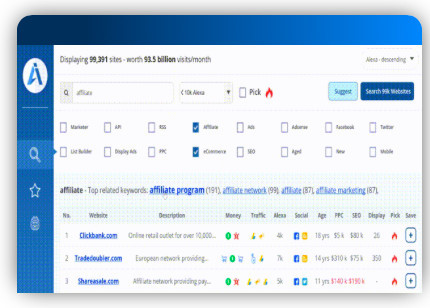 Programs such as Al Traffic Search Engine allows you to search over 100,000 websites for the best traffic opportunities. It is a search engine that focuses on the various traffic-generating methods across the entire web. Another program called Web Widgets can be used to boost the conversion rates.
What I like about Affiliate Bots 2.0
#1 – Value for MoneyWith only $17 one-time payment – you are getting a program for less than $1!
#2 – Future updates of all software programs are all FREE? You will enjoy all the future updates for FREE, which is very attractive, considering you only need to invest once.
Affiliate marketing business is one of the fastest moving industries on the web, therefore keeping your business up-to-date is not only a smart move but an essential. One way to keeping abreast with the latest development is to use the most updated software programs which Affiliate Bots will be providing you without additional costs.
#3 – Excellent training materials? The training materials that come in the form of PDF and videos are excellent in quality.
#4 – All-in-one software. You do not need any other third-party tools.
What I don't like about Affiliate Bots 2.0
#1 – Not a beginner-friendly program – I think this is the single most disadvantage of this program as it caters for more experienced affiliate marketers.
The user has to understand the process and how to set it up; therefore, it is not beginner-friendly. These programs are meant for users who know what they are doing and why they are doing a specific task.
#2 – Information overload – With so many new programs and training materials are given to you at one time, it easily feels overwhelming even for experienced affiliate marketers. You need to spend time to go thru the training to understand and apply the programs to your business.
How much does Affiliate Bots 2.0 cost?
You only need one-time single payment of $17 to sign up to enjoy the usage of all the 37 software programs plus the bonus. There is no upsell at the point of this writing.
Access to Affiliate Bots 2.0 here.
Refund Policy
Affiliate Bots offers a 30-day, money-back guarantee after you sign up, with no questions asked.
In my opinion, this refund policy gives the users greater peace of mind, and it is also a testament to the quality of the products being offered.
Tools, Training and Support
The training materials available are:
1. 32-pages PDF Quick Start Guide
This guide provides you with information starting with covering the basics of affiliate marketing, becoming an affiliate, keyword research to downloading of the software programs to prepare you for a quick start. It also includes a step-by-step guide on how to get started. Some of the guides may be dated but still relevant.
2. 14 Training videos
The easy-to-follow videos (duration from 3 to 20 minutes) guide you thru on how to use the software programs.
3. Other training systems
There are also 3 downloadable PDF guides on Google SEO, youtube SEO and email marketing.
Recap of the Features and benefits of Affiliate Bots 2.0
A summary of the main features and benefits of Affiliate Bots 2.0 as follows.

A very affordable package of software programs for affiliate marketing.

Consists of core programs and 20+ supplementary programs that allows you to automate your affiliate marketing process.

Entitle the user to future updates of all programs for FREE.

Provide excellent training materials and support to get you started.

It comes with generous refund policy of 30-day money-back guarantee, with no questions asked.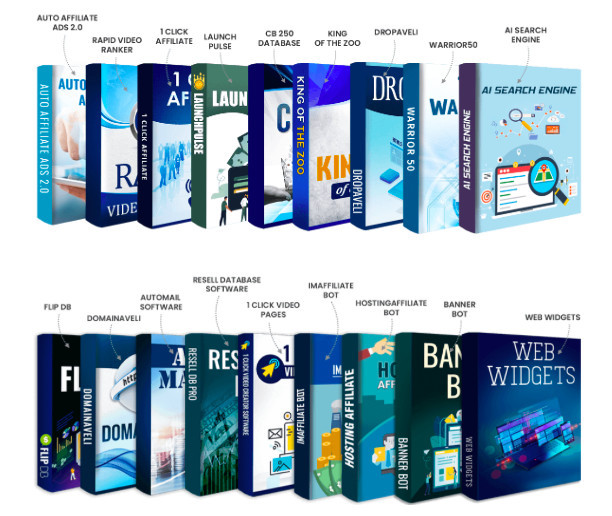 My Final Verdict of Affiliate Bots 2.0
Affiliate Bots 2.0 is a legitimate program packed with tools (software) for affiliate marketing. If used correctly, these programs help to automate your affiliate marketing business.
It is affordable and value-for-money – you get much more than what you paid for.
However, I would not recommend it to complete beginners affiliate marketers due to the many automation processes involved in using the programs. The users have to know how to manually doing the process to effectively using the software programs to automate the process.
Final Recommendation: YES to experienced affiliate marketers and NO to beginners.
Find out more about Affiliate Bots 2.0.