Overview
Are you considering joining Affilorama to learn how to become a successful affiliate marketer?
Before making the decision, you must do your research and find out more details before committing your time and money to invest in it. In this review, I will offer you sufficient information for you to make an informed decision.
There is no doubt that Affilorama is an excellent platform for learning affiliate marketing. However, there are also some downsides that you should be aware of before jumping into it. 
Read on to find out more.

Affilorama Review Summary
Product Name: Affilorama
Product Type: Internet marketing course consists of training videos and notes covering the basics of setting up affiliate marketing business, SEO and some interviews.
Website: www.affilorama.com
Owner/ Founder: Mark Ling (founded in 2005)
Price: Free for Basic Membership, $67 per month for Premium Membership
Best for: Beginners and Intermediates affiliate marketers
What is Affilorama all about?
Affilorama is one of the largest affiliate marketing training platforms in the market. The training program consists of video training lessons and reading materials in the form of PDF and e-book. It aims at providing step-by-step training courses for beginners as well as advanced affiliate marketers to build a successful online affiliate marketing business.
With hundreds of hours of video training lessons, tutorials and other task-based lessons, Affilorama has sufficient materials for all-rounded affiliate marketing training. It comes with two levels of memberships and various products to choose from – from the very basic to the advanced level.
Although Affilorama does not offer the best online community to learn affiliate marketing, it is far better than most of the affiliate marketing training programs available in the marketplace.
Affilorama Membership and Products
1. Affilorama Memberships
Affilorama Memberships come in two forms: the Basic Membership (Free) and the Premium Membership.
Basic Membership (free)
It's completely free and has no expiry date.
The Basic Membership offers a lot for nothing – you will gain some value from the 20+ hours of video training, written materials and interviews with successful online affiliate marketers.
These training materials cover the basics you need to know as an affiliate marketer. Topics such as building a website, contents creation and Search Engine Optimisation (SEO) give you the general idea of how affiliate marketing works and show you step-by-step how to set things up.
Though the materials are free, some of them are outdated. It would help if you did your research to ensure the materials available are still relevant to the current affiliate marketing business.

Join as a Basic Member of Affilorama for Free.
The free lessons will cover the following topics.

Market Research

Site Building

Content Creation

Marketing Ideas

Search Engine Optimisation (SEO)

Pay Per Click (PPC)

Affiliate Outsourcing
Premium Membership
Try the Affilorama Premium Membership for just $1 for 30 days, thereafter is $67/month. The trial offers advanced training video, product creation training, affiliate bootcamp training, PLR articles etc.,
The chart below compares the features/ products available in the Basic and Premium Membership.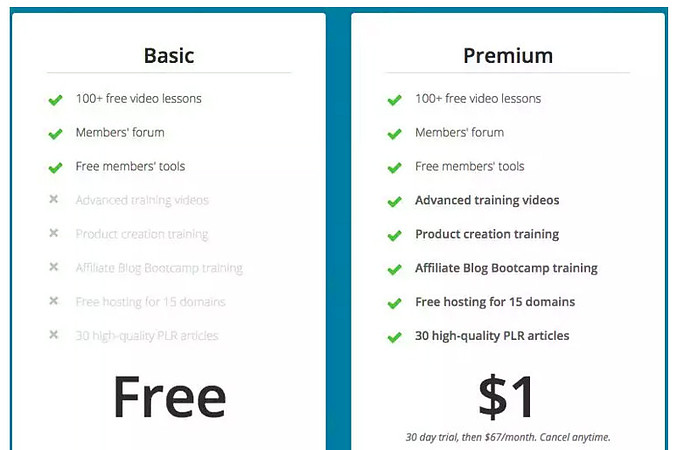 2. Affilorama Products
a) Path2Passive ($37)
The 'Pathway to Passive' is an all-in-one guide showing you how to build a long-lasting, successful and passive income generating affiliate marketing business.
It is a 'read me first' guide for new affiliates giving you a birds-eye-view of the road map for success in affiliate marketing, so you always know what to do, and more importantly, why you need to do it. It saves you time and avoid frustrations, shortens your learning curve and increases your chances of success.
Some essential topics that you will learn from this guide are:
How to find profitable niches and products.

How to attract the right people.

How to convert your visitors into buyers.

How to create contents that attract links.

and many more.
Find out more about Path2Passive.
b) AffiloTools
You get access to the AffiloTools with your Premium Membership.
It's basically a simple version of Google Analytics with the option to add your Facebook and Twitter details. It's the main selling point for you to upgrade to Affilorama Premium.
c) AffiloJetpack ($997)
AffiloJetpack targets those who do not have time to go thru the hundreds of hours of video training course materials. It provides you with a 'done-for-you' system where you only need to put in 20% of the effort to start your online affiliate marketing business.
I do not support the "done-for-you" system as the users do not understand the fundamental of the affiliate marketing business, such as promoting your website and getting it to rank on search engines.
It is also highly-priced at $997. In addition to the package, you still need to subscribe to the domain (about $15/ year) and an auto-responder system (about $20/month).
Find out if AffiloJetpack is right for me.
Affilorama: The Good and the Bad
The Good
Starter membership offers an opportunity to check out before investing further your time and $

Starter membership provides valuable training videos, text-based training and forum.

Training lessons are well-organised with clear instructions and ease of navigation on the membership area.

Opportunity to join one of the best internet marketing community.
The Bad
The Basic membership does not provide you with all the tools to succeed as an affiliate marketer.

A newbie will be confused by too many upsells and promotional emails.

Outdated training materials are doing more harm than good.

Backlinking strategies have become outdated and lead you to lose your ranking on search engines.

The general support from the community is slow.

Promotion of Private Label Rights (PLR) is an outdated strategy.
Who is Affilorama created for?
Affiliorama offers a wide range and different levels of training. Therefore, it is suitable for beginners, intermediate and advanced affiliate marketers.
Join as a Basic Member for free.
What I like about Affilorama
#1 – Free Basic Membership – provides the opportunity to check out the program before you decide whether to upgrade to Premium Membership or purchase other packages.
#2 – Valuable training materials – the Basic Membership comes with more than 20 hours of video training and text materials, giving beginners a basic understanding of affiliate marketing – all for free.
#3 – Clear instructions and easy-to-follow training – the training materials provide clear, easy to follow instructions.
What I don't like about Affilorama
#1 – Too many upsell – a newbie will be confused by the many upsells and promotions and commit to packages that may not be suitable.
#2 – Outdated strategies – outdated strategies such as backlinking and promotion of PLR will do more harm than good to your business.
#3 – Low member activities on the forum – the general support you are getting from the community is slow, and the members' activities are low.
How much does Affilorama cost?
Below is a summary of how much Affilorama cost:
1.Basic Membership: Free
2. Premium Membership: $1 for the 30-day trial, thereafter that $67 per month.
3. Path2Passive: $37
4. AffiloJetpack: $997
Afflilorama Products Guarantee
Premium Membership: The offer is $1 for the 30-day trial after that is $67/ month, and you may cancel at any time.
All these products come with a 60-day money-back guarantee.
Path2Passive

AffiloJetpack
Affilorama Tools, Training and Support
The video training lessons available to the Basic Membership are intuitive and easy to follow. This step-by-step training covers the basic of affiliate and online marketing. Also, there are some great tips and advice from interviews with some of the successful affiliate marketers.
Are these other tools helpful? Yes, they do for most parts but not always, and similar tools are available for free elsewhere.
Call and email support are provided but not 24/7. You will hardly get the support from the owner. Support mainly is from the Affilorama community members worldwide.
Affilorama Community support
Similar to other thriving internet-based communities, your primary support comes from the Affilorama community. The members help and support each other to learn and grow their business.
If you encounter problems or need to have queries, there are always someone out there who can assist you. However, you may not be able to get the response immediately as the community is not very active.
Recap of the Features and Benefits of Affilorama
Here is a recap of the essential features and benefits of Affilorama:
The training and tools suit all levels – from beginners to advanced levels.

The training materials available to the Basic Membership covers the basics in affiliate marketing.

The Premium Membership offers more in-depth coverage, training and tools for a monthly subscription.

The training materials have a good flow of contents and coverage, easy to follow and navigate.

The other packages available such as AffiloJetpack come with a high price tag, and there are additional upsell and promotions.
My Final Verdict of Affilorama
Affilorama is a great platform to learn affiliate marketing, especially for beginners and intermediate. The experienced affiliate may also gain valuable knowledge to allow you to scale your existing online business. The training programs are top-notch, and they come with 60-days money-back guarantee.
However, you need to be aware that some of the materials and strategies recommended are outdated and may harm your online business.
In my opinion, the packages offered are expensive, which also come with other upsells and promotions which confuses the beginners. You may want to check out the alternative, which is more affordable and offer more value at Wealthy Affiliate.
Find our more details on Wealthy Affiliate Review.
Final Recommendation: YES to beginners, intermediate and experienced affiliate marketers.