Welcome to Amazing Selling Machine Review 2022.
Are you looking for a training course to build your own successful Amazon FBA (Fulfillment by Amazon) business?
The Amazing Selling Machine (ASM) is one of the most popular Amazon FBA training course.
The course includes 8-week online training, private mentorship program, worldwide community support and resource vault – all designed to help anyone to get started with no prior experience to build and grow a successful Amzon FBA business.
Amazing Selling Machine Review Summary
Product Name: Amazing Selling Machine (ASM)
Product Type: Training, community and mentorship program for Amazon Fulfillment by Amazon (FBA)
Founder: Jason Katzenback and Matt Clark
Pricing: $4,997 (varies for every product launch) for one-time payment OR $997 in 6 monthly installments.
Best for:  Those who want to start an eCommerce store with Amazon FBA
Summary:
ASM is an online training course that comes with private coaching (mentorship), resource vault, worldwide community and private Facebook group support designed for anyone to get started and build a successful Amazon FBA busines.
Recommendation: Yes, for those who want to start an eCommerce store with Amazon FBA.

What's Amazing Selling Machine all about?
It's the world's most popular Amazon FBA training course.
The course consists of 8-week Online Web Class, ASM Mentor Program (including coaching calls), Private ASM Community and access to Private Resource Vault – all designed for new members to grow a successful Amazon FBA business starting from no prior experience.
Who's Amazing Selling Machine created for?
This course is designed for anyone who wants to start an eCommerce store with Amazon FBA.
The step-by-step training eliminates the uncertainties for building your own eCommerce store and shortens the path to building a successful business in Amazon FBA, which includes the followings.
Research and selection of products

Order inventory and evaluation of suppliers

Building your brand and private label

Writing high-conversion Amazon listing

Products launching

Driving traffic and marketing of products

Scaling your business to the next level
You can use this course to build a 6 or 7-figure Amazon FBA business from no prior experience.
Is Amazing Selling Machine a scam?
ASM is absolutely not a scam.
You can find many success stories on the company's website or its Facebook community,
In addition to the success stories, you can also see many high-profile online entrepreneurs such as Sir Richard Branson, Robert Kiyosaki, John Mackey., in its affiliate web. These high-profile entrepreneurs will not associate their names with a program that will jeopardise their reputation.
The ASM and its creators have been featured in popular and well know media such as Business Insiders. MSN, Forbes etc.,

Although ASM is a very good program, I would not recommend to those with tight budget as the capital investment is high compared to other programs.
Who's behind Amazing Selling Machine
ASM was launched by two eCommerce giants, Jason Katzenback and Matt Clark. Both of them have built multiples 7 and 8-figure eCommerce business.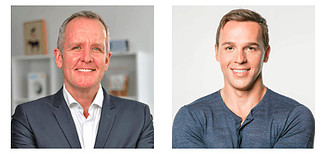 Jason is a philanthropist and serial entrepreneur and Matt is a former energy trading analyst who became an eCommerce entrepreneur.
Mike McClary and Rick Henderson are the trainers for this course, and they have made the learning straightforward and easy-to-follow, even for those with no prior experience.
How does Amazing Selling Machine works?
The Amazon FBA is basically a eCommerce business model.
The overall process of how the Amazon FBA works in a simplified manner is as follow.
1. Select a product to sell
2. Source for suppliers
3. Order products in bulk at wholesale price
4. Ship the product to Amazon Fulfillment Centre
5. Market the product on Amazon site
Amazon will handle everything else (from packing to shipment of products to customers, after-sales services and handling returns etc.,). For Amazon FBA, you have to handle the shipping of products from supplier/manufacturers to Amazon Fulfillment Centre.
These are some main differences between Amazon FBA and drop shipping:
Marketing Strategy: Drop shipping runs successful Facebook Ads Campaign, whereas Amazon FBA optimises your products in the Amazon ranking system.

Shipment of product: In drop shipping, the suppliers/manufacturers will ship the products directly to the customers.
What's inside Amazing Selling Machine?
The core of ASM consists of the followings.
1. The 8-week online step-by-step video training.
2. Downloadable PDF copy of training.
3. Mentorship program: 8-weekly training webinar live walk-through + Q&A.
4. 1year access to tools for building and growing Amazon business (renewable subscription after 1 year).
5. Lifetime membership to Private Community forum.
TRAINING MODULES
Welcome Module: The ASM Business Process & Mindset
This module has 14 lessons. It gives you a brief walk-through of the ASM membership and explains the basics of Amazon FBA.
Module 1: Building Your Hot Opportunity List
This module consists of 23 lessons. This is where you start ecploring the Amazon marketplace and set up your accounts.
The module walks you through the process of finding the most popular products which includes the selection criteria, patent searching, product categories to explore and categories to avoid.
Module 2: Evaluating Suppliers and Samples
In this module, you learn how to source for suppliers, products evaluation, getting sample products to test, and how to calculate profit margins.
Module 3: Ordering Your Inventory and Creating Your Brand
This module consists of 16 lessons. This module is important because it teaches you how to build your brand as a seller instead of just selling the products.
Other lessons cover creating listings that convert, design of product packaging and how to order your inventory the right way.
Module 4: Building Your Brand Assets
This module consists of 14 lessons. The 'assets' refers to the tools you need to build your long-term successful business.
In this module, you will learn how to set up your business, social media account/pages, using an auto-respondent to build a subscriber list, generate product reviews and turn your onetime customers into a life-time consumer.
Module 5: The Perfect Product Page
This is one of the most helpful module because it shows you how to present your products in front of your customers. With minor tweaks, you can easily improve your conversion rates by a few percentage points and that makes a huge difference to your sales.
You will learn how to craft the perfect titles for SEO and conversions, use bullet points that sell, and how to write product descriptions the right way.
By the end of the module, you would have learned how to ''perfect'' your product page to maximise the conversion rate.
Module 6: The Perfect Product Launch
This module goes through the step-by-step in product launching. It covers the objectives, planning, optimising the launch, structure your campaign, generate reviews, optimising the price, etc.,
This is the step where you rank your product in the Amzon search engine and your product finally going live.
Module 7: Optimizing and Scaling PPC
This 11-lesson module will guide you on how to optimise the performance of your business.
The module covers the daily maintenance of a successful FBA business – everything from checking your ranking to emailing your subscribers.
Module 8: Scaling Your Sales on Amazon
This last module touches on how to future-proof your business. This includes getting certain things to line up, allowing you to make it to the end of your financial goals, such as inventory management, expanding product line and globalisation.
How much does Amazing Selling Machine cost?
As of this review, the ASM package cost $4,997 for a onetime payment. It's also available in 6 payments of $997 each by installments.
This price will include the 100+ training videos, 8-week Online Web Class, ASM Mentor Program, Private ASM Community and access to Private Resource Vault. It also comes with a 30-day money-back guarantee and 6-month Success Guarantee (see explanation in the ASM Refund Policy).
Amazing Selling Machine Refund Policy
ASM has the following refund/guarantee policy.
30-day money-back guarantee: If you are not satisfied (for whatever reason), it will offer a 100% refund with no questions asked within 30 days
6-Month Success Guarantee: If you complete the course and launch a product according to the instructions from the program's requirements and failed to sell them within 6 months, ASM will buy back the stocks from you up to $7,500 in unsold inventory and reimburse your membership.
What I like about Amazing Selling Machine
#1 – A high-quality course with actionable tips
There is no doubt the ASM course is of high quality packed with tons of great information. More importantly, there are many highly actionable items that you can implement immediately and the results can be seen within a short period.
#2 – Up-to-date contents
ASM keeps upgrading their course content to add more tools and resources for its members. Once you are a member, all the revision/updates will be available to you for free.
#3 – Community support
The two main channels for getting support are the ASM Forum and private Facebook group.
ASM does not neglect or abandon their members in the forum or Facebook group. In fact, there are a number of 'ASM mentors' who are actively helping the other fellow members. Learning from these mentors is invaluable, as you can get the firsthand experience from someone who has done what you intend to do.
The community answers your queries and also keeps you motivated to achieve more. It's really like a family of like-minded people having similar objectives and goals.
#4 – Risk-free investment
From the Refund Policy, you can see ASM is so confident of their program that they offer you a risk-free investment.
The 30-day money-back guarantee offer you a full refund with no questions asked if you are not satisfied with the program for whatever reason.
The 6-Month Success Guarantee is something that you cannot find in other programs. 
Although the capital investment is high, given the above refund policy, I see this as risk-free investment.
What I don't like about Amazing Selling Machine
#1 – High capital investment
The major drawback of this program is the capital investment. Although there is potential for you to earn $10k or more if you follow the teaching from the program, the upfront capital outlay is still high.
The good thing about this high capital investment is that those who invested in the program are more serious and more committed to build their own successful business. That's why it's not surprising to see many success stories all over.
#2 – Hidden costs
There are some hidden costs which were not disclosed upfront, such as the followings.
Product research and sample cost.

Freight Forwarder's fees.

Shipping cost to Amazon Fulfillment Centre.

Cost of Amazon Seller Account.

Monthly Storage fees.

Labelling fees.

Fulfillment fees.
These costs can add up to thousands of dollars, in addition to your investment in the ASM course. You need to budget the additional 'hidden costs' if you are serious about starting this ASM course.
#3 – Program is not available all-year round
In order to maintain the integrity of the coaching and customer services, the course is not available all-year round. This shows that ASM is serious about your success.
If you are serious about taking on the course, get yourself prepared financially, and be ready to jump on the train as soon as the program is available.
My Final Verdict of Amazing Selling Machine
ASM is the best Amazon FBA course in the market.
This high-quality content with online classes, mentorship, private resource vault and great community support making it the best available course for you to build a successful Amazon FBA business.
If you are self-motivated and committed to invest a lot of time and hard work to learn and build your store, this could be the only course you need to invest in to build a successful Amazon FBA business.
Final recommendation: Yes, for those who want to start an eCommerce store with Amazon FBA.
My preference to make money online
I personally prefer affiliate marketing to Amazon FBA business for the following reasons.
1. You can start building your affiliate marketing without upfront investment of thousands of dollars.
2. You do not need to be concerned about unsold inventory (stocks) which tied up your fund and space.
Affiliate marketing is similar to Amazon FBA, which leverages on Amazon to make money online. The difference between affiliate marketing and Amazon FBA is that you are an affiliate rather than a seller.
You can make money with both of these business models if you do it correctly.
If you have interests or special knowledge in some areas, you may want to explore how to turn your passions into a business.