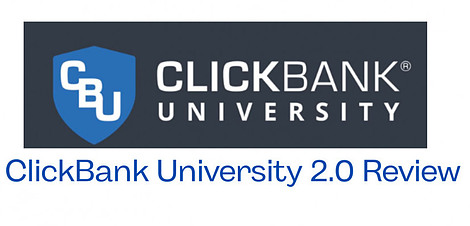 Welcome to ClickBank University 2.0 Review.
ClickBank has been a well-known platform for vendors and affiliate marketers to generate money online for years. They released the initial edition of ClickBank University in 2013, and three years later, they improved it to version 2.0.
In this ClickBank University 2.0 review, I will explain what they are not telling you right away, even though they are a well-known company in the online market. It is important for everyone interested in investing in this program to be aware of this.
Let's find out what you need to know before joining.
ClickBank University 2.0 Review Summary
Product Name: ClickBank University 2.0 (CBU)
Product Type: Digital Product Creation & Marketing Training Course
Founder: Founded by Adam Horwitz & Justin Atlan in 2013
Pricing: $47/month + $594 (Upsell) + other toolkits
Recommendation: Recommended for entrepreneurs who want to create and market their digital products online with ClickBank.
Summary
CBU offers a complete education that includes valuable tools to assist entrepreneurs in creating digital items, marketing them on ClickBank, and making money.
They also provide an affiliate marketing course. However, the content could be improved and updated. Furthermore, CBU has a high-ticket upsell that they should have disclosed to you upfront.
Alternative
Considerably better alternative programs that can assist marketers with their affiliate marketing business. One of the alternatives is Wealthy Affiliate.
What's ClickBank University 2.0?
ClickBank University 2.0 is an updated version of a series of online courses. It aims to assist vendors and affiliate marketers using ClickBank to generate income online.
Suppose you have been in the affiliate marketing business. You may be aware that ClickBank is one of the biggest affiliate marketplaces for selling digital products, with annual sales of over 200 million. With more than 20,000 product listings and 6 million entrepreneurs, you may be interested in what ClickBank University 2.0 offers for your affiliate marketing business.
It's helpful to know that ClickBank University's primary objective is to instruct students in creating original digital products to sell on the ClickBank platform.
Who's the person behind ClickBank University 2.0?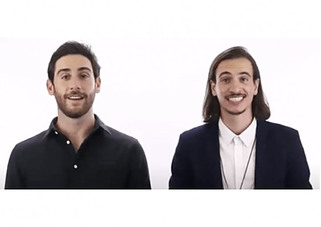 Justin Atlan and Adam Horwitz are the primary creators of CBU.
Justin Atlan is a successful online entrepreneur with a University of California economics degree. He acquired his riches through affiliate marketing and selling online as a ClickBank seller. He started making money online when he was 18 and has grown his audience, mainly through ClickBank.
Adam Horwitz is a YouTuber, Instagrammer, and internet entrepreneur who has been making money online since 18. He co-founded ClickBank University with Adam Horwitz, bringing his expertise to online marketing and monetisation.
Who's ClickBank University 2.0 for?
CBU classes assist complete beginners in earning a full-time, part-time, or passive income through affiliate marketing.
If you already have an online business as an affiliate or vendor, CBU is not for you. You may learn a few new strategies and ideas to help your online business, and that's all.
Is ClickBank University 2.0 legit?
CBU is legit. There are legitimate coaches and training materials available to assist you in making money with ClickBank. However, the price is too high, and the instruction is also too restricted.
I would recommend those who are interested in the creation and marketing of their own digital products, then give CBU a try.
For those who are more experienced and want to learn more about affiliate marketing, Wealthy Affiliate is a better alternative in terms of training and cost.
What's inside ClickBank University 2.0?
This course will show you how to start your own internet business and make money by promoting other people's items. CBU training is intended to teach you how to promote and sell products made particularly by ClickBank sellers.
There are two main parts of training.
8-week Affiliate Marketing Training
The first part of the training is an 8-week course that teaches students how to market other people's products as affiliates on ClickBank. You do not need to produce your product. Instead, you may earn affiliate earnings by promoting others' products.
Details of the training are as follow.
Week-1 – Affiliate Marketing on ClickBank
Affiliate Profit Plan

Setting Up for Success

Goal Setting
Week-2 – Understanding Affiliate Marketing
Affiliate Basics

Navigating Through the ClickBank Marketplace

Secrets of the Top ClickBank Products
Week-3 – Finding Your Passion
Discovering Your Passion

Researching in Your Niche

Picking the Perfect Product
Week-4 – The Ultimate Affiliate Marketing Funnel
The Truth About Traffic

Affiliate Funnel 101

Building Squeeze Pages (a squeeze page promises something worthwhile for the visitor in exchange for an email address).
Week-5 – Always over-delivered
Building a Relationship with Your List

Different Ways to Deliver Free Content

Outsourcing Your Content
Week-6 – Writing the Perfect Swipe
This is a compilation of your best subject lines, emails, and landing pages that people may use as inspiration.
Getting People to Open the Email

Making Sure They Click

Offering Bonuses
Week-7 – The email Blueprint
Using Broadcasts (an announcement you send to a large group of people)

Automating Your Emails

The Perfect Balance
Week-8 – Scaling and Expanding
Toolkit Traffic Area

Opening the Floodgates

Creating a Product
Other downloadables are offered as extras to assist you in better understanding and implementing the program content on your path to becoming an affiliate marketer.
Every week, the course also provides a selection of videos ranging in length from 5 to 15 minutes to make it easier to obtain the knowledge you want.
You may also download the training video outlines (titles and subtitles) to aid with knowledge retention.
12-Week Training for Vendor
This training is for members who want to do it all – from developing the product to hiring different experts to help with the launch.
This course will teach you how to start your own internet business and make money as a vendor. You'll discover how to create your product and market it on ClickBank. You will discover how to create and plan your sales funnels with upsells and downsells.
Week 1 – How does it work?



– A breakdown of the 12-week strategy for success
Week 2 – Discovering your ideal product



– You'll have the precise information required to choose your ideal product if you combine your passion and experience with what's working on ClickBank.
Week 3 – Creating your avatar



– Recognise your customer's thinking first. What are their interests, the demographics, the pressing problems, and your proposed solution? You can create a solution if you comprehend their issue.
Week 4 – Creating your product

– Learn the tried-and-true ClickBank recipe for success and how to organize your offering. Also included is how to outsource the production of your product.
Week 5 – Creating the ideal upsell



– Upselling is the process of persuading a customer to make a larger-than-expected purchase. Profit will be multiplied by capitalising on the purchase momentum.
Week 6 – Sales copy & conversion maximisation

– CBU's in-house copywriter will teach you the secrets of great sales copy. You will not be successful until you have a terrific sales pitch.
Week 7 – The simple video sales letter



– Learn how to create high-value and effective video sales letters.
Week 8 – Product finishing

– Discover how to add the finishing touches to your product. Correct any errors and check that all of your product's components are operational.
Week 9 – Getting your product on ClickBank



– Step-by-step instructions for getting your product in the ClickBank Marketplace.
Week 10 – Attracting & Managing Joint Venture (JV) Relationships

– Attracting affiliates is one of the simplest methods to become successful on ClickBank. You must first comprehend what they desire and then figure out how to persuade people to trust your products!
Week 11 – Split Testing

– Experimenting with new phrasing, advertising, and funnels may drastically increase conversions.
Week 12 – Extending your Success

– How to expand on your first sales and success by attracting new people.
Weekly Live Q&A Webinar with Adam & Justin
Adam and Justin host a Weekly Live Q&A webinar where members may ask Adam and Justin any questions they have. Because the webinars are recorded, members can watch them whenever they wish.
However, because there is frequently no clear focus topic, the entire webinar will be disorganised and packed with random queries.
This Weekly Live Q&A webinar might be one of their strategies to "hook" people into staying in the community and paying the $47 monthly fee.
Private CBU Facebook Support Group
You will receive access to a CBU forum and their private Facebook group. The forum and group have a good level of activity and involvement.
Adam and Justin will occasionally partake in the conversation.
ClickBank Builder 2.0 (Upsell)
CBU is a fantastic tool for quickly creating excellent websites, landing pages, and offer pages. It is a 'drag-and-drop' tool with a variety of templates to assist you in creating attractive pages.
However, there is a catch: this is a $594 upsell. It is far too pricey for such a gadget.
The benefit of ClickBank Builder 2.0 is that it was designed by ClickBank, allowing you to quickly connect and personalise it with your ClickBank offerings.
The training at CBU 2.0 is mostly focused on utilising ClickBank Builder, which requires you to purchase it. Otherwise, it will be much more difficult to follow up with the training and put what you learn into practice.
Another difficulty is that once you begin using ClickBank Builder, you must host your website on ClickBank's servers. As a result, you must continue to pay, and moving your website elsewhere will be tough if you decide to quit CBU.
This website hosting on ClickBank's servers is what I referred to as a "website lock-in" problem.
CBU Toolkit (Upsell)
The CBU Toolkit is an additional upsell. You'll need many more tools and resources to run a successful online business, such as your website domain, Email Service Provider (ESP), social networking platforms, etc.,
CBU will send you to all these different services via their affiliate links and force you to buy these extra items since they are required.
How much does ClickBank University 2.0 cost?
The ClickBank University sales page attempts to persuade you that the programme is merely $47 per month. However, after you sign up, you'll see several upsells and a slew of extra expenses.
Your monthly cost can easily exceed $200.
ClickBank University 2.0 refund
CBU offers a 30 day money-back guarantee for you to try it out.
What I like about ClickBank University 2.0
#1 – It's created by ClickBank for ClickBank
ClickBank is a respected platform for online marketers, as you are all aware. Many thousands of people profit from it, not only earning a living, but some are making perhaps six or seven figures in income.
Many out there claim to be "experts" in ClickBank. From the information provided by the CBU course, I would recommend anyone interested in earning from ClickBank learn directly from ClickBank rather than from other sources.
Moreover, Adam and Justin have had great success with ClickBank. In this CBU, they collaborated directly with CB to present this course. I have confidence they are experts in the subjects they are discussing.
#2 – Beginner-friendly training videos
The training videos are great for beginners and those new to creating their first informational products. The video training is of high quality and easy to follow.
#3 – 30 day money-back guarantee
Although CBU does not offer the $1 trial anymore, there is a 30-day money-back guarantee for you to try it out.
It's a risk-free investment.
What I don't like about ClickBank University 2.0
#1 – Mainly for vendors rather than affiliates
If you are an affiliate looking to promote ClickBank products, you may be disappointed to know that the affiliate side of the training is not updated. A program such as Wealthy Affiliate may be a better alternative.
Find out more about why Wealthy Affiliate is my top-recommended Program.
However, CBU is an excellent place to sell online if you're interested in developing your digital product (such as online courses, programs, membership sites, eBooks, etc.). CBU provides you with some of the best instruction.

#2 – Important tool is not included
An important tool known as CBU is not included in the basic package but is available as an upsell.
The training requires this tool. Purchasing this product will put you at a disadvantage as you will not be able to fully benefit from the training. CBU did not inform you upfront, but they made it necessary for the course.
#3 – Part of the training is locked
You are not permitted to see all the training modules after joining, but they will unlock for you after a certain period.
According to CBU, this is to prevent you from skipping any stages. It is pretty inconvenient for many individuals when they cannot access all the modules after paying the fee.
Could this be one of their "secret strategies" to keep you in the group for longer?
Many find it inconvenient to email CBU to request the unlocking of the modules.
#4 – Poorly organised weekly webinar
The weekly webinar is poorly organised, and there is no specific topic to cover. The whole presentation seems messy, with random questions flying around.
Moreover, a lot of the questions asked are beginner's questions. If you are an experienced marketer, you'll not benefit very much from the webinars.
My Final Verdict of ClickBank University 2.0
Since CBU works with ClickBank, you'd think the training would be more in-depth, especially in the affiliate marketing and traffic portions.
The CBU team promotes their program as the simplest way to make money. A prospective student may feel that all they need to do is pay for the training, watch the videos, and then start earning money.
In reality, the training consisted of multiple intricate procedures with a high learning curve, making overall success challenging.
Final recommendation: Recommended for entrepreneurs who want to create and market their digital products online with ClickBank. However, it's not recommended for anyone looking to earn money as an affiliate marketer with ClickBank.
Alternative to ClickBank University 2.0
If you find the investent in CBU is too high, I recommend you check out my Top Recommended program.
This program includes detailed (step-by-step) and up-to-date training, an advanced keyword research tool, websites and web hosting, live and technical assistance, community support, and much more!
One of its best features is that the program allows you to start for free (Starter Member) to explore all the features and benefits before you decide if it's suitable.
Create my free Starter Membership
Once you own the Premium Membership, you will enjoy the following benefits.
Detailed, step-by-step training video.

Weekly live, interactive training classes.

Thousands of video and text-based tutorials and training.

Web hosting for up to 10 websites on free and registered domains.

A website builder to simplify the creation of your affiliate website.

A keyword research tool, Jaaxy.

SiteContent platform for you to create, edit, manage, organise and publish your content.

A great support community with 24/7 live chat, direct messages and expert mentoring.

No Upsells.
The Premium Membership comes with all the above benefits; you only need a monthly investment of $49/month or $495 (paid annually).
You can endorse me to assist you in exploring the features and benefits of my Top Recommended program by clicking on the link below.
START BUILDING MY ONLINE BUSINESS TODAY!

We hope this ClickBank University 2.0 review is helpful to you. Please share it with your friends if you like it. If you have any questions, please leave your comments below.