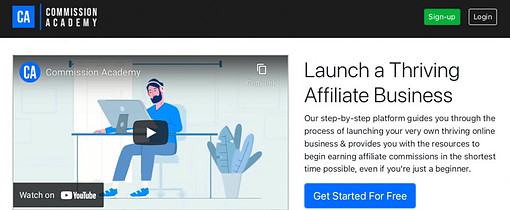 Welcome to Commission Academy Review 2022.
Are you looking for a training program to start an online business in affiliate marketing?
Today, we cover a step-by-step training program that guides you in launching an online business in affiliate marketing.
Commission Academy supplement the training lessons with resources that allows you to start earning affiliate commission within the shortest possible time.
Best of all, Commission Academy is available to you completely free!
Sounds too good to be true? Read on to find out more…
Commission Academy Review Summary
Product Name: Commission Academy
Product Type: Affiliate Marketing Training crash course for beginners
Founder: Dale
Pricing: Free with no membership fees or hidden cost
Summary:
A platform that provides you step-by-step guidance for launching your own thriving business to earn affiliate commissions within the shortest time possible, even if you're just a beginner.
For the free resources, the course content is decent enough to give beginners an opportunity to build their online business with minimum investment. However, there are some upsells, but you do not have to purchase them.
Recommendation: Yes, for anyone who want to start an affiliate marketing business online.
What's Commission Academy all about?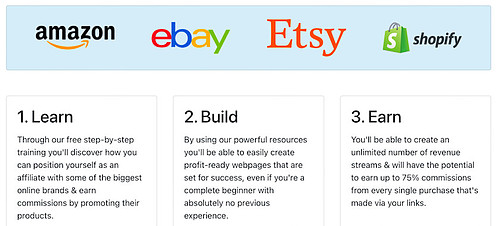 Commission Acedemy is a free affiliate marketing training course created by Dale.
You read it right: It's a free training program that comes without a catch but come with some upsells.
The business model for this training is affiliate marketing.
Why affiliate marketing?
Because it's one of the simplest business models that allows you to build a profitable online business with no prior experience. You do not need programming, sales techniques or logistics knowledge for product delivery. Furthermore, you can start your business even if you have a 9-5 full-time work commitment.
We have enrolled in this program to gain the firsthand experience of the program before writing this review.
The lessons included in this training program are as follows.
Select a niche

Build your niche website

Create content

Finding affiliate programs

Keyword research

Email marketing
Who's Commission Academy created for?
Commission Academy offers the basic training on affiliate markeitng and its step-by-step training is suitable especially for beginners.
It's a good starting point if you are beginners to affiliate marketing. However, if you realy want to know more about the industry, you may have to enroll in other paid programs or courses.
A good and affordable program to begin your affiliate marketing journey would be Wealthy Affiliate and you can check out the details on this Wealthy Affiliate Review.
Is Commission Academy a scam?
Commission Academy is certainly not a scam. In fact, it's a high-quality crash course created by a super affiliate and offer for free with no hidden costs.
For a training course that is free, the contents are comprehensive and should give the novice a good understanding of affiliate marketing industry.
However, do take note that the tools and resources recommended in Commission Academy are not free. So, you must be prepared to invest in them if you find they are useful to you.
Who's the person behind Commission Academy?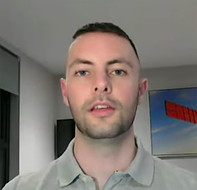 The person behind Commission Academy is Dale. He's a super affiliate who started out as an electrician, but he was not happy with the money he was earning.
In his online research, he came across affiliate marketing and decided to experiment with it. He quit his dead-end job in less than six months to begin his career in affiliate marketing. He has made it his mission to help as many people as possible to do the same.
Currently, he earns about $10,000+ from his affiliate websites.
He generously shares information on his LivingMoreWorkingLess website on the many ways and means of making money online. His other website is 'How I Make Money Online'.
Commission Academy is Dale's way of encouraging you to venture into affiliate marketing business.
How does Commission Academy works?
It is essentially a 3 steps process for making money online:
Step 1: Create relevant content
Create beginner-friendly, useful and relevant high-quality content on your niche website.
Step 2: Attract traffic (visitors)
Rank your website in the search engines and attract traffic (visitors) to your niche website.
Step 3: Earn affiliate commissions
Find the right affiliate programs of relevant products and services.
Promote the products and services to your audience on your niche website and earn affiliate commissions.
What's inside Commission Academy?
Commission Academy is a crash course consisting of 16 video and text lessons divided into 3 modules. These lessons cover all the 3 steps for making money online mentioned in the section above.

Module 1: Set Up (3 lessons)
Lesson 1: Welcome Video
Introduction and overview of the course

Lesson 2: Choose A Niche


Introduction to affiliate marketing, the earning potential, website examples and niche ideas.
Lesson 3: Launch Your Website


Registration of a domain, set up web hosting, choose a WordPress theme and create your niche website.
Module 2: Start Up (5 lessons)
Lesson 1: Laying The Foundation For Success


A recap of lessons in Module 1 and introduction to Module 2.
Lesson 2: Customizing Your Website


Walk through on how to navigate WordPress, customising your site and add a logo.
Lesson 3: Creating Your Initial Content


How ow to edit posts and pages and publish your first piece of content.
Lesson 4: Leveraging An Email List


Email marketing overview, building an email list and earn repeat commissions.
Lesson 5: Preparing To Make Money


A recap of Module 2 lessons and what to expect in Module 3.
Module 3: Make money (8 lessons)
Lesson 1: Finding Profitable Keywords


What is keyword research, and the used of Jaaxy keyword research tool.
Lesson 2: Creating Content That Ranks


Creating clickable headlines, how to structure and format posts, and writing high-quality content.
Lesson 3: Integrating Affiliate Links


Finding affiliate programs and add affiliate links to your content to start making money with your website.
Lesson 4: Leveraging Product Reviews


Creating product reviews as one of the best ways to succeed with affiliate marketing.
Lesson 5: Creating Income On Demand


A detailed coverage of email marketing and its importance to your success, and how to get started with autoresponders and emailing readers on your list.
Lesson 6: Scaling With Videos


Getting started with YouTube to gain more traffic and commissions.
Lesson 7: Outsourcing Content Production


Hiring of writers to scale up and finding the best places to outcource.
Lesson 8: Congratulations And Next Steps


Review your achievement and moving forward.
Can you make money with Commission Academy?
Yes, absolutely you can make money with Commission Academy.
Why? Because the strategy used is a tried and tested method for making money online. It is also sustainable in the long-term if done correctly.
What you need to do is to follow the lessons using the recommended resources and apply what you have learned to pick a niche topic that you genuinely believe and interested in.
It is unlikely you can achieve overnight success.
However, if you put in the time and consistent effort, you will see commissions coming in, randomly at first but eventually generating more stable income month after month.
How much does Commission Academy cost?
There is no cost involve when you sign up for Commission Academy. It's not a sales funnel for a more expensive program.
However, do note that there will be some upsells now and then, but they are not related to Commission Academy.
Commission Academy Refund Policy
There is no refund because the training course is free.
What I like about Commission Academy
#1 – It is free
The contents are good and they are free with no hidden fees or anything suspicious.
#2 – Easy to understand and follow
The training is easy to understand with practical, actionable steps you can adopt immediately. The training has equipped you with everything you need to get started.
#3 – Repeated use of learning resources
Commission Academy provides you with text and video training that you can use repeatedly with no expiry date.
The repeated use of resources is important, especially for beginners, when you need to refresh your understanding of the concepts.
What I don't like about Commission Academy
#1 – Basic training
The training provided is at surface level.
If you want to gain more in-depth knowledge on certain topics, you may have to invest in other paid programs. A good starting point will be the Wealthy Affiliate program, which is an all-inclusive business platform that equips you with all the training and tools you need at an affordable cost.
#2 – Starting an online business is not free
Although Dale has provided a comprehensive basic training to get you started, you still need minimum investment in web hosting and domain name for your website. Dale says he will keep the cost to a minimum.
My Final Verdict of Commission Academy
There are many affiliate marketing training programs out there, but Commission Academy is the best free training course that I have come across.
For beginners, the training course provides you with the knowledge and actionable steps to get you started on the right path. All the training materials are provided for free with no hidden agenda.
One last thing to take note is not to skip any lesson before moving on to the next lesson as each lesson builds on the knowledge gained from the last lesson.
Final recommendation: Yes, to anyone who want to start an affiliate marketing business online.