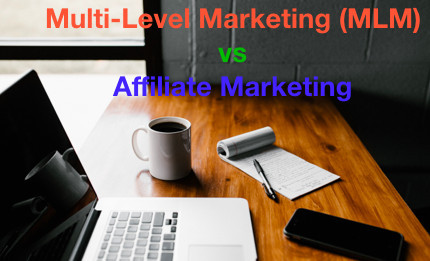 Multi-Level Marketing (MLM) and Affliate Marketing are the more popular business models for making money online. Do know the differences between these two models? Read on to find out why affiliate marketing works better for you and how to get started.
What's MLM?
The Multi-Level Marketing (MLM) is also known as Network or Referral Marketing.
It's a business model that sells its products or services through a pyramid-shaped commission system by its non-salaried workforce or distributors.
The typical characteristics of a MLM company are:
There is an upline-downline relationships between its distributors within the multi-level system. The upline is the sponsor or recruiter of other distributors (the downlines).

The distributors are independent and non-salaried. Their income is based on the sales of the products and a percentage of the sales from their downlines team.

A start-up cost upon joining. Every distributor has to commit to a fixed sum every month to purchase the products in order to earn the commission from the sales made by his downlines.

The company will create a complicated compensation scheme for commissions.

Through this multi-level marketing network, a company can build up a large customer base with very low cost.
How MLM works?
MLM is a sales team with multi-layers of sales force (distributors) in a pyramid shaped structure to promote a company's products or services. When you join the team, you become one of the distributors.
All distributors are independent and non-salaried. There are two main sources of income for all the distributors: From the direct sales of the company's products/services and commissions from the sales made by their downlines (distributors recruited).
The typical structure of a MLM company is as shown here.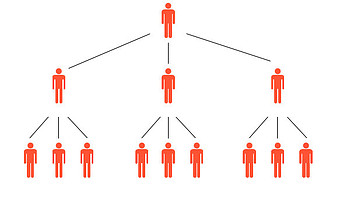 The MLM company does not pay its distributor for the recruitment of new distributors (their downlines). However, the company will compensate its distributors with commission, usually a fraction of the sales made by his downlines. This compensation scheme motivates those distributors with large downlines teams to continually grow and expand their downlines teams to generate more sales for larger commissions.
The MLM model allows a company to employ large teams of sales force and expand rapidly to build a large customer base at a very low cost within a short period.
MLM and Pyramid Scheme: what's the difference?
I'm sure you have also heard of a 'Pyramid Scheme' with a very similar organisation structure as MLM.
So, what's the difference between the MLM and a Pyramid Scheme? The main difference between is that MLM is a legal business whereas Pyramid Scheme is illegal.
How do we differentiate the two?
A Pyramid Scheme is where the only way a member makes money is by recruitment of new members. The company usually convince his participants that it owns an investment project or a valuable product. The company also promise its members they will receive 'payment' by recruiting new participants. The existing members will eventually drag others into this fraudulent scheme.
MLM, on the other hand, has real and legitimate products or services for promotion by its distributors. The recruitment of new members (distributors) is to build the downlines sales team to further promote the products or services.
You should be wary of companies that claimed to be MLM but are actually Pyramid Scheme in disguise. It's always advisable to independently research the company before joining.
What's affiliate marketing?
Affiliate marketing is simply "getting paid for recommending products or services to other people''. It's all the activities you perform to promote other people's products or services to earn commissions.
You may be asking: Isn't it the same as MLM where you also promote a company's products or services?
The two marketing models look similar but affiliate marketing has an entirely different approach as illustrated in the diagram below.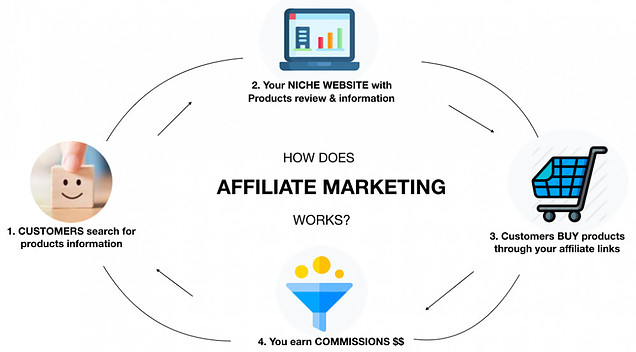 This is how affiliate marketing works:
You create the niche website of your choice (your passions, hobbies or areas where you have some specialised knowledge).

You create relevant content and include in your content the promotion of products of your choice. These products can be from different companies or suppliers such as Amazon, Walmart, Taobao etc.,

Customers search for these products online and landed on your niche website to read your content and product recommendations. Finally, when they decide to purchase the product through your affiliate links, the company/supplier will pay you a commission.
There is no sponsor (upline) or downlines relationships in affiliate marketing and you are not a distributor to any company. You are free to choose products relevant to your niche from any company and promote them on your niche website. You add value with useful and relevant content about the products for the customers to make an informed buying decision.
What are the advantages of both MLM and affiliate marketing?
The advantages of both the MLM and affiliate marketing business are:
Potential to build passive income streams 

Potential to achieve financial freedom – the passive income streams allow you to leverage your time.

Starting at low risk with no prior experience – you can start by working part-time while keeping your full-time job.
Is there a downside to both MLM and affiliate marketing?
The downside of both MLM and affiliate marketing is what I called 'work-for-free' when you just started. You may spend weeks or even months working but receive very little or no income from your business. 
It's definitely not a get-rich-quick scheme.
For those who aimed to reap huge benefits and enjoy passive income later, it could be right for you. First, understand the nature of the growth of the business which is exponential and then 'work-for-free' during the initial stage. 
As your website begins to gain traction with the increase in traffic (visitors), your income will increase exponentially. By then, you would have gained the relevant skills and experience to bring your business to the next level.
What are the differences between MLM and affiliate marketing?
Let's find out the main differences between these two models.
#1 The freedom of choice of products and companies
The quality of products or services for a MLM company can determine the success or failure of its business. It's the most important consideration before joining a MLM company. Usually, a MLM company promotes only products from a single product category. If the products are of inferior quality or if the company is in financial difficulties, then your business with this company is over.
In affiliate marketing, you have the freedom to select the niche, products an affiliate companies.
#2 – You do not own or handle the products
Unlike MLM business, you do not own or handle the products you are promoting. The affiliate company handles the delivery, enquiries or complaints from the customers after the delivery.
#3 – Start-up cost
Most MLM companies want you start with the purchase their products as the 'starter kit' with start-up cost varies from $100 to $1,000. You also require to maintain a minimum monthly purchase to qualify for the commissions.
In affiliate marketing business, you can start for free. The only cost you may incur is your domain name for your niche website at approximately $20 per year.
#4 – How you make money
Earning commission in affiliate marketing of is very straight forward and transparent but MLM usually has a complicated and confusing 'compensation scheme'.
#5 – Recruitment
For MLM, you need to continually recruit new distributors (your downlines) to receive your commissions from the sales generated by your downlines. 
There is no recruitment In affiliate marketing. Your business is to 'recommend' suitable products to the potential buyers through your niche website that's open to your 'audience' all over the world, 24 hours a day! 
Which is my preferred business model?

From the above, the affiliate marketing is clearly the model I prefer.
Let's recap here the reasons why affiliate marketing works better:
Freedom of choice of products and companies – The freedom to choose your niche and to promote products of your choice from different companies give you the flexibility to recommend the best products for your customers.

Start-up cost – No start-up cost is required. You can start building your online business at very low cost and low risk but still has the potential to build passive income streams further down the road.

How you make money – Earning of affiliate commission is very straight forward and transparent.

Recruitment – No face-to-face recruitment is needed. Your approach is to 'recommend' the best products available to your potential customers through your content on your online store (website) that opens 24/7.
How do I get started?
I personally prefer work that can earn me passive income. Isn't it cool to get paid multiple times for doing the work once?
If you have a similar preference as me, then the affiliate marketing model could be right for you. Although you will 'work-for-free' during the initial stage, it comes with great potential for passive income later on.
If you are passionate about or possess some specialised knowledge in certain topics, I encourage you to check out my free 'Starting an Online Business Guide' to explore the opportunities available and get started in the online affiliate marketing business.
Given the right training and a good business support platform such as the Wealthy Affiliate, you can take advantage of what the internet has to offer to leverage your efforts and earn sustainable passive income. With passive income, you will be able to free up your time to pursue your other interests, spend more time with family or taking on other business ventures to earn more money.